Millennium Centre.
Wales
In the spring, we went to England and Wales, which we visited between English Clovelly and Liverpool. Three friendly Welsh men in the Café at Stonehenge gave us a fine introduction to their country. They discussed how some of the monument's large boulders had been transported the 240 miles from Wales. They also told us about their joy of Welsh culture and about miners' hard work in the past.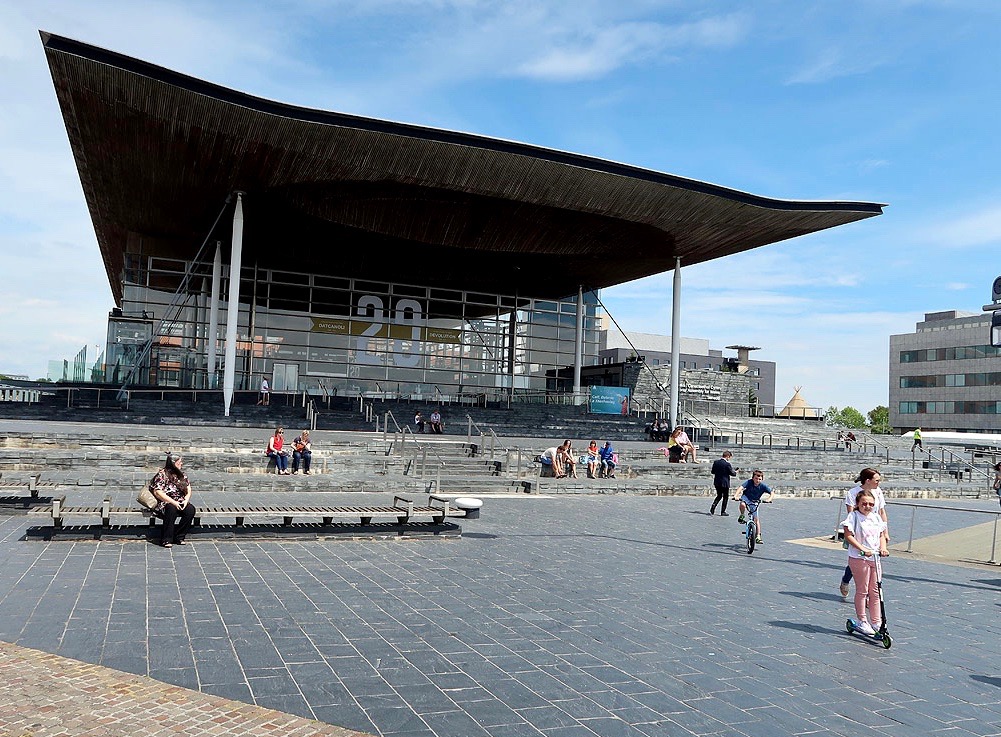 National Assembly.
Party in Cardiff and reunion in Ogmore by Sea
We drove from Cornwall to Cardiff, the capital of Wales. arriving there on a Saturday while crowds of joyful people filled the streets and pubs. When we asked locals about the cause, they said, "There is always a party here at weekends."
Welsh devolution was implemented in 1999 following a referendum a few years earlier. The National Assembly is a floating, eco-friendly building in Cardiff Bay. The nearby Millennium Centre seems more earthbound. On a guided tour, we learnt how its materials and style reflect Welsh nature and culture. Local poet Gwyneth Lewis' Welsh and English words over the entrance frame the purpose of the house, "In these stones horizons sing."
In front of the building people were busy making stalls for an Eisteddfod. Wales has a tradition of these festivals for poetry, music and theatre believed to date back to the 13th century. A minority of the population master Welsh, and a young man who had grown up with it as his first language spoke warmly for spreading use of his native tongue.
Cardiff Castle has Roman and Norman remains and a Gothic-inspired building erected in the 19th century by the Bute family. They played an important role in the development that made the city a significant shipping port for coal. We got the impression of a welcoming capital characterized by both historical roots and visionary dynamics.
In Southerndown and Ogmore by Sea we saw the distinctive layered cliffs that have inspired Millennium Centre's slate walls and horizontal windows. The purpose of our visit was to meet David Powell and his wife Harriet, who retired to Wales after a working life in London. Lars cooperated with David on a cultural project and a book in the 1980s. We had a warm reunion in their home and dinner at a pub. David generously shared his life story with us. See David.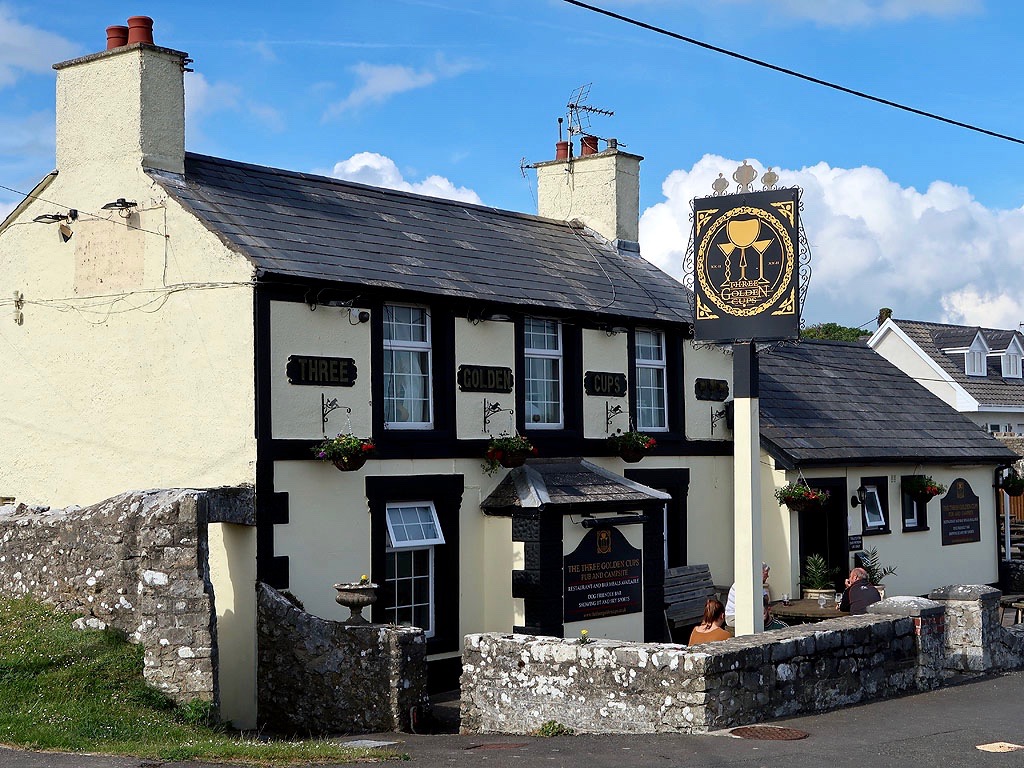 Pub in Southerndown.
Banksy in Port Talbot and mountain trip in Llanberis
We stopped in the industrial town Port Talbot to see Banksy's painting "Season's Greetings". When we reached the humble garage where it was supposed to be according to our GPS, two locals pointed to a hole in the wall. They showed us to the town centre, where a crane watched by journalists, photographers and spectators was moving the work to a planned street art museum, which was later abandoned.
We didn't see the eco-critical image of the child catching ashes like snowflakes with the tongue. But we got an impression of the known, anonymous artist's talent for branding his work.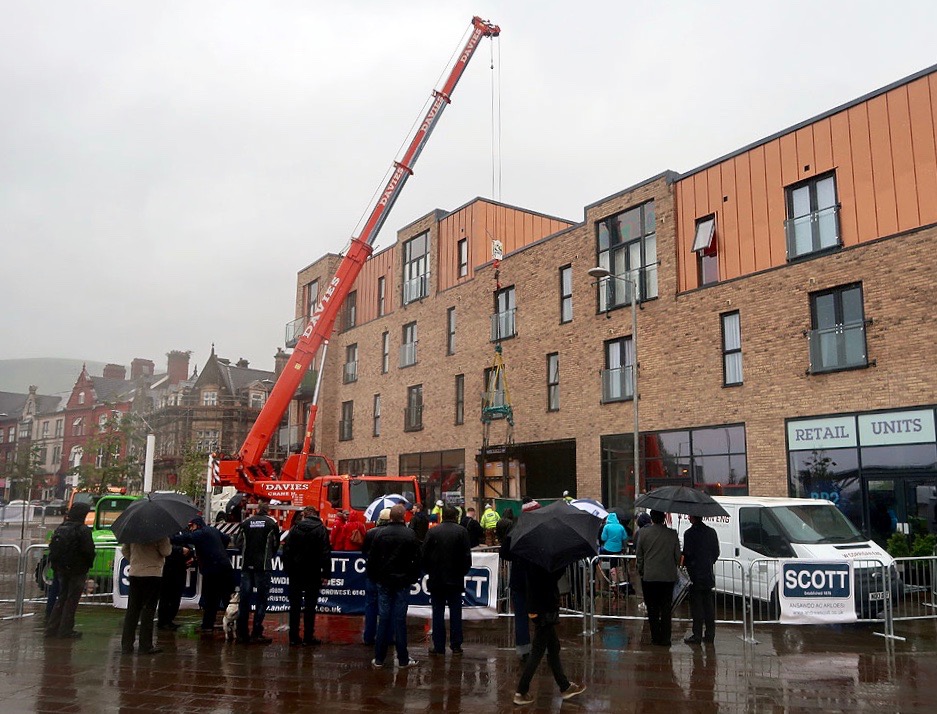 Banksy gets attention.
Near the coastal town Aberystwyth, we had a nostalgic lunch break at Nanteos Mansion, which today is a luxurious hotel. When Lars was there in the 1970s, it housed a small language school run by young academics. A receptionist welcomed us and shared her knowledge of the building's history and ghosts.
The mountain town of Llanberis is part of Snowdonia National Park, we stayed on a campsite with other people in hiking gear. It was our intention to walk to the top of Wales' highest mountain Mt. Snowdon. But storm, rain and fog made us take the Snowdon Mountain Railway, whose narrow-gauge cog locomotives have pulled tourists to the top since 1896.
Our train had reached around halfway when heavy winds forced it to go down. One local assured that the weather is not always bad and that rain helps keep Wales green. The train ride however gave a fine impression of the hilly landscape with sheep and cows behind stone fences.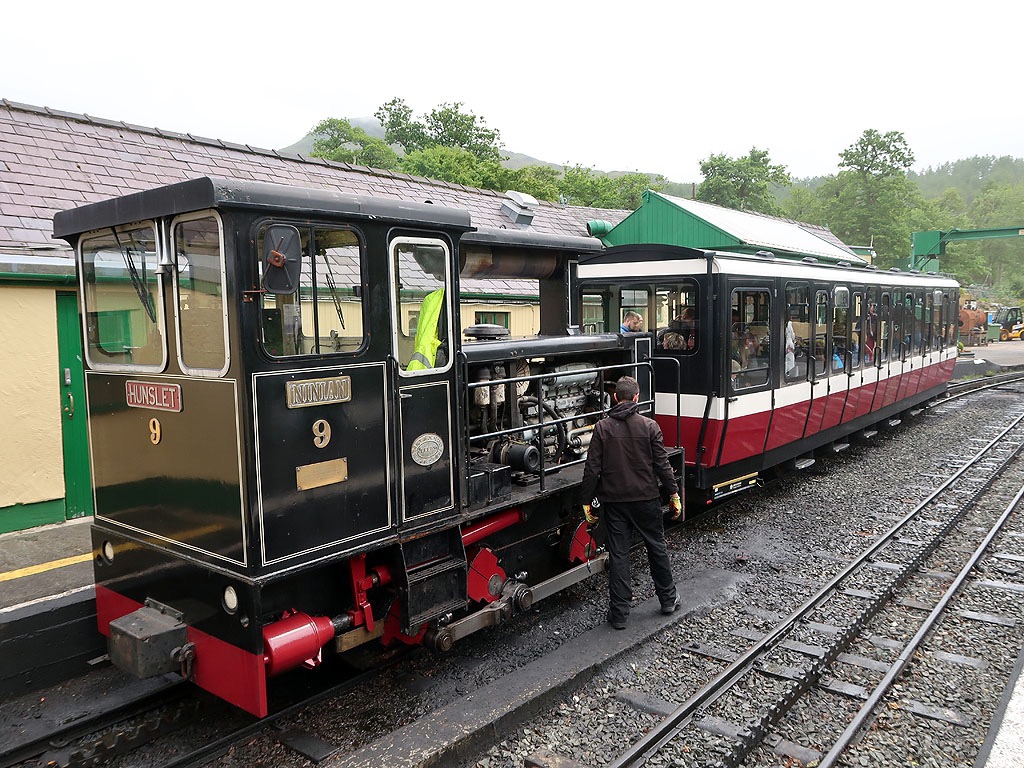 Snowdon Mountain Railway.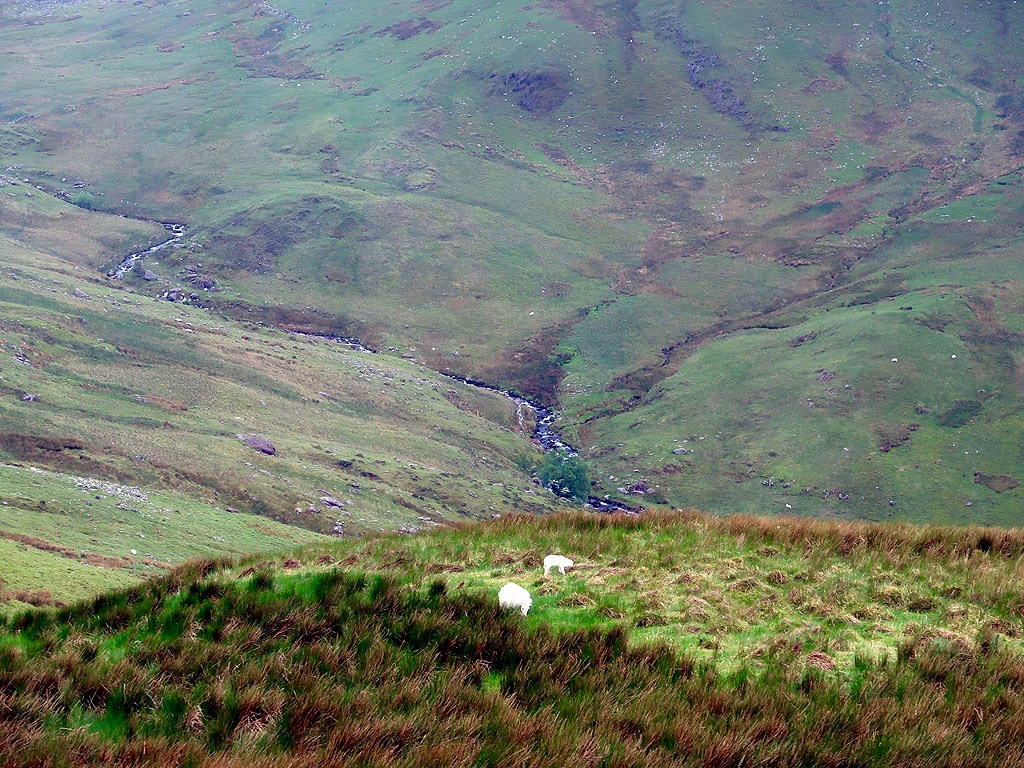 Mt. Snowdon.
In a souvenir shop on our way to Llanberis, we saw a heart with the inscription: "To be born Welsh is to be born privileged." This was confirmed by the owner who had returned to Wales after having lived elsewhere.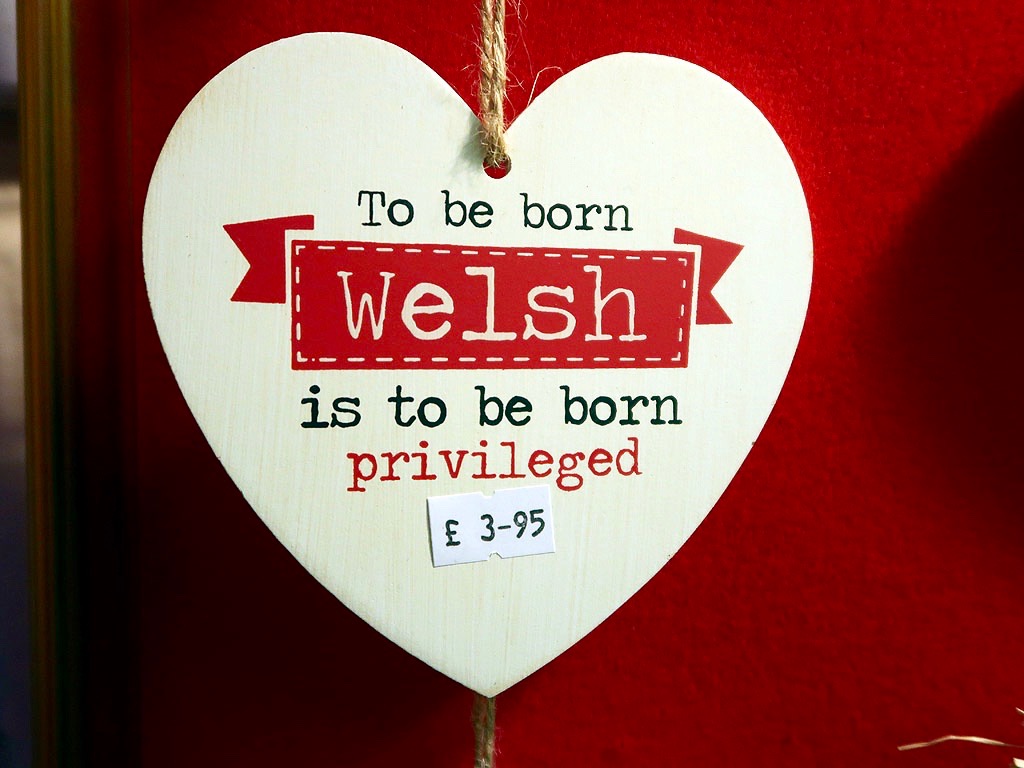 Have a heart for Wales.
Before taking the ferry from Hull to Rotterdam to find Denmark, we ended our spring trip in English Liverpool and York.
January 2020