David and Betsi on the beach.
We Have to Make the World Better
David Powell and Lars first met when the community arts group Inter-Action and Dansk Amatør Teater Samvirke made a project in Næsby near Odense in the summer of 1985. David has worked with culture in many different contexts. After closing his company, he moved from London to South Wales together with his wife Harriet. We talked in their living room with a fine view over the sea.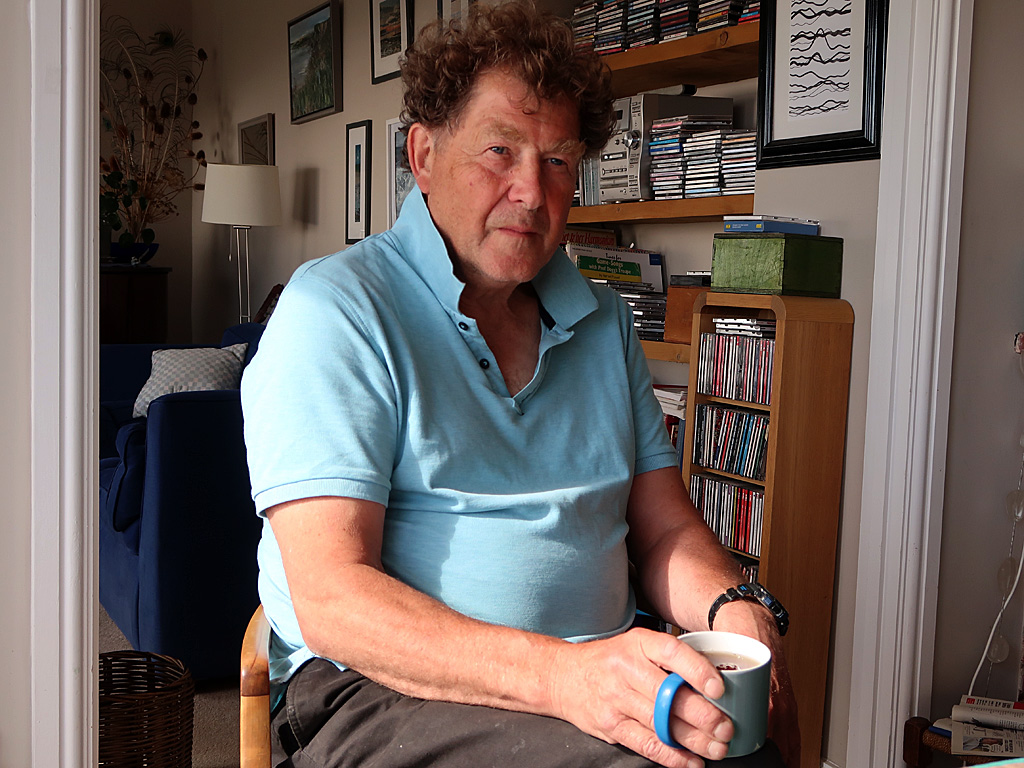 David.
My dog Betsi wakes me up early in the morning and we take our first walk on the beach. That is a good time for thinking, and a good time to clear my mind. We are communing with nature. Walking allows me time and space to reflect on things I am reading or writing, or problems with any of the projects I am still involved with. I have always been a morning person. In London, I used to swim every morning all year round. After the walk, Harriet and I have breakfast together, plan our day and make sure the sea is still there: the view, the tide, the weather is always different. We never really noticed the weather when we lived in the big city.
There are always things to do in the house and garden, we have a small meadow with wild grasses and wild flowers, and a vegetable patch. Two days a week we have our grandchildren: one of our two sons lives in Cardiff with his family. I've been trying to learn Welsh – I think you should learn the language when you live in a country – but it's fiendishly difficult. I try to study a little bit every day and go to a regular Welsh class.
Both Harriet and I still work a little bit, but not full time and unpaid. Harriet's a community musician who's worked in children's and women's theatre as a music director and songwriter, and she's a trained and experienced music therapist. I'm the joint chair of a cultural company based in London that develops and provides affordable workspace for visual artists and crafts people: we manage 25 buildings and offer workspace to 500 artists. This takes quite a lot of thinking, care and attention.
Five years ago, I set up with some colleagues an independent, self-funded research and political project which seeks to rebalance public funding for arts and culture, so that its distributed more fairly, socially and geographically across the UK. I am a member of the Labour Party and trying to make it take a different, more democratic stand on it's policies for arts and culture - and also to elect a Labour Member of Parliament where we live!
I read a lot and listen to music. Harriet plays music almost every day, which is wonderful. I bake our bread, and we both cook. We know a lot of people in the village and people often come to stay with us. Although we relocated 200 miles west, we still have family and many friends in London and elsewhere. Some people we know find the transition from work life to retirement difficult, but I have to say that we have found it liberating. Harriet and I have only infrequently been employed by others throughout our working lives – we've had few 'conventional' jobs and we have always made our own projects. We still do that!
An education to become part of the establishment
I'm told it was a very cold winter when I was born in London 1948. My father was a doctor, my mother a nurse, and they met in a London hospital immediately after the war, right at the beginning of the National Health Service. I have a younger sister and brother. When my father was appointed as a paediatrician in Peterborough, the railway town about 30 miles from Cambridge, we went to live there. We lived in a small village and, when I was 18, I went to university and then to London.
I went to a primary school in Peterborough, and a prep school (a private junior boarding school) when I was seven years old. From 12 to 18 I was a pupil at one of the oldest and most traditional public (in the UK that is private and fee paying) schools, in Canterbury based around the Cathedral. It gave me a strong moral and cultural education with a heavy Anglican (Church of England) imprint. It was an extraordinary upbringing and much of it is hard wired into me, in spite of the fact that aged 15 I became very agnostic and later a humanist. It was a pretty conventional but thorough education with a lot of sport, music and drama. I was part of the last year group to study double Greek and no science lessons! It was an education to become part of the establishment.
Boarding school divides your life in two halves, you have a home life and an institutional life. This turned out to be good practice for how I later lived in London as part of a big housing and living cooperative. As a matter of political choice as well as economic necessity we didn't send our two boys to public schools when the time came, so they attended the state schools in Camden where we lived.
I ran away to join a circus...
I didn't know what to do after finishing school, nor while I was a student at the University of Cambridge studying History. I enjoyed my time there but didn't really make good use of the academic side of it. I did a lot of theatre and made good friends amongst the staff and students. I started to learn how to think critically about the art, literature, theatre and music in the world. The Arts Lab movement was only a year or two old, and I was part of it. In Cambridge, I fell in with a group that was doing street provocations, but I still didn't know what I would do after university.
In my final year, 1968, I was challenged by a lecturer in my college to write job applications to three theatres, picked at random from a theatre magazine. The two traditional theatres didn't reply. I had an immediate answer from Ed Berman, a London based American playwright, activist and social entrepreneur, who was just setting up a company called Inter-Action. He invited me to come to London. A theatre workshop in the building needed a tutor, and Ed said, "if you are any good you go in and run a session". It was a success and the group went on the streets and made a performance the same day. My fate was settled at this point, my family's hopes for a sensible professional career dashed when I ran away to join the 'Inter-Action circus'. Life hasn't been the same since then.
Living in London in 1969 was the most exciting thing for a 21-year-old public school boy from the provinces. – Where else would you want to be? Inter-Action had its youth club, office and accommodation in the same building just opposite the famous/infamous Roundhouse in Camden Town. Harriet was in music college, and she was the only person I knew who lived in a house with running water. We started living together, and we have been a couple for 50 years now. From 1969 till the middle of the 1980s, I worked full time with Inter-Action, which was both a living cooperative and working company with a strong collective ethos.
For 15 years we made theatre, music, city farms youth and community development projects. We ran many training courses and developed new kinds of projects to enable young people to think creatively about what they might do with their skills and their lives. Inter-Action's initiatives like Weekend Arts College and the city farms are still active and making a valuable contribution 40 years later. We gave technical support, training and advice to community groups around the UK and in other countries, with particularly strong and warm links in Denmark.
In 1981 Harriet and I and our two young boys went to Zimbabwe for three months to set up a Swedish funded project getting books from the third world, the South, into the new country's school libraries. This journey round Zimbabwe, a year after its liberation and independence, was really formative for us, and for Sam, our oldest son, in particular – he subsequently taught in Zimbabwe and then for three years in Tanzania, before returning to the UK to work in international volunteer development.
Inter-Action grew and grew, we had anywhere between 50 and 100 people working, and a farm, a theatre and a dozen or so buildings to look after. I developed the operational and business side of the project, running it as a social business with a strong collective ethos. Alongside this, I was also developing and directing summer schools and training courses. We lived in short-term houses and worked in a couple of former factory buildings in Kentish Town that had been emptied by the council to knock down so they could build new housing and tower blocks. We weren't squatters, we paid the council, our landlord, a little money for rent and it was a matter of honour for us to move on when the council asked us to. In 1973, we commissioned a new community arts and resource centre, designed by the radical architect Cedric Price. Shortly after that we set up a not for profit housing cooperative, borrowed the money to buy a row of houses and that was where our living cooperative made its home.
That is where Harriet and I lived with our two boys, Sam and Tom. We had a shared economy, lived very modestly and made communal decisions about our lives and work with 12-15 other members of Inter-Action. When it worked well it was fantastic, when it didn't it was hell. It was exhausting and energizing at the same time, but I definitely wouldn't have missed that period.
We thought we were teaching but, actually, we were learning.
Development in London
In 1986, I left Inter-Action and took a contract with London Docklands Development Cooperation for four years. That is the only period in my life when I have been part of a very large corporation. It was set up by the neo-liberal Conservative government as an instrument to take all the available land in the economically decaying Docklands out of public ownership to build new business districts and houses for sale. This was social engineering in a grand scale. My formal role at the beginning was as a community worker. We were sort of shock absorbers in the system. I signed up to this because I was amazed by the scale and pace of change, and because I thought it was important to build the tools and processes that we had been working on at Inter-Action into the process. That was never fulfilled, but we set up an arts team and supported a wide range of local and alternative projects. What I learnt there about project management at a grand scale made Inter-Action look very small indeed. But around 1990 I really couldn't wait to get out, so I resigned and started my own small company.
Through this period, I was the chair of Greater London Arts, which was the vehicle for some Arts Council and local government funding into the arts in London. The Arts Council wanted to take direct control of this – we fought London's cause for autonomy against central government, at the same time as Mrs. Thatcher abolished the Greater London Council. This was a battle we didn't win: Arts Council and government eventually had its way.
The development of London - and particularly East London where I've always been active - over the last 30 years has created new opportunities for many people, but it has also made it difficult, even impossible, for young people and people of all age to find decent and affordable housing whether to rent or to buy. Some people have taken advantage of this but many people, especially those in less well-paid jobs are deeply angry about it. We have to think about if we could have made the same or better results by spending the money differently.
Research and project management
In the 1990s I built an independent practice with a small team of colleagues and friends doing a mixture of arts and cultural project management and policy and economic research in the cultural field. This led to involvement in many interesting projects. A couple of examples. I took part in the preparation for the National Lottery in the early 1990s, developing a cultural investment plan for the North of England. The outcome was very powerfully played by my clients and set goals for the development of arts buildings across the region for the following 20 years. The Baltic Flour Mill in Gateshead (now BALTIC) was one of the results, and I was asked to lead the development of its programming and business model and the recruitment of its first director.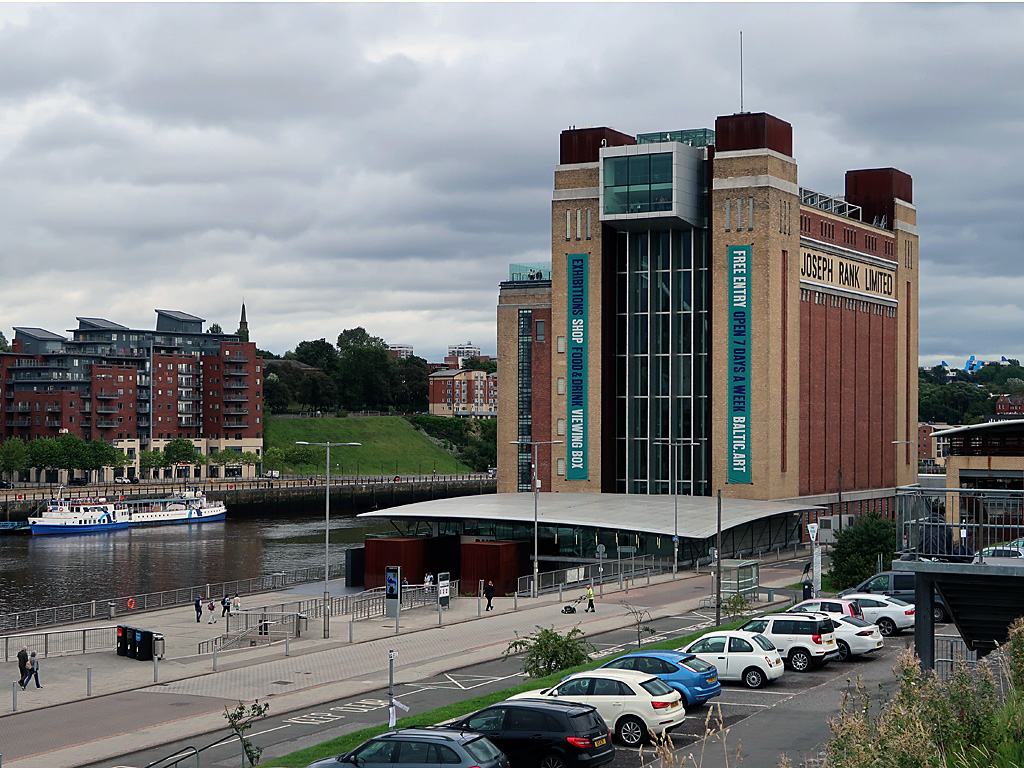 BALTIC in Gateshead.
I also helped design and set up the Institute for New International Visual Arts (iniva) with Professor Stuart Hall as its first chair. Iniva works internationally with visual artists on issues surrounding the politics of race, class and gender.
We were involved in developing a research capacity on the relationship between the cultural sector and the creative sector, design, computers etc. New Labour which formed the government in 1997 understood the local and wider benefits of this work. I took part in the preparations of the Cultural Chapter for London's 2012 Olympic project, looking to develop cultural and creative opportunities for East London artists and communities through the Olympics.
Just before we moved from London I helped set up the Camley Street Sustainability Zone where local businesses in the area we lived in (I was the chair of the local tenants and resident association then) joined forces in a development project aiming to reinvest the profits in providing very affordable workspace and home.
These were the sort of things my company and I worked with until the market dried out in the aftermath of the financial crisis, and we closed the business in 2012.
Cultural animateur and cultural democracy
I never trained as an artist, but it has been my privilege and sometimes my pain to work with artists all my life. I see myself as a person who has helped create frameworks in which communities, artists and other agencies can work together to make new, practical possibilities happen, to open up new opportunities for work and play. Everybody has the capacity to lead a rich cultural life and finding the proper professional role in that context is important. This was actually what our course in Næsby was about – a practical reflection of cultural democracy. Much of the focus of my work has been small scale and local, working to support projects which connect people. The best description of what I do is still the Council of Europe's term from the 1970s – I am a cultural animateur.
What next? What is to be done?
In the present situation, it often seems easier to talk about our fears than our hopes. What we have done to the environment climate is largely undoable, what we have done to politics and the social fabrics in the UK is so poisoned and fractured, the enlightened liberal project of wanting to collaborate with people in different countries is under threat. My hopes are that we find ways of being politically active, so we can counter some of that destructive, extremist thinking practically and effectively.
Harriet and I invest a lot of hope in our children and grandchildren. We don't have a list of things we want to do before we die – our life is very rich – but there are still many things to be done. It is difficult to find out where to go politically in the present situation, but if we do nothing at some point our granddaughters will say, what did you do?
We have to make the world a better place.
Coda
A few days after Lars and Hanne spoke with me, I was diagnosed with bowel cancer and started treatment immediately. Although this is going to change some of the rhythms of our life and may refocus our thinking, my hopes for the future and our commitment to small projects and actions which can change the world for the better will remain strong. Once an animateur, always an animateur!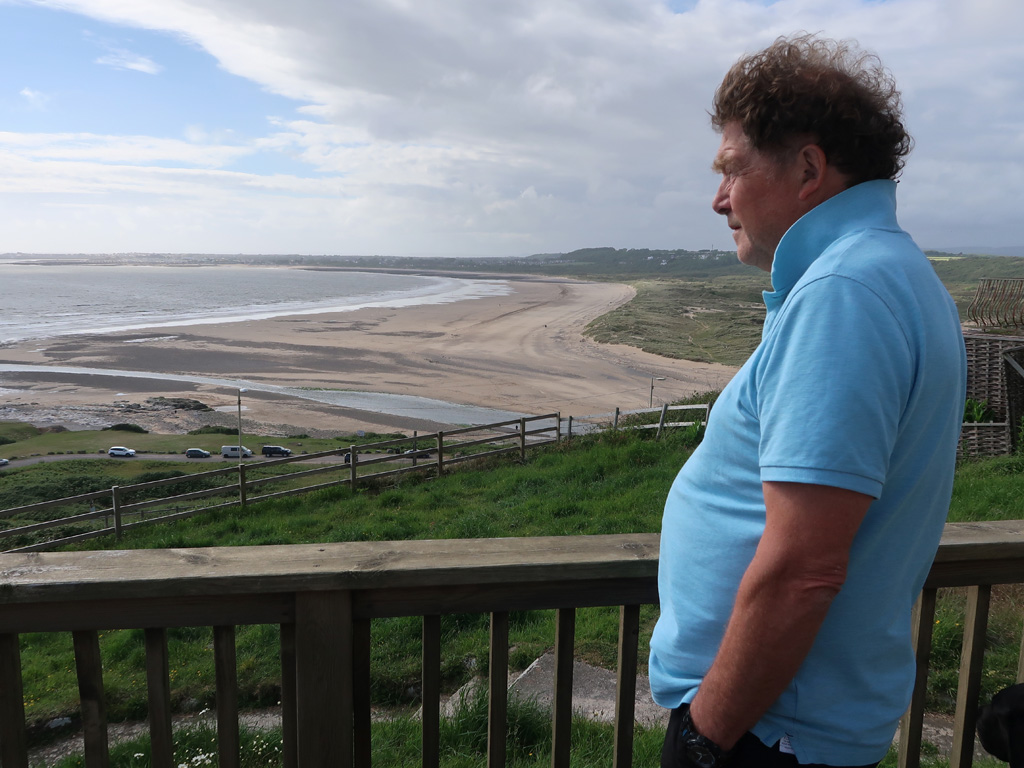 David.
References
Examples of David Powell's work as a cultural consultant and researcher within the company dpa can be found here:
http://www.davidpowellresearch.co.uk/whoTeam.php.
His endeavours to change balances in cultural politics through GPS Culture can be found here: http://www.gpsculture.co.uk.
Methods from the project in Næsby 1985 are described in the Danish book:
Lars Høbye, Bent Jacobsen og David Powell. Nærkultur. Kulturelt arbejde i lokalsamfundet. 1987.
May 2019