Stirling Castle.
Scotland
In the autumn, we went to Scotland and Ireland. We started taking the ferry from Amsterdam to Newcastle. We had met a lively English lady in a small camper with the caption: "On an adventure before dementia." She had driven all the way to John O'Groats and advised us to pause and enjoy the view when we reached Scottish mountain tops. It was good advice, landscapes in Scotland are breath taking.
Culture in Gateshead and Romans in Housesteads
Our first stop in England was the fine Baltic Centre for Contemporary Art in Gateshead, which shows changing exhibitions in an industrial building that used to be a flour mill. It is surrounded by similarly iconic houses and bridges.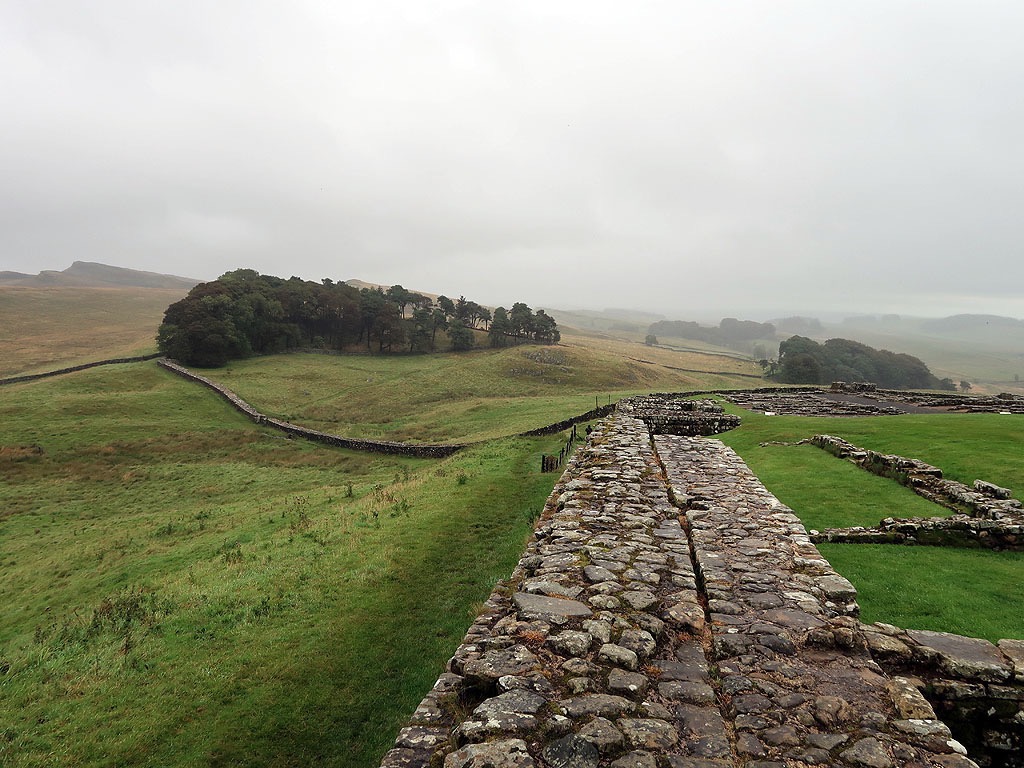 Hadrian's Wall.
The Roman Emperor Hadrian's Wall extends 73 miles from coast to coast where England is narrowest. Building started 122 BC, and for nearly 400 years the wall was the north-western frontier of the Roman Empire. We got an impression of organized soldier life at Housesteads Fort and walked in the footsteps of the Romans on hiking trails.
Scotland was reached after a stop at Last Café in England.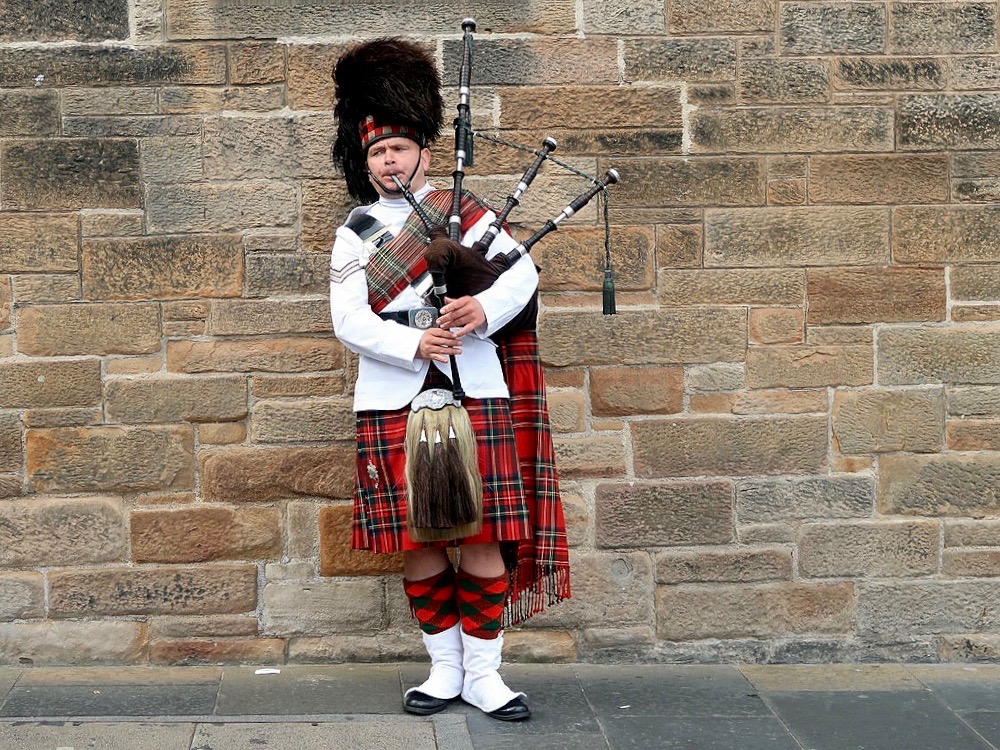 Piper in Edinburgh.
Bagpipes in Edinburgh and independence struggle in Stirling
In the capital, Edinburgh, we and other tourists were greeted by a bagpiper in kilt near Edinburgh Castle. We walked the Royal Mile from the castle to the Queen's residence Holyrood Palace and the newly built Parliament of Scotland. We took walks in Old Town's narrow, winding streets and in New Town's wide, straight streets. We bought tweed and got the story of how modern designers have given the sturdy sheep and traditional weavers of the Outer Hebrides a comeback.
We visited the National Museum of Scotland, which exhibits ancient finds as well as the cloned sheep Dolly. The museum received a makeover when Scotland achieved devolution in 1999, it tells tales of war and peace between Scotland and England.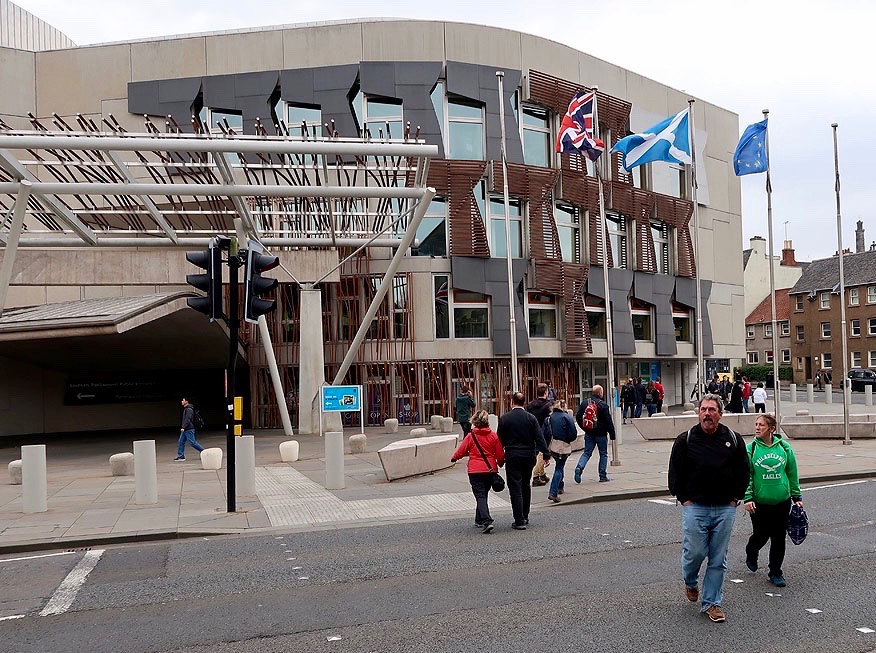 Parliament of Scotland.
We took our bikes to Quensferry and its impressive bridges across the Firth of Forth. The railway bridge is old engineering, which at its opening in 1890 was seen as the world's eighth wonder.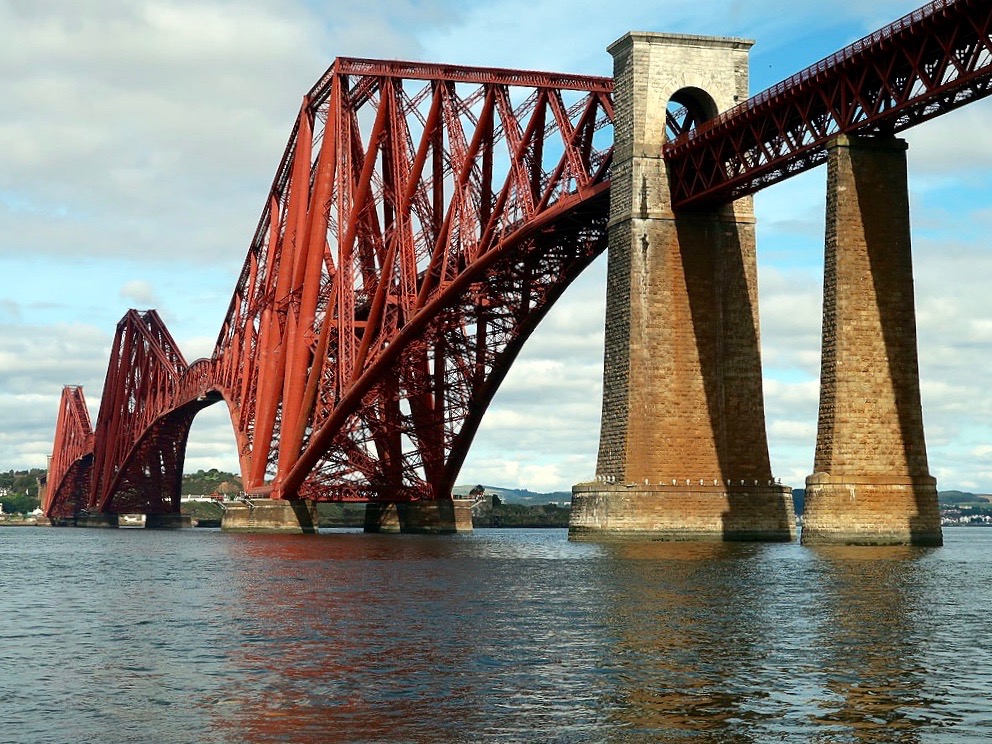 Forth Bridge.
Falkirk Wheel is new engineering, replacing 11 locks in the Forth Clyde Canal where Scotland is narrowest. The elegant lift overcomes the height difference by lifting and lowering boats in large tubs.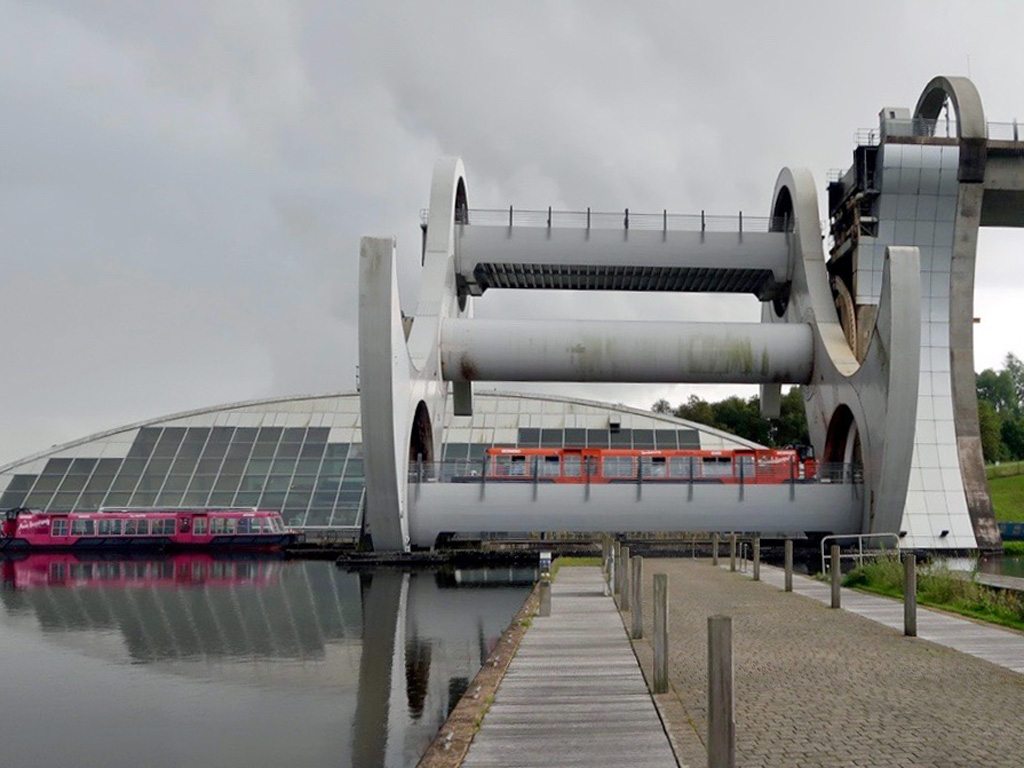 Falkirk Wheel.
Stirling lies on the border between the Scottish Lowlands and Highlands. In the Middle Ages, decisive battles between Scots and Englishmen were fought in and around the city. We visited the monument for the hero sir William Wallace and the successor to Stirling Bridge, where his Scottish peasant army defeated an English army in 1297. The following year, Wallace's men were beaten at Falkirk by archers led by the English King Edward I, he himself suffered a cruel execution in the Tower of London. Wallace is portrayed and idealized in the movie "Braveheart".
It was Robert the Bruce's noble army who regained Scottish independence in the Battle of Bannockburn 1314. He is portrayed in the movie "Outlaw King". Stirling Castle lies on a cliff with a view and its fine exhibition give historical insight.
Community in Findhorn and lunar rainbow in John O'Groats
A drive through the rolling mountains of Cairngorm National Park led us to Findhorn Foundation's spiritual community and eco-village. We got an introduction to its history and activities by American Maureen, who lived there when she was young and now alternated between Florida and Findhorn.
The community was founded in the early 1960s, and has since attracted people who have created an undogmatic spiritual community with homes, shared facilities, education, gardens, businesses, renewable energy etc. The tour included a group from Indian Auroville, which adhere to similar holistic principles.
The Findhorn "Visitor Guide" says: "As a conscious community, we strive to demonstrate a practical spirituality in harmony with nature, and play our part to positively transform humanity and the Earth."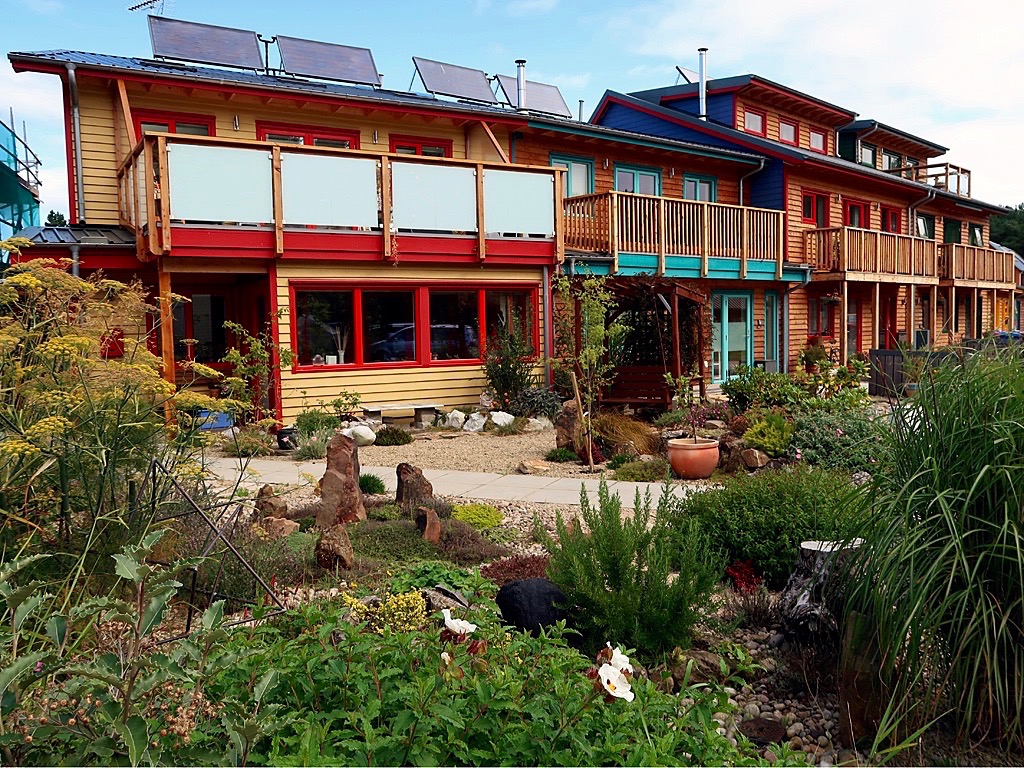 Eco houses in Findhorn.
At Benromach Distillery, we saw how a Speyside single malt whisky is produced by a family business with roots in local traditions through generations. We followed the process that transforms barley malt, water and yeast into whisky with a note of dry smoke. The visit ended with tastings of the noble drink.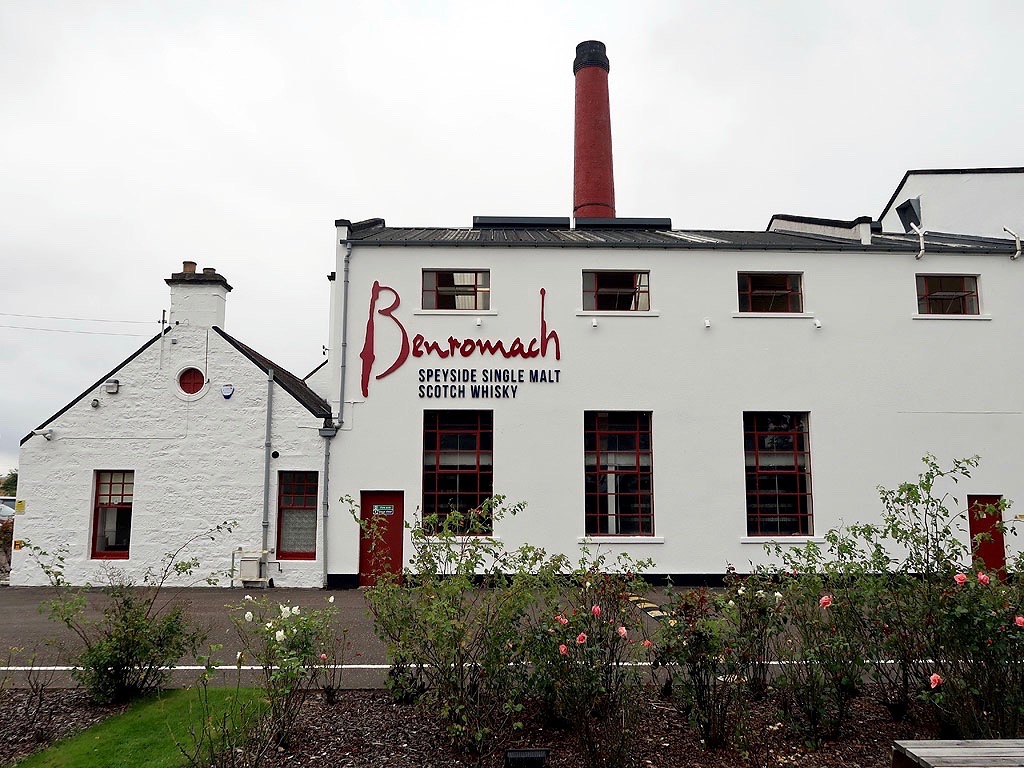 Benromach Distillery.
We drove along the beautiful east coast of Scotland to our northern turning point John O'Groats. A Scotsman from Edinburgh had asked us, "Is there anything but rain and wind there?" The answer came when we one windy and rainy evening saw a lunar rainbow. A white bow created by the moon beautifully arched over the sea. We have never been closer to Heaven's Gate.
Our route continued to the west along the north coast and later to the south on a road so narrow that only laybys ensured that cars could pass each other. The stops were opportunities to enjoy fine views.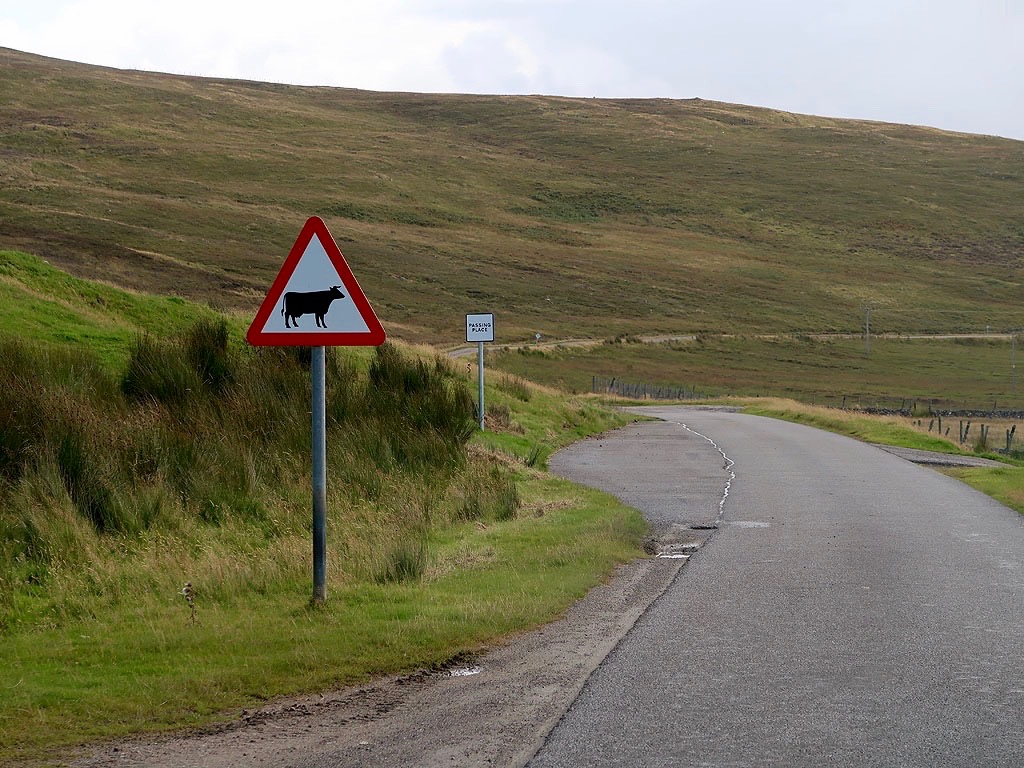 Narrow road and a layby with a view.
Monster in Loch Ness and Scottish Nationalists in Glasgow
When we asked people in the town Drumnadrochit at Loch Ness whether they had seen the sea monster who is believed to live there, they replied almost unequivocally: "I haven't seen Nessie yet, but you never know." Nor did we see the famous resident although we followed the lake through its length. The Loch Ness Centre and Exhibition describes how storytellers, scholars and crooks have understood and exploited the mystery in a labyrinth of caves.
Ben Nevis is the highest mountain in the UK, we climbed it together with hikers, runners, dog owners and Scotsmen in their kilts. Some people did the trip to raise money for charity. The trail is good, but the route deserves the three stars for difficulty it had on our hiking map. The walk up and down gave great views of the landscape, when we reached the peak at 1345 meters, the view was covered by fog, as is often the case. We were tired and proud when we returned to our Volkswagen at the foot of the mountain.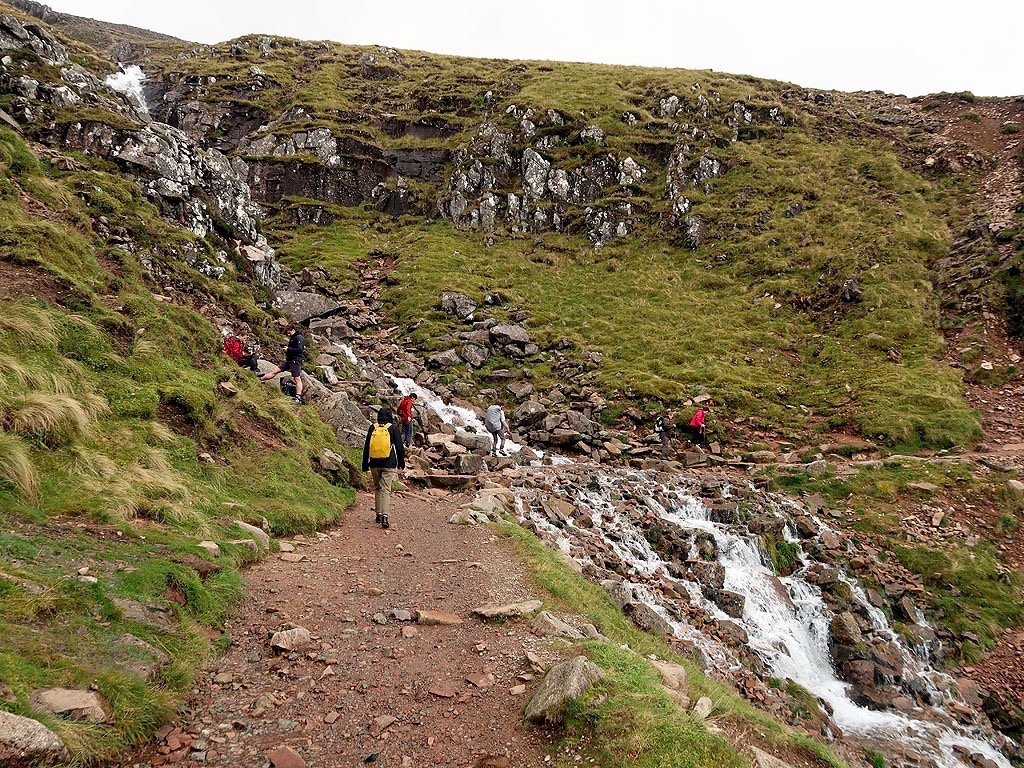 Ben Nevis.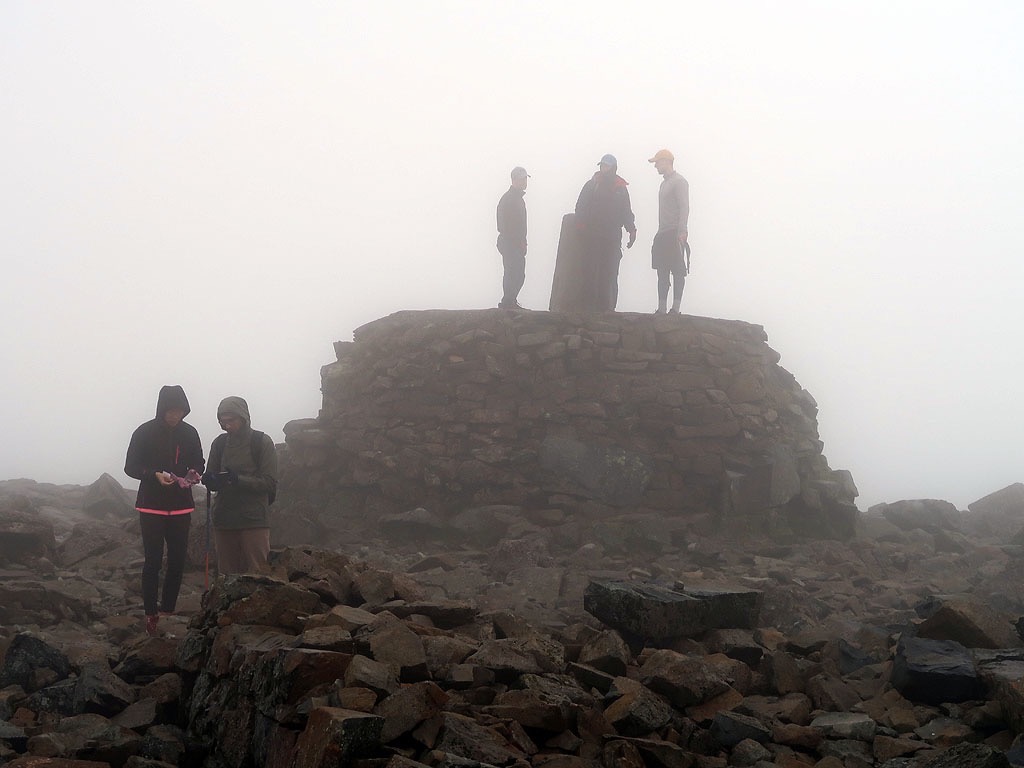 The top was misty.
We drove to Glasgow through beautiful nature near Glen Cloe and in Loch Lomond and the Trossachs National Park. One of the first people we met was a former miner who said: "Glasgow used to live on shipbuilding and coalmines, now it lives on tourists, so thanks for paying my pension!"
We visited Glasgow Cathedral, where volunteers introduced us to the Church of Scotland's traditions of decentralized leadership. St. Mungo, who brought Christianity to Scotland, is supposed to be buried in its crypt. The nearby Necropolis has impressive tombs for the city's Victorian elite. It also has a large statue of John Knox, who brought the Reformation to Scotland.
We saw The Lighthouse a centre of architecture and design in a house drawn by the known local architect Charles Rennie Mackintosh. We were in The Riverside Museum, a wave-shaped building by Iranian architect Zara Hadid. Its fine exhibition tells transport history and urban history illustrated by many objects. We also saw Sir Norman Foster's equally eminent Clyde Auditorium and Hydro.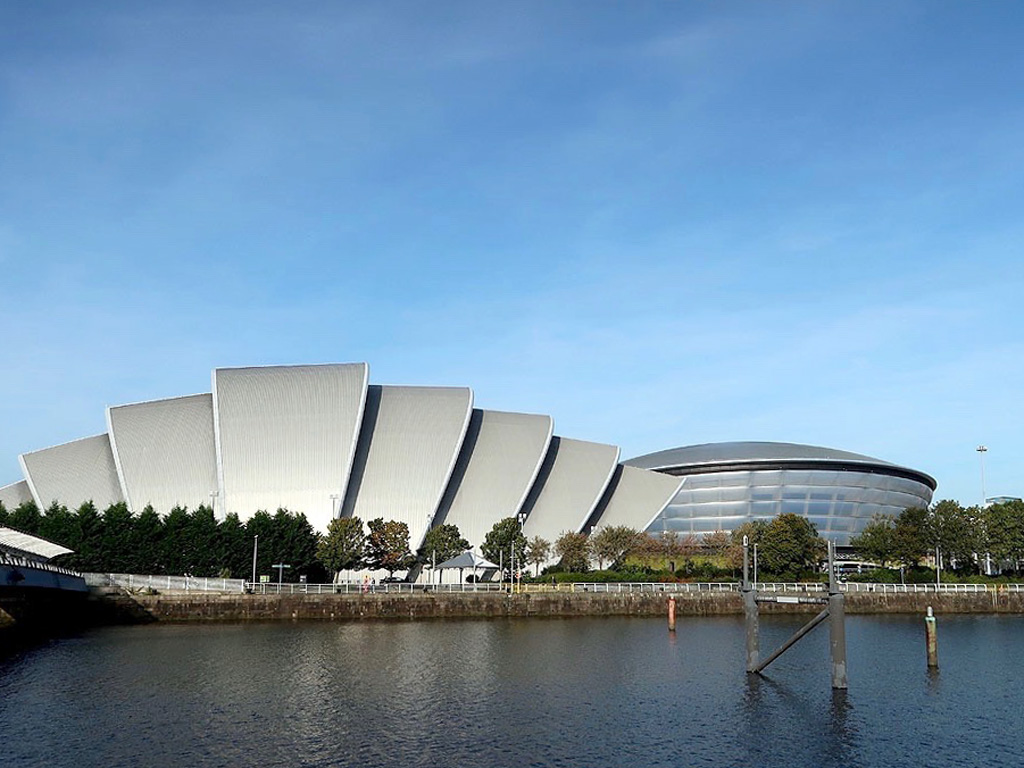 Clyde Auditorium and the Hydro.
In central George Square, we spoke with activists from the Scottish National Party, who argued for a new referendum on Scottish independence referring to Brexit.
A clerk in a kilt shop gave us a presumably authoritative answer to the classic question about the clan clothing of Scottish men: "Real Scottish men wear nothing under their kilt."
In Glasgow, we also met Scott Millar and his girlfriend Jasmine Waters. Scott told us about his life as an electrician and dedicated fan of the local football team Celtic. See Scott.
We came from Scotland to Northern Ireland by ferry from Cairnryan to Larne after a thorough check of our peaceful van.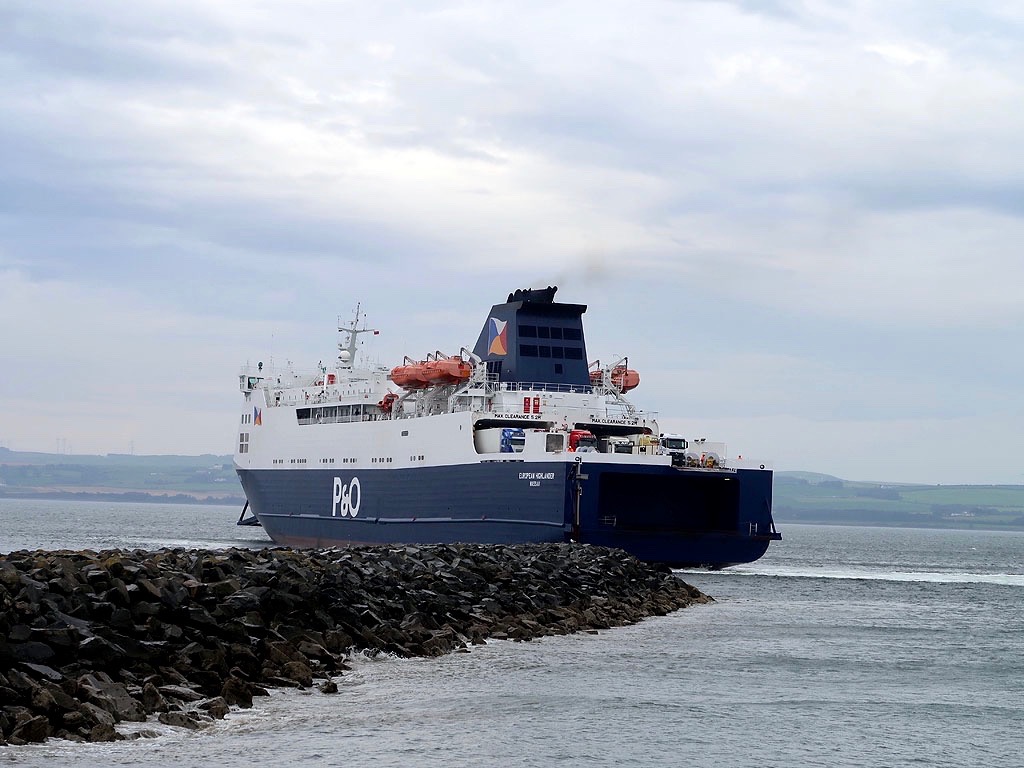 Ferry from Cairnryan to Larne.
January 2020