People make Glasgow.
It is Important to Enjoy the Ride
We connected to Scott and his girlfriend Jasmine through his father's partner and friends in Denmark. Scott is twenty-four and Jasmine is two years his older. Scott recently finished his apprenticeship as an electrician, and he is a passionate supporter of the local football team Celtic. Jasmine is proud to work with administration in a company that produces renewable energy. Scott's life story was in focus, and Jasmine supplemented. We talked in our camper in Glasgow, where they both grew up.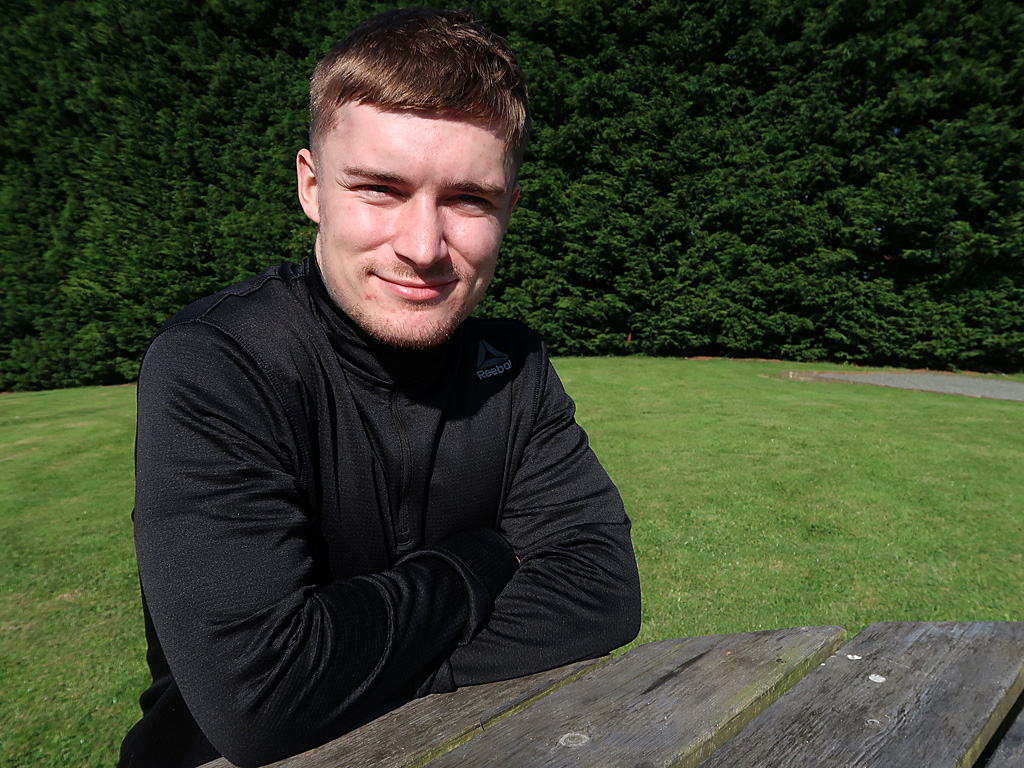 Scott.
I would like to travel
I get up in the morning and go to work at a quarter to eight and leave again at a quarter to five if I don't work overtime. My workplace in the firm Aggreko is only five minutes from our house. It is a worldwide company, among other things it makes power for stadiums and sport events. They made temporary power for OL in London 2012 and will do it for OL in Japan 2020.
I have worked there seven months now. I am employed by a subcontractor in the place where they build generators. The people who are contracted directly to Aggreko can apply to travel. A couple of my colleagues are in Japan right now for the Rugby World Cup, if something goes wrong with the power they will fix it. I would also like to go abroad with my job. You wouldn't normally have a chance to go to Japan for a few days, would you? Jasmine and I will go to New York on holiday for one week in January, and we are excited about it. Jasmine probably a bit more than me.
Football becomes a passion
My biggest hobby is following Celtic. In Glasgow Celtic and Rangers are the two big teams, it is hard to understand the commitment you have if you are not part of it. I would travel anywhere five hours in a bus to watch one of Celtic's games. I probably follow them two or three times a month. I used to play football myself, but it got to a point where me playing football and following Celtic clashed, so I chose Celtic.
My Dad took me to my first football match when I was about five, and I hope to take my own kids someday. Football becomes a passion, and it is very important in this country. Scott fully understands the excitement we experienced, when Liverpool came home after having won European Champions League Cup. Jasmine adds, that she has only been to one of Celtic's matches on a rainy day, when they played a lousy game.
Celtic was formed in 1888 to help feed the impoverished Irish community in the east end of Glasgow, and the club has always had strong connections to Ireland. Celtic has generally been accepted as a Catholic club whereas rivals Rangers are Protestant. This created an enormous divide which is both vicious and extremely passionate. I have friends who support the other team. I used to practice Catholicism, and I was baptized, when I was 14 but now I don't practice anymore. Jasmine tells, that she has never been religious at all.
Three months ago, I took up Muay Thai or Thai Boxing, it is quite hard, being a beginner I got some bruises, but I enjoy it. Jasmine's father has a mini gym in his garage five minutes from our house, and I also go there to work out a couple of times a week.
It is quite common for young people in Glasgow to find a home in the area where they grow up. We bought our house in Dumbarton, where Jasmine comes from, in October last year. It would have been more expensive to buy one, where I grew up. We stayed with our parents to save money, and they also gave us financial help. It is comfortable to have your own house, we have been very lucky. We are the exception, not the norm.
Jasmine has a wee Yorkie dog, it is like a child of our home. We sort of share doing the cooking, but not the cleaning. Jasmine is a very clean person, when it comes to that I am kind of lazy and try to avoid it. If you had asked me some years ago if I would have a job, a house and a relationship at the age of 24, I would not have thought so.
We went to Berlin twice
In the holidays, we travel. On our first holiday, together we were in Spain to sunbathe, but this was not really for us. Our next holiday went to Berlin, we had learnt about World War I and II in school and it was really interesting to see the concentration camp Sachenhausen and the other historic sights. Berlin is probably the most vibrant city we have been to. We went there twice in one year. When we were in Berlin, Celtic played, and I managed to find a pub where I could follow the match. On this point Jasmine comments, this was on my birthday, and the pub was not in the centre of the city, but in in a wee street on the outskirts.
On our last holiday, we visited Krakow in Poland. We highly recommend seeing the salt mines and Oskar Schindler's Factory with some of the tombstones from the Krakow ghetto. We don't go to the Scottish Highlands, it is too expensive.
I found it easy to learn
I was born and raised in Milngavie where my Mom lives. I grew up with a younger brother and sister, who still live with my Mom. I went to primary school there for seven years and secondary school for six years. My parents separated when I was four or five, but I was fortunate they got along ok. I was with my Dad and his partner Alex in week-ends and went to mass and football.
I did well in school and enjoyed it. I was never bullied, and still have my group of friends from primary school. After school, I went to a pre-apprentice course at a college to become an electrician and had my apprenticeship in 2014. I was kind of academic and found it quite easy to learn about my trade. I was also lucky to meet a lot of qualified electricians in a firm with a broad range of activities, who passed on their skills. My expertise is general, this makes it easier to find a job.
In my second year, I was voted the best apprentice of the year for my college and was very happy to have my hard work recognized. I qualified as an electrician August last year and was employed in H F Electrical, where I had been an apprentice. After some time, I was laid off. With us having a house, it was important to have a wage coming, and I was lucky to find a job, that I enjoy more within a week and a half.
I like what I do, but I think you work to live, you don't live to work. My work is not my hobby, you must also do other things and enjoy yourself in your own time. This is an important balance.
Jasmine and I met in November 2014, we found each other on the dating app Tinder. I can't just go and talk to a female in a pub, so it was easier to bridge the gap this way. Our relationship became official on New Year's Eve. We will celebrate our five years together while we visit New York in January, and there will be no Celtic game at the time!
I am Scottish not British
Talking about identity, I don't straight away think about nationality. Supporting Celtic is probably more important to me. I guess my family came from Ireland some generations ago, but I never looked into that. I might do so, when I get older. I definitely consider myself Scottish not British and voted for independence in 2014. I voted remain in 2016, if Britain leaves the EU there is a high chance that a majority will vote for Scottish independence.
The English suffer from a superiority complex, Jasmine says. Brexit is the result of a protest vote, people wanted to close the borders. There is quite a lot of racial hatred in England, they are afraid that people come from abroad to take their welfare. But many foreign nurses and other welfare workers may leave the country if Brexit happens. We like to see Scotland as more open minded and diverse.
I was taught from a young age to dislike Tories, I think this is quite common. The political parties are kind of faceless, same party different ties, she adds. Jasmine didn't vote for Scottish independence in 2014, but will do so if there is another referendum. She found the debates around the first referendum harsh, and think that many people voted yes, because they had seen Mel Gibson's film "Braveheart" about William Wallace and The First War of Scottish Independence in the Middle Ages. But it is a difficult question, and there is no black and white.
In five ten years, I hope that Jasmine and I are still together, and I suppose my hobbies will be the same. Jasmine is perhaps unlucky enough to having me asking her to marry her one day. We may also have offspring and another dog. I like to think that we continue down the road we have started on. In ten years' time, we will probably be a bit wiser.
If Britain leaves the EU, I hope Scotland will become independent and a member of the EU, this will of course also be difficult. I think that if there was another referendum about Brexit the majority would vote remain.
The only certainty is uncertainty, and we must wait and see. It is important to enjoy the ride, Scott and Jasmine agree.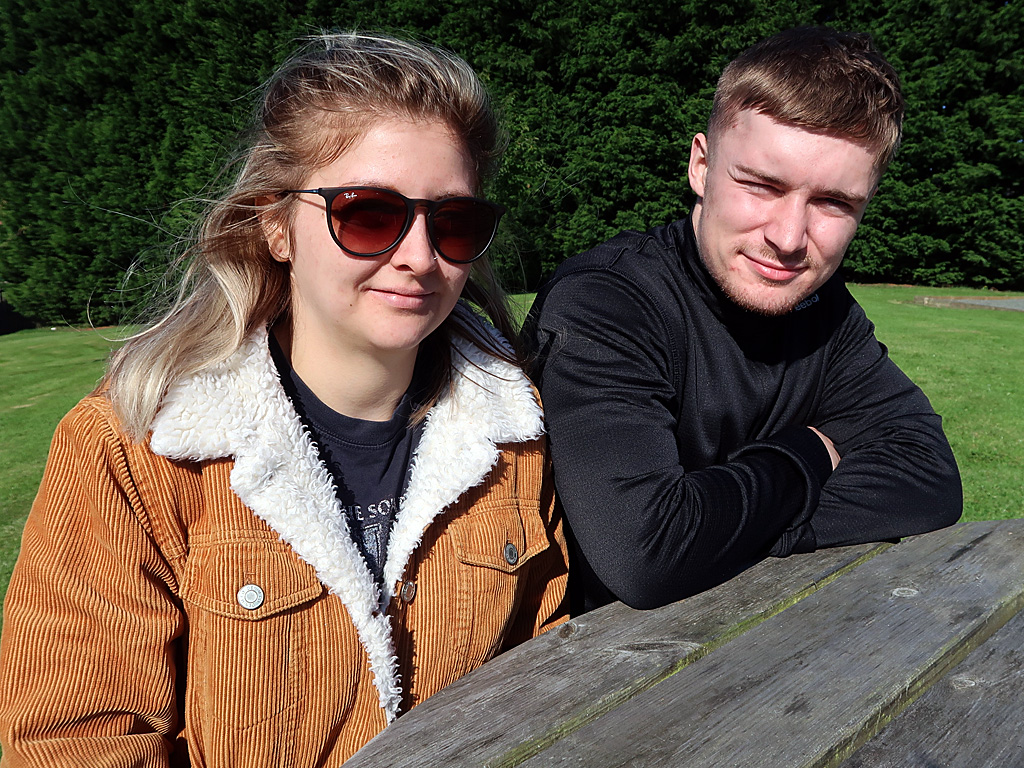 Jasmine and Scott.
September 2019