London.
England
In the spring, we went to England and Wales. Before leaving, we had advice on travelling in Great Britain from an Englishman living in Denmark. Among other things, he encouraged us to pay attention to the situation on both sides of the English Channel. Bretxit was postponed, so we didn't see the long queues, he and we feared.
Going to England
In the French ferry town Calais, we heard that the fewer refugees on their way to Great Britain lived in scattered camps after the demolition of the infamous the Jungle in 2016. We met a young Iranian near some small tents, the temporary home of men from the Middle East and Africa. He had been there one month but hoped soon to get the attractive British visa that other people in the camp had waited for more than a year. "British immigration workers come here and help us," he said.
Driving on board the ferry we were for the first time since leaving Denmark asked to show our passports. Soon after we were welcomed to England by The White Cliffs of Dover shining bright in the sun.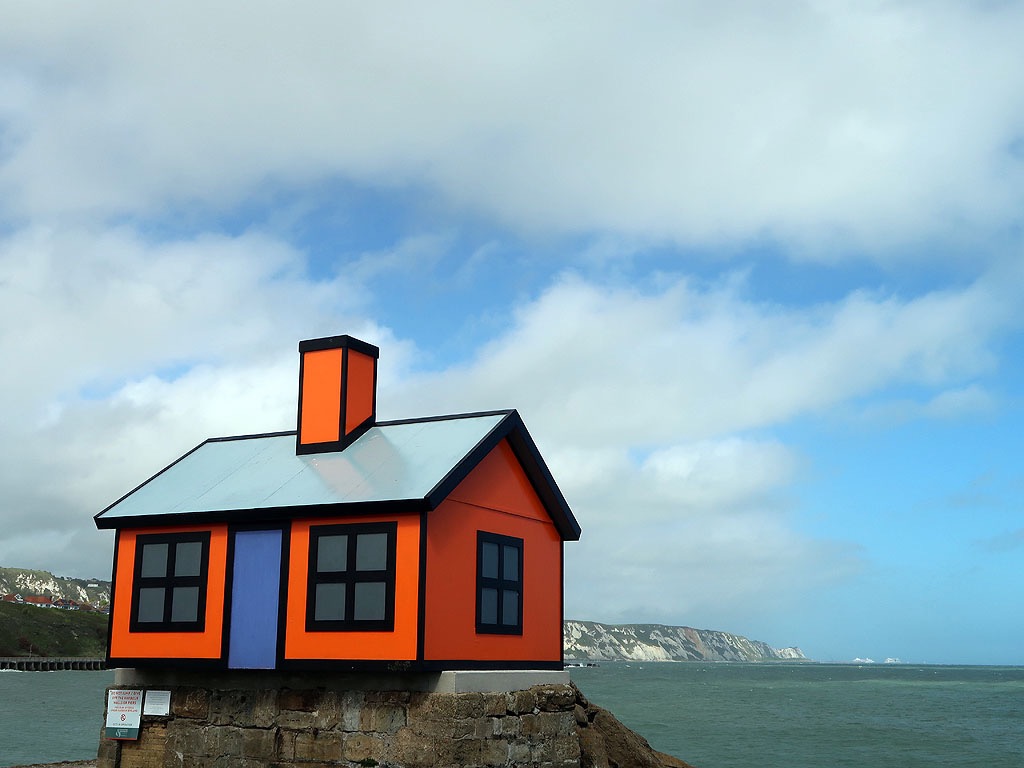 Site specific art in Folkestone.
Transformation in Folkestone and diversity in London
In Folkestone we met Nick Ewbank at a café in the Creative Quarter, he told us about his experience with the town's transformation. Around the millennium, it looked bad on many parameters after decades of downturn. The ferry to France had led traffic through the town, its replacement the Eurotunnel led traffic around Folkestone. Income from fishing and tourism dwindled. An urgent question was: "Is the town dying?"
The wealthy local businessman and philanthropist Roger De Haan invested his family's fortune and experience in restarting development. Nick was first employed as director of an art centre in need of change. The task however grew into a holistic strategy for transformation of Folkestone's built environment, cultural scene and brand.
As the first director of the charity Creative Folkestone Nick was in charge of renovating and renting out shops to artists below the market price. The Creative Quarter's entrepreneurs, a new art centre, an annual book festival, an art triennial and creative schools at several levels led to an upturn. A fast train to London enabling commuting also helped. The financial crisis in 2008 gave a backlash, but now things are going well. "After twenty years, we see the real results," Nick said.
Since 2010 he has used his experience from Folkestone and elsewhere as a consultant to cultural projects in several countries.
On walks in the town and along the beach we constantly met effects of the cultural driven transformation initiated by the unusual private-public partnership. The renovated houses are colorful, and the art triennials have left site specific works of high quality.
We spoke with young and old people, who had lived there for a long or short time, and with visitors. A recurring comment was, "Things are getting better and better in Folkestone!"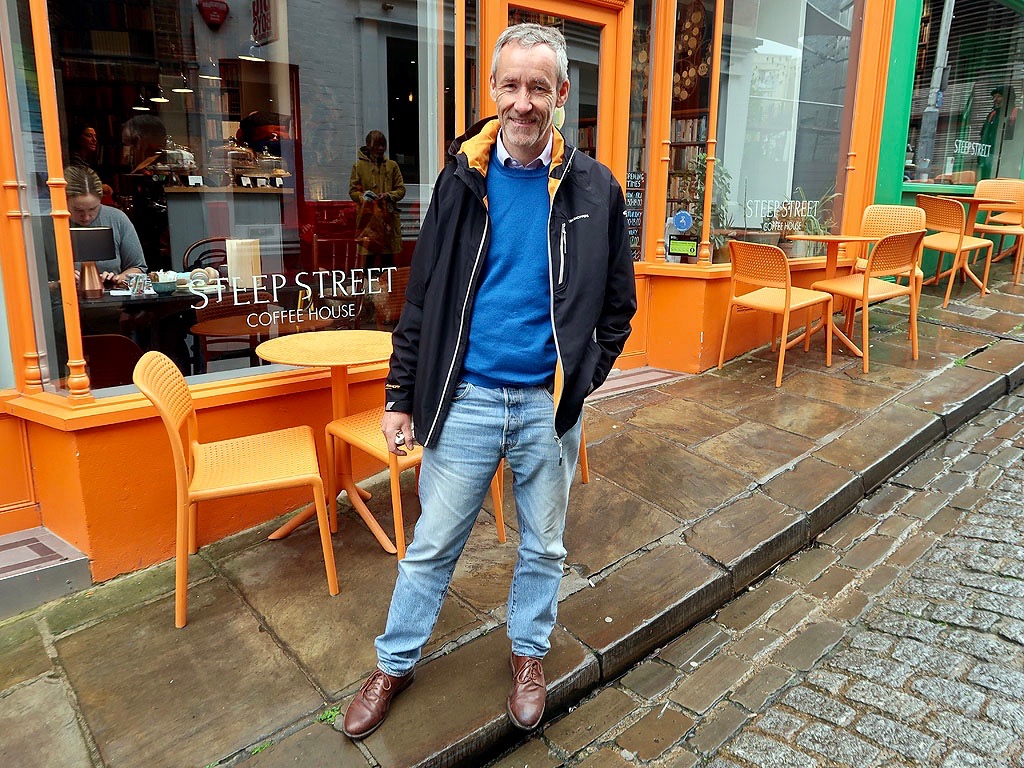 Nick Ewbank in Creative Quarter.
We visited Canterbury Cathedral, as pilgrims have done since four knights encouraged by Henry II murdered archbishop Thomas Beckett here. He was a victim of rivalry between king and church in the Middle Ages. The combination of Romanesque and Gothic style mirrors the impressive building's development through centuries. A compass in the floor shows that it is the Mother Church of the Anglican Communion in all corners of the world.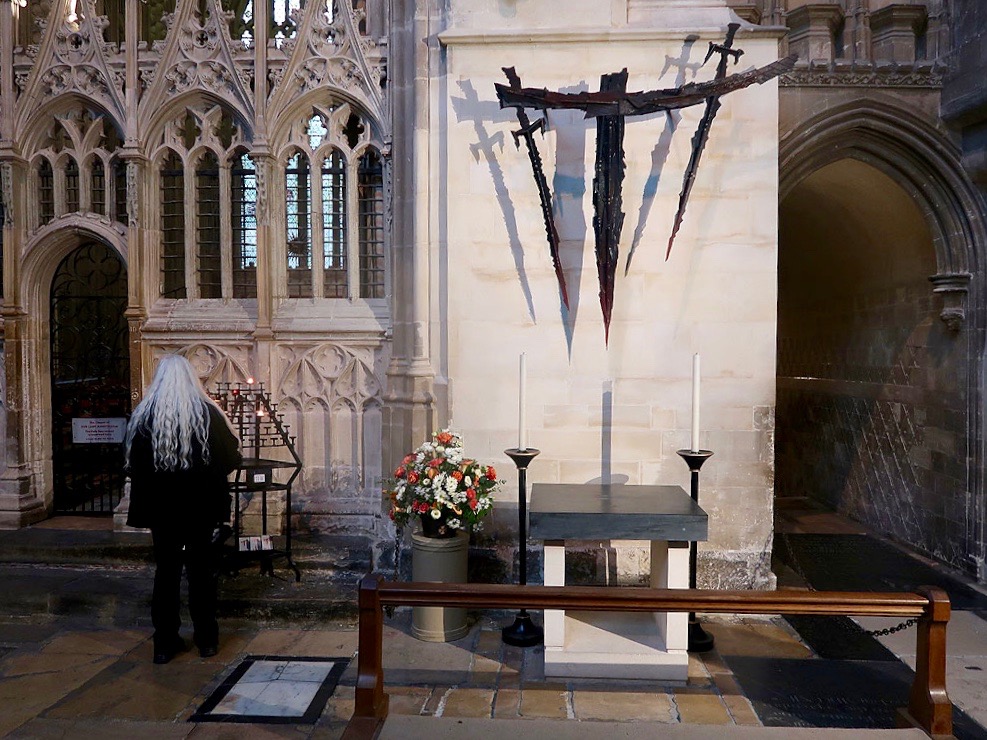 Canterbury Cathedral.
On former trips, we have given London's many cultural institutions high priority. This time we saw a play in Shakespeare's Globe Theatre and exhibitions in nearby Tate Modern. But we spent more time on long walks to get the feel of development and atmosphere in different parts of the city. Southbank with high culture and street artists. West End with Piccadilly Circus and shopping streets. Westminster with Buckingham Palace, Trafalgar Square, Houses of Parliament and one of Extinction Rebellion's demonstrations. City with noble old buildings, iconic new skyscrapers and Tower of London. Notting Hill with the market street Portobello Road, which we both know from the 1980s.
Hanne bought vegetables here, when she did voluntary work in a house for homeless people. Lars interviewed traders for an educational material during his post graduate teacher training.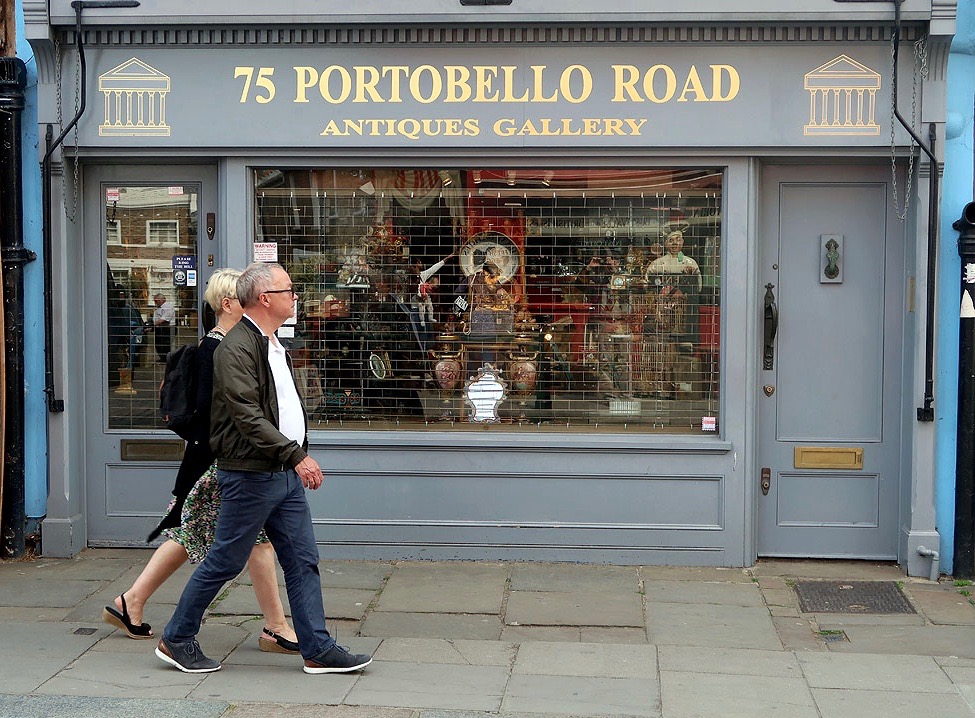 Portobello Road.
We met Jane Tuckley in Kensington Gardens, she walked us through the park to interesting places in the neighbourhood. We enjoyed a vegetarian lunch in one of Yotam Ottolenghi's restaurants, since then Hanne has served delicious green dishes inspired by the Israeli-English cook and author of cookbooks.
We got an impression of East London's dynamic transformation on a walk with Ralph Ward as a knowing, critical guide. He has contributed to the capital's transformation as an urban planner in senior positions. He now arranges tours for professionals and for the general public. We walked between the towering development areas of Stratford and Canary Wharf along small river paths, through old industrial and vibrant residential areas. We saw examples of fragmented planning and fine buildings on a human scale. The tour showed parts of London, we would never have found on our own.
A visit to the Museum of London Docklands in an old warehouse added historical dimensions to the experience. The museum tells about the importance of the River Thames from before the Romans arrived over the inhuman slave trade of the colonial era to present time conflictive urban renewal under the leadership of London Docklands Development Corporation.
Canary Wharf.
"Gentrification" characterizes development that raises urban neighbourhoods socially and culturally for the benefit of some, but often at the expense of the original residents. They no longer recognize their neighbourhood and many have to move because rents are rising. The word came up all the time when we talked to locals about their experience of recent decades of change in London. We were also told that the transformation is often funded by Arab, Chinese and Russian investments.
London's cultural diversity survives despite Brexit and increased xenophobia. We have met Muslim women with scarves, Muslim men with beards, African women in colourful dresses, Indian men with turban, construction workers with safety helmets, homeless people in warm coats, women and men in neat business suits, hipsters in casual jackets and a punk with green hair. Often, we have seen several of these figures in a train carriage.
We understand why some people in Denmark with a different ethnic background have chosen or considered moving to England because of the discriminatory Danish immigration restrictions. A white man who lived in diverse Deptford in south-east London said: "It's a multicultural place with many Africans and Vietnamese, it's also becoming artistic, I love it!"
We likewise understand that in recent years a growing number of British citizens have applied for Danish citizenship, probably because of Brexit.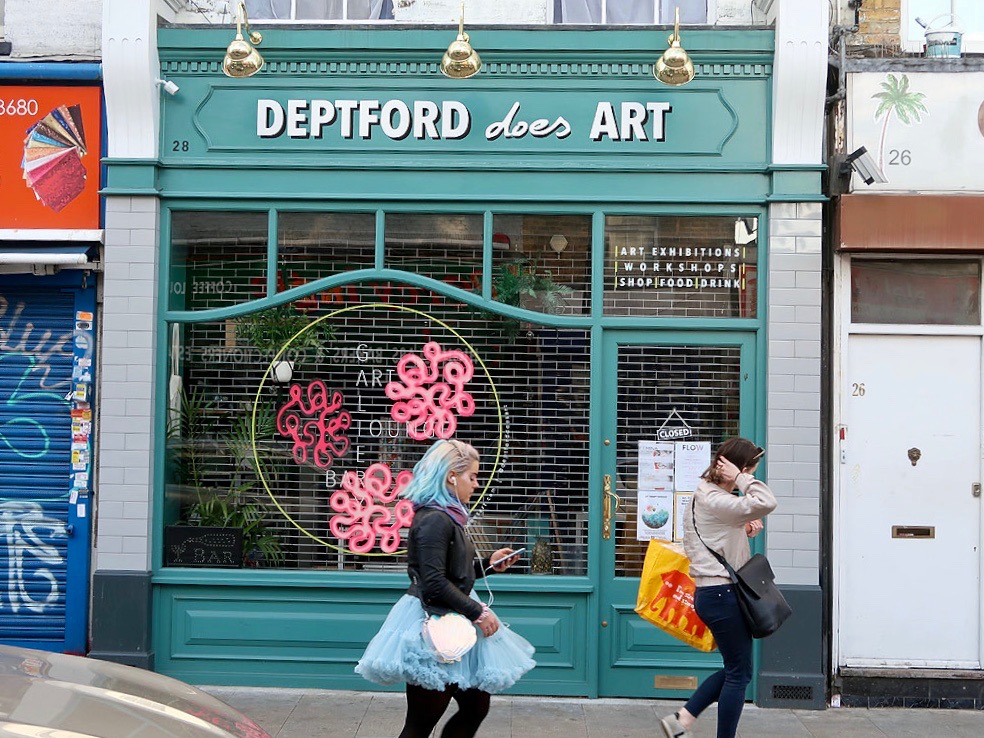 Deptford.
Learning in Oxford and Paradise in Cornwall
Oxford's Christ Church College, Ashmolean Museum and Botanic Gardens gave a fine impression of the city's traditions of spiritual immersion, scholarship and global outlook. We spoke with several foreign students who said almost with one voice, that "the teaching here is very good and very challenging".
The dining room in Christ Church College is a pilgrimage site for Harry Potter fans, and shops in Oxford offer a variety of magic wands and pointed hats. A young Chinese woman told us that Harry is also a hit in China. Having met enthusiastic admirers in several places, we understand why the author J.K. Rowling who created the fantasy universe has become a wealthy person. A business owner put the phenomenon into perspective, "The college has a history much better than Harry Potter."
The base of Blenheim Palace near Woodstock is a royal gift to the Duke of Marlborough for his victory over the French in the Battle of Blenheim 1704. The stately building and park gave us and many other visitors an opportunity to experience the nobility's life before and now. We also saw the room in which the British Prime Minister during World War II Winston Churchill was born.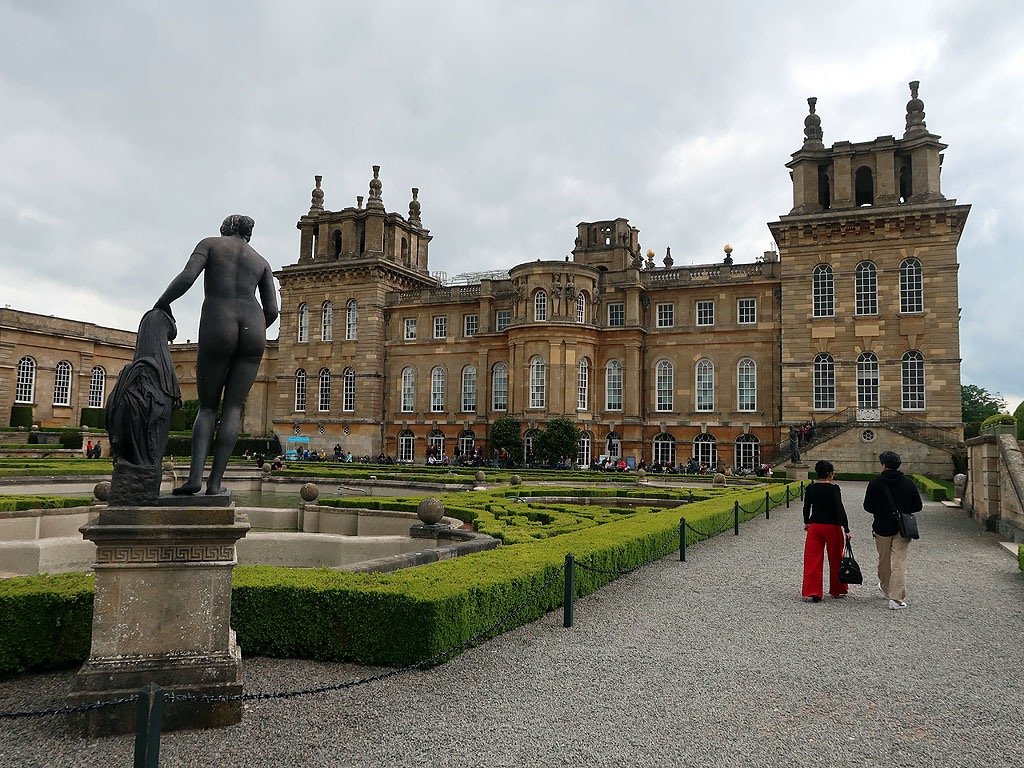 Blenheim Palace.
The ancient monument Stonehenge consists of an impressive circular, bank, ditch and group of boulders. In mid-winter, sun rays hit one of the big stones. The emergence and purpose of the monument has interested dreamers and scholars of all times. Is it a landing site for UFOs built by aliens, a temple, a healing centre, an astronomical observatory, part of an extensive burial complex for important people, or has it had several of these functions? The enigmatic monument is introduced in a fine, newly built visitor centre located at a respectful distance. Here it is soberly concluded, "Stonehenge's purpose is lost to us, and there will always be debate about its meaning."
In the café, we ​​met three friendly, Welsh men who sought solutions to the riddle. One of them humorously defended the theory about builders from outer space.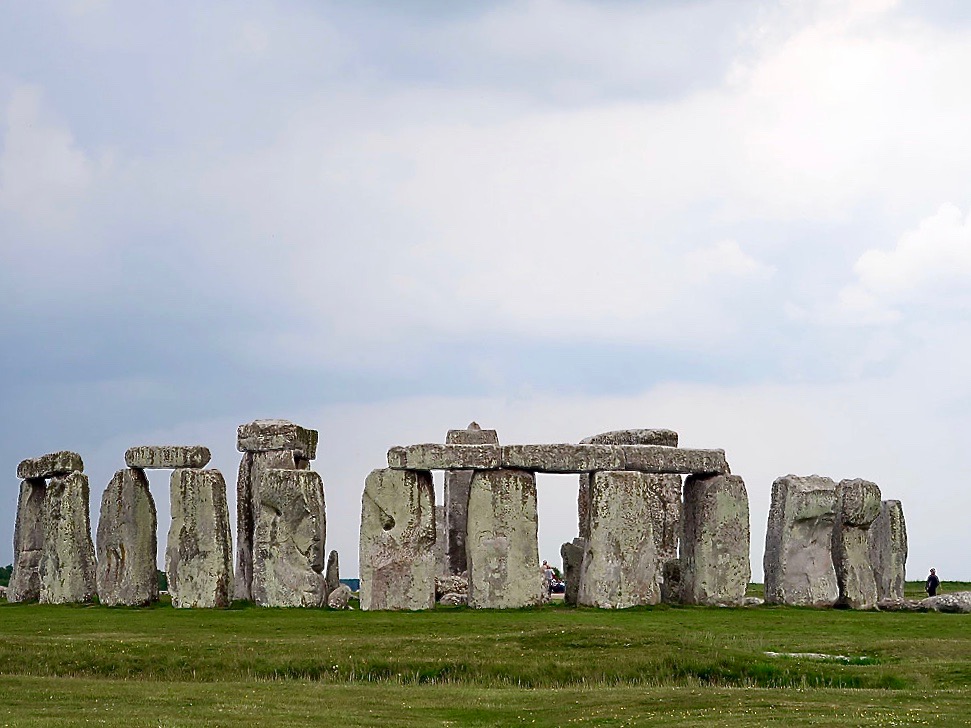 Stonehenge.
In Bath, we saw that an advantage of traveling in the footsteps of the Romans is their sense of sacred and healing hot springs. The modern Thermae Bath Spa was a treat to our travel weary bodies. We also visited the city's ancient Roman baths, impressive Georgian architecture and Jane Austen Centre, where guides in early 19th-century costumes tell about the author's life, work, and connection to Bath.
On the trip between our campsite and the city, we passed the almost 200 years old Weston Lock. While helping the skipper of one of the narrow riverboats open and close the gates of the lock, we heard stories of his experiences from a floating home on English rivers and canals.
In Cornwall's rolling hills, we visited the Eden Project. A small group of committed people's visions have transformed a former china clay pit into lush gardens. Some are outdoors, others are covered by domes. The project highlights issues of ecology, climate and the future of the globe. It has social, scientific, artistic, and learning dimensions. Locally it has created development and jobs since its opening in 2001, globally it has inspired similar initiatives in other countries. "The Eden Project connects us with each other and the living world exploring how we can work towards a better future," it says in presentations.
We reached the westernmost point of Great Britain Land's End one evening after the attractions were closed. We sat on the cliffs by the sea and enjoyed the beautiful and peaceful sunset. The sign, that marks the classic tourist destination points to American New York and to Scottish John O'Groats. It also pointed to the northern goal of our autumn trip.
St. Ives was originally a charming fishing village, which has evolved by attracting tourists, artists and recently also surfers. We arrived just before the tourist season made the narrow streets crowded. We took a walk along the beach and visited Tate St. Ives, with presentations of the artists' colony, and the Barbara Hepworth Museum, with exhibits of the sculptor's modernist works in her home and studio.
A hardware store's confident slogan read, "If we don't have it, you don't need it." It didn't take long for a clerk to find a handle for our camping pots in the crammed shop.
The fishing village of Clovelly with a tidal harbour, well-kept old houses, photogenic donkeys and no cars has been owned by the same noble family for centuries. We had a lunch break here.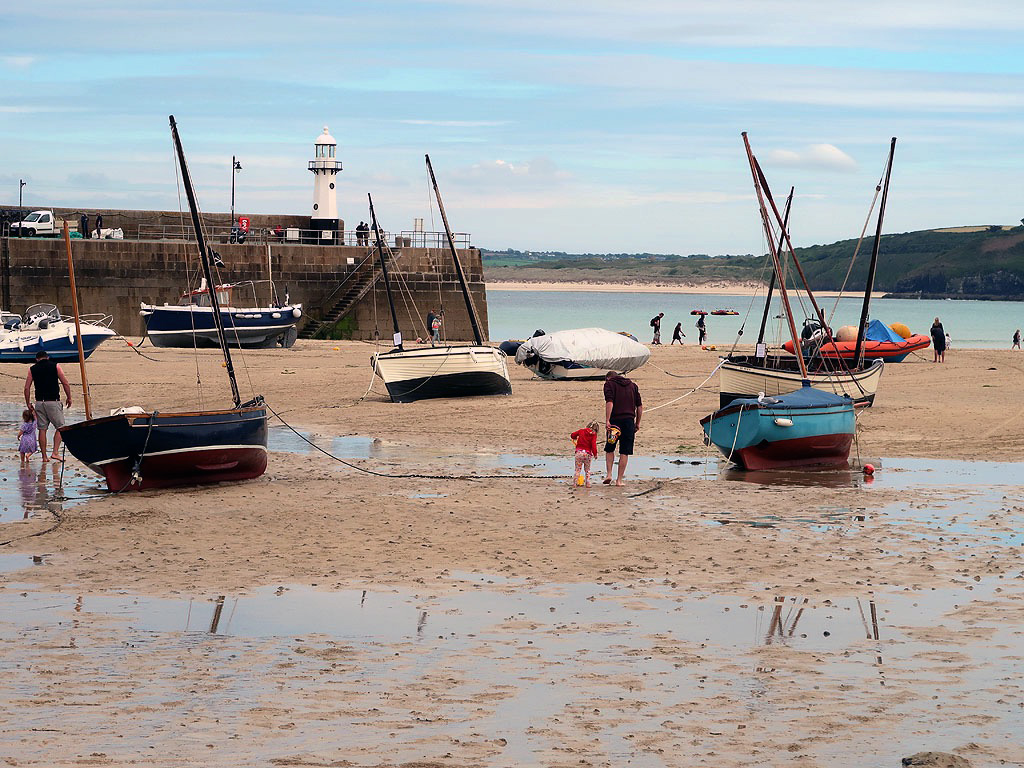 St. Ives.
Beatles in Liverpool and Vikings in York
Chesire Oaks Designer Outlet is the largest shopping mecca of its kind in the UK, it sells brands at spot prices. We visited because we had to spend some nights at a nearby campsite as everything was sold out in and around Liverpool due to holidays and football.
Liverpool has developed from an industrial port city to also being an attractive cultural city. We stayed at the marina within walking distance of Albert Dock, where warehouses were decaying when container transport took over. Now they have been transformed into cultural institutions, cafés and restaurants. While we were there, culture conquered the pier itself, because the annual River Festival focused on the harbour as a hub for connections to the world. That same weekend, Liverpool F.C. had their homecoming parade after winning the European Champions League Cup in Madrid, and 750,000 happy fans showed up along the route.
Football songs and Beatles songs were recurring soundtracks to our visit. We saw The Beatles Story about the band's life and work. We were also on a Magical Mystery Tour to iconic locations such as the members' childhood homes and the recreated Cavern Club where the group was born.
A tour on Ferry 'Cross the Mersey gave impressions of the city from the waterfront. The newly built Museum of Liverpool gave an overview of its history focusing on ups and downs, class differences, global connections and cultural diversity. The museum's special exhibition Double Fantasy portrayed John Lennon and Yoko Ono's loving, artistic partnership and their still relevant message about peace.
Our camping neighbour grew up in the city, studied in London and now ran a restaurant in Wales. He was opening another restaurant in Albert Dock. "Liverpool is in a positive development, which gained momentum when it became European Capital of Culture in 2008," he said.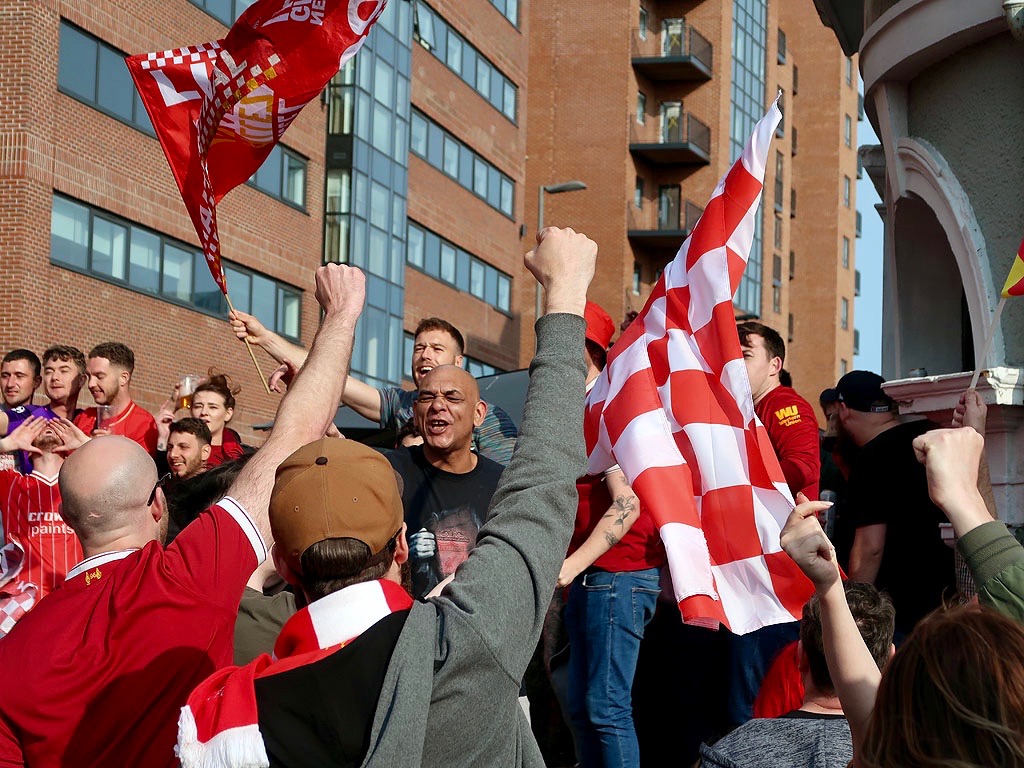 Football fans i Liverpool.
York was formerly known for production of chocolate and train carriages, now it has become an attractive tourist destination. Jorvik Viking Centre tells the story of a 1,000-year-old Viking village excavated on site. It includes an exhibition about the work of archaeologists, a time-travel through Viking scenery and authentic objects. The National Railway Museum's collection of vintage steam trains as well as modern high-speed trains is a paradise for railroad enthusiasts. The partially preserved city wall, York Minster Cathedral, York Castle and the medieval quarter the Shambles contributed to our impression of the gently modernized city.
When we believed to have free access to the Viking Centre because of our nationality, a clever inspector said, "The Vikings were the ones who travelled, your ancestors stayed home!"
We found our way home by ferry from Hull to Rotterdam. During the summer months, we followed the media coverage of the chaotic Brexit negotiations with interest and wonder from Denmark.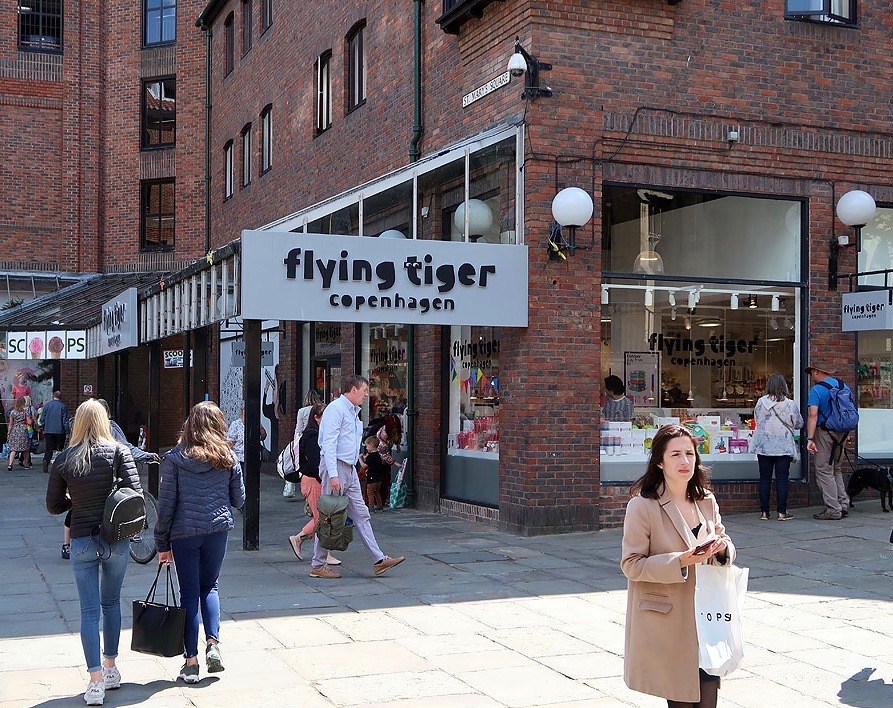 You can still find Danish merchants in York.
January 2020.