Turkey between East and West
We almost felt at home again, when we landed in Istanbul after one month in Iran. But we soon discovered Turkey's special mix of East and West as well as traditional and modern ways of life.
At first glimpse Istanbul seems to be a modern and western city. The shops sell fashion clothes and international brands. Many women are blonde, and you see this, because only few wear a scarf. Restaurants serve beer and wine. The television has shows and videos with unmistakable erotic signals. And the European Song Contest 2004 was held here.
But Istanbul also has its traditional and eastern sides. The bazaar is a market more than a shopping mall. Loudspeakers on the thin and tall minarets of the mosques summon believers to prayer. In the suburbs migrants from eastern Turkey recreate the close social qualities of village life. And you soon arrive at places, where horse and cart is a common means of transportation for men and women dressed in traditional clothes.
Turkey unites East and West as well as tradition and modernity.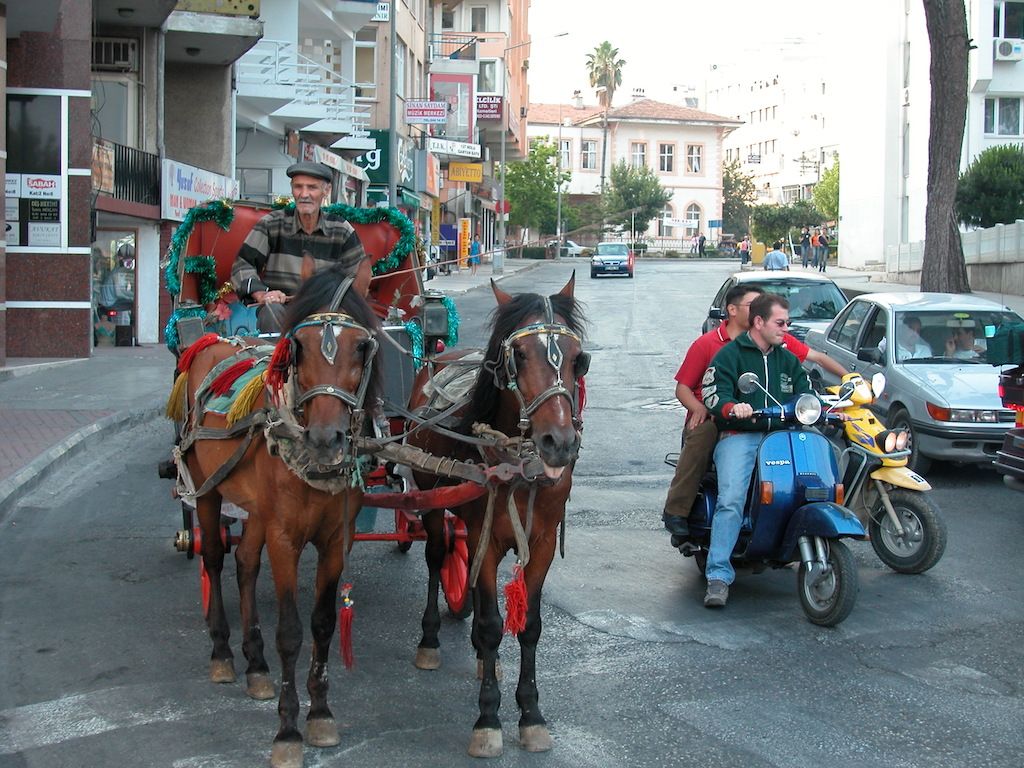 Our journey
It is easy to travel in Turkey. The country has a good system of buses run by many competing companies. You ride in new buses and stewards dressed in shirt and tie serve water, soft drinks and tea with cake. Afterwards you are offered to wash your hands in perfume with a scent of lemon. The level of service in Turkish buses can easily compete with that of modern airlines.
In the buses you meet many friendly Turks, who sometimes know enough English to join in a good conversation. Furthermore the bus rides offer rich opportunities to see rituals of departure involving many friends and family members and more hugs and kisses.
Taking leave of young men on their way to the army may be a ritual of transition involving music and crying women. The people leaving may be thrown in the air before entering the bus, which is then accompanied by cars honking their horns at the border of the town.
Our journey started and ended in the old capital Istanbul with the culturally rich Sultanahmet quarter. Here we stayed with a very hospitable Turkish family. Canakkale was our base for visiting Troy, that Homer's heroes conquered by hiding in an oversized wooden horse. From there we also visited the battlefields of Gallipoli, which allied forces didn't manage to conquer in the bloody battles of the First World War. We went on to Edirne, that was also one of the capitals of the Ottoman Empire.
Through Istanbul we travelled to the attractive Ottoman houses of the trading town Safranbolu. From there we went to the present capital Ankara with many memories of the father of modern Turkey, Mustafa Kemal Atatürk. In Ankara we met some young Turkish students, who told us about their lives, and showed us their places in the city.
We crossed the fruitful Anatolian plain in order to reach Göreme, which was our base for exploring the fairy chimneys, underground cities and rock-hewn churches of Cappadocia. We visited the originally conservative area around Konya, where many Turks in Denmark come from. Here a Turkish friend showed us, among other things, the Mevlana Museum where the poetic religious mystic Rumi shaped his tolerant religious message in the 12th century.
In Antalya we walked in the old part of town, where traditional houses have found new purposes. Among the romantically overgrown ruins of Olympos, we met some of the many turtles that live there. From here we took a Blue Voyage to Fethiye and realised that the Mediterranean Sea changes between being dark blue, dark green, dark red and black. On the way we saw Greek and Roman ruins as well as impressive Lycian graves, and in the nights our traditional Turkish sailboat anchored in quiet bays. In Fethiye a young hotel manager told us about the poor living conditions in Eastern Turkey that inspire some young men to go west.
From here the tour went on to the impressive ruins of Ephesus and Pergamum. Our next stop was Bursa, which was the first capital of the Ottoman Empire. Bursa is known for its thermal springs, and we were invited to a Turkish bath by a couple that we met through the organisation Servas. It was a healthy experience to move between rooms with different temperatures and have a wash and massage in Bursa's "new bath" from the 1500s.
Our journey finished in Istanbul, where it started. At the time a NATO-meting was held in the city, and this caused some bombs. But fortunately we ourselves have only met the threats of political violence lingering over Turkey in the shape of armed guards in front of public buildings and security checks at large museums, ferries, airports and similar places.
We have driven more than 4000 kilometres on the good Turkish roads, thus we have seen around one third of the country. This is enough to get a feel of its great variations in landscape, climate, living standards and culture. But we still have many good reasons to come back to explore the regions we didn't see this time.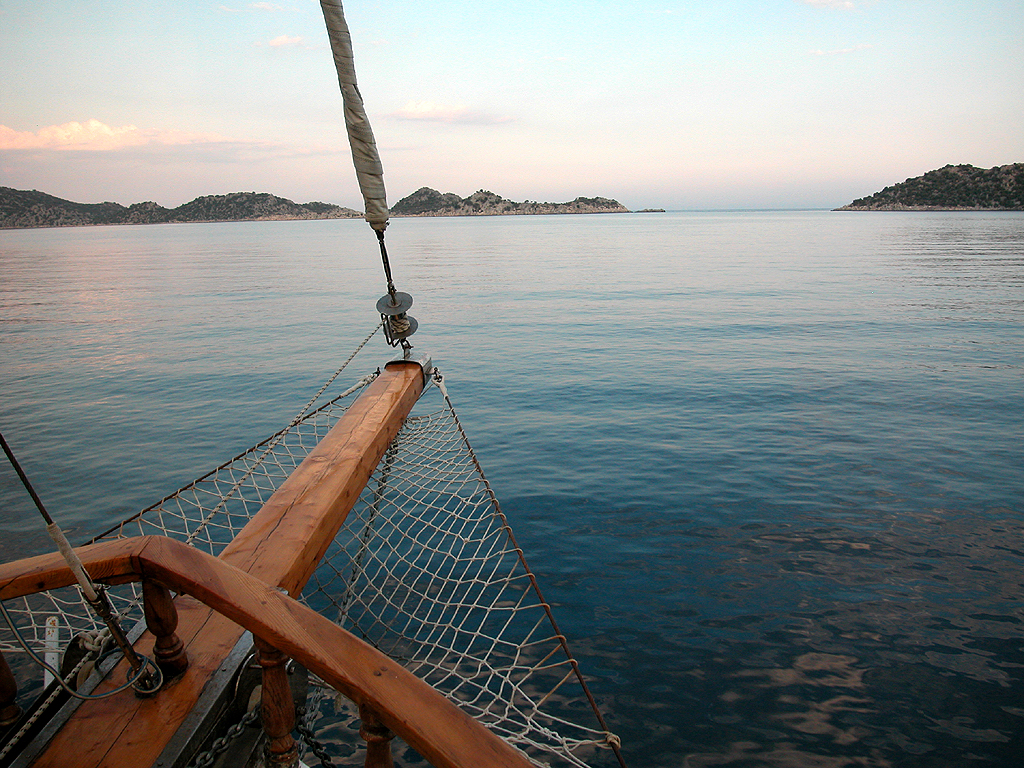 Refined meals
The Turkish Cuisine is refined and varied. No matter if you eat in a private home, in an expensive restaurant or in a modest cafe, it is a great experience.
Turkey has natural resources to create good vegetables, meat and other food. The art of turning this into meals draws on inspiration from all of parts of the large Ottoman Empire and it was refined in the kitchens of the Topkapi Palace as well as by a long social tradition.
The courses are usually based on one main ingredient, the taste of which is underlined by interesting, but rarely strong spices.
We will remember beautifully arranged trays with breakfast consisting of bread, eggs, slices of cucumber, tomato, olives, different cheeses, honey and jam made of roses. We will remember rolls baked with cheese for a quick lunch. We will remember many kinds of thin, crisp bread with meat, cheese and vegetables. We will remember dinners with light, spicy starters and a main course accompanied by aniseed-flavoured, white raki with water and rounded off by fruit or sweet cakes and a cup of strong Turkish coffee or tea. We will remember soft and sweet Turkish delight.
Hanne will remember the lesson she got in how to roll dolma in wine leaves, so the right side comes out. And we will both remember the freshly caught salmon with salad, lemon and bread, we ate in a small restaurant by a river in Anatolia, where foreign tourists were not a common sight.
Turkish meals are always a feast.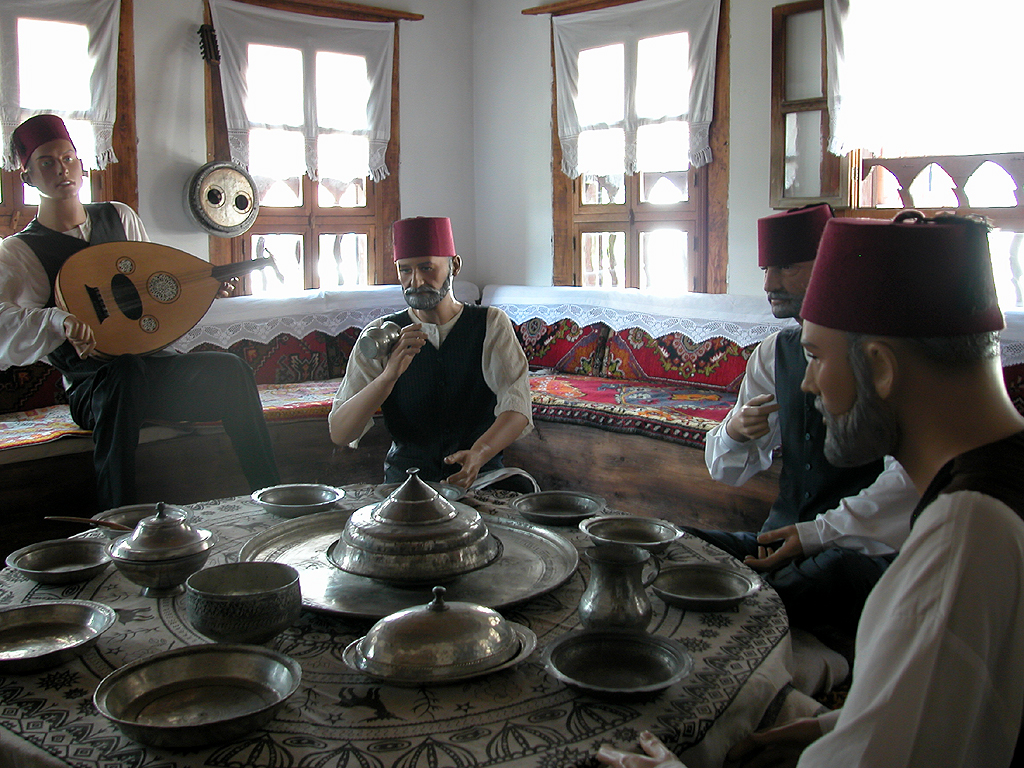 Traditional and Modern Hospitality
A Turkish friend in Denmark had asked her family in Istanbul to show us the city, and they did this in the best manner possible. We were received at the airport, stayed in their home and were driven to the sights of the city. We visited them several times, and at the end of each visit we were placed safely in a means of transportation that could bring us to our next destination. Furthermore, they gave us advice on travelling in Turkey and more contacts to friends and relatives in different parts of the country than it was possible for us to visit.
We have met great hospitality and helpfulness all over Turkey. When we have asked directions, we have often been taken to where we wanted to go. When we had problems with our Macintosh, the Turkish editors of an international computer magazine helped us. Several people spent hours doing so, and when we offered to pay, this was turned down with the comment: "Turks like to help other people."
Ottoman houses had separate quarters for men and women, and they had long benches along the walls, so there was room for many visitors. The modern Turkish homes we have visited are also furnished, so they have room for many people sitting and talking with each other. We have several times seen between ten and twenty members of the family, friends and acquaintances pass through a home within a few hours, and everybody has been served food or tea.
Family bonds are still important i Turkey although some people complain that there is not time to help each other, while other people are happy about the new freedom. The Turkish children we have met have had loving and inspiring environments with much attention from many family members of more than one generation.
In the younger age groups you see women as well as men in public spaces. In the older age groups men outnumber women in restaurants etc. On one occasion we were not to let into a restaurant because they didn't accept female guests. Hanne has experienced a flattering more than frightening masculine interest, when she was out alone. Turkish men sometimes have more than one job and work long hours, but apparently not very intensely. You often see shop owners enjoy a glass of tea and a game of backgammon in front of their shops.
Turkey is a country visited by many travellers and tourists, and it also offers professional hospitality. You can call one phone number and get help all over the country. All major towns have tourist offices that have good service and hand out folders. There are many popular books about the sights of Turkey, and in all important tourist destinations, you can get assistance from academic guides. Some of them are very knowledgeable and enthusiastic cultural communicators. We have furthermore had the advantage of travelling early in the season, when everything was ready to receive tourists but not many had arrived yet.
Professional relationships are often warm and friendly. In the cosy and neat small family pensions you are involved in the everyday life of the families. A taxi driver, who one early morning drove us from the bus station into a small town, asked if everything was OK when we met again in the afternoon. Buying a meerschaum pipe from a pipe maker from Eskisehir easily turns in to a small party where tea is served while the goods are inspected. After long negotiations that may involve small presents to "the lady" and demonstrations of the art of pipe making a "good price" is agreed on. In the following days, we say a warm hello to each other, when we meet.
In very touristy areas the desire to make contacts and sell may seem obtrusive, when you are used to cool Nordic relationships. The number of carpet dealers in Istanbul's Sultanahmet quarter seems to exceed the need, and you are constantly met with the question: "Would you like to see my family's carpet shop."
We however still have our doubts as to who was most naive, when we declined a carpet dealers persistent offers of "traditional Turkish hospitality" referring to the carpet that we had already bought in Iran.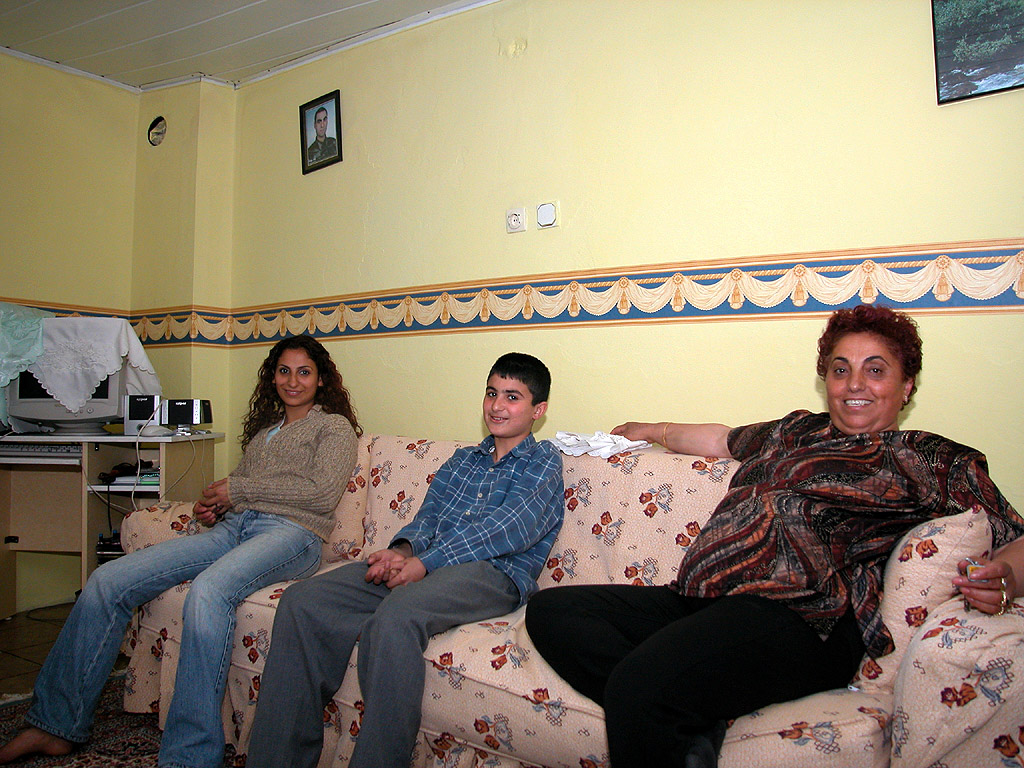 Islam in Turkish
Most Turks are Muslims, and say so, although some add that they do not go to mosque and do not fast. The Muslims we have met in Turkey have had a serious, but undogmatic attitude to their religion.
When Hanne was waiting outside a mosque, because she only wore shorts and a sleeveless T-shirt, a friendly and smiling Imam went out to fetch her. Afterwards he proudly told us about his mosque and showed us a picture from the party when his son was circumcised. He could also tell, that "I read the Qur'an in Arabic, but Allah understands all languages."
Many young Turks seem to have a relaxed attitude towards religion, but Islam does have a very noticeable impact on Turkish culture.
You see beautiful old and new mosques everywhere. The museums show examples of Islamic art. From the minarets you hear the call for prayer around the clock. Hospitality is great. The wish of helping other people is common. You meet young boys in the beautiful uniforms they get before their circumcision. Turkish men are very clever at handling the prayer beads that many have in their hand or around their wrist. To some Turkish women the scarf is a political as well as a religious symbol, but it is forbidden to wear scarves in Parliament, in government offices, in schools and in universities.
Mustafa Kemal Atatürk led the rebuilding of the Turkish nation, when the Ottoman Empire lay in ruins after the First World War. The aim was to make Turkey a secular, democratic republic in western style. The legal system was reformed with inspiration from Switzerland and Italy. The educational system was modernised. The Islamic calendar was abolished in favour of the western calendar. Sunday was made official holiday instead of Friday. Everybody was to have a family name. The Latin alphabet was introduced instead of Arabic script. Men started wearing hats instead of fezzes. Women were granted equal rights in a number of areas. Etc.
All over Turkey statues honour Atatürk, streets are named after him, and the respect seems genuine. School classes flock in Ankara's museums for Atatürk. On Youth and Sports Day on his birthday the 19th of May, we saw children in a school in Istanbul meet to recite poems about Atatürk.
We have asked Turks why a people that see the separation of state and religion as an important part of their national identity gave the government to a - moderate - Islamic party in 2002. The answers have referred to the honesty of the government, to its good economic policies and to the fact that it is difficult for small parties to gain representation. Perhaps it is also due to the combination of East and West as well as traditional and modern ways of life inherent in Turkish culture.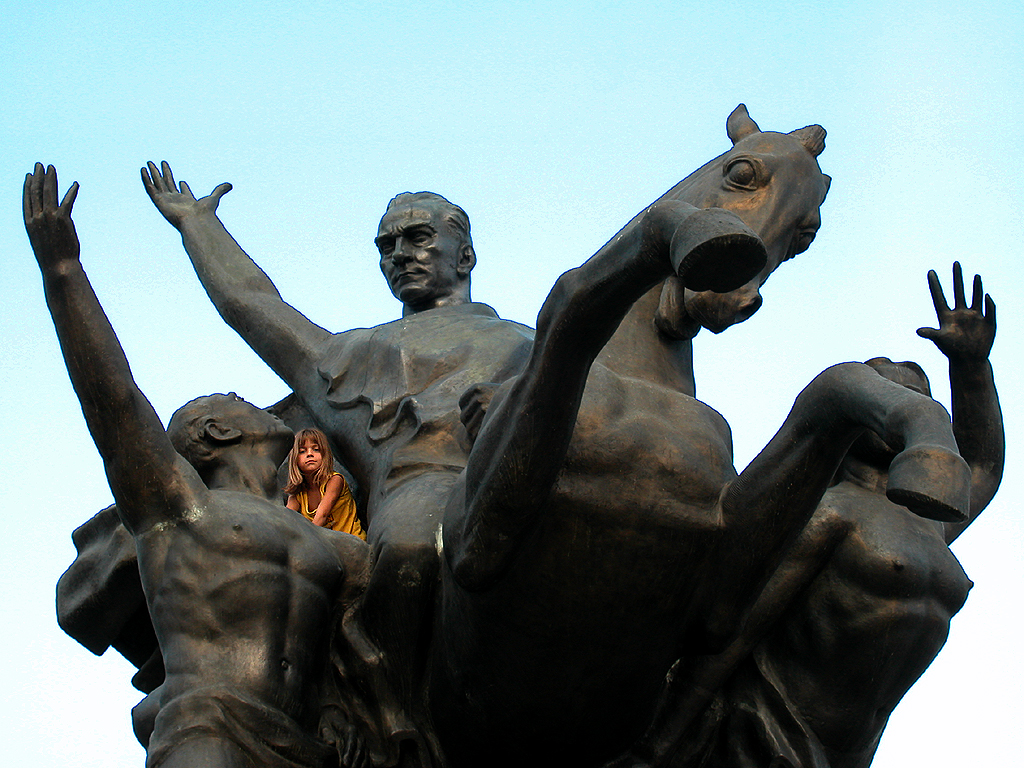 Turkey between East and West
The oldest human remains found in Turkey are one million years old. Before the Turks came from the plains of Central Asia in the 11th and 12th centuries, Hittite, Persian, Greek, Roman, Arab and so many other civilisations, that it is difficult to keep track of them all, have influenced the country.
History is always present in Turkey because of the impressive ruins and buildings, that you find everywhere. You feel how civilisations have met, fought and literally built on previous results.
Culturally conscious Turks relate to the civilisations of Anatolia. In a conversation about the dream that many Turks have of finding happiness abroad, a woman we met in a restaurant near Ephesus said: "Turkey is a rich country, people have lived in these mountains for thousands of years, and we can do the same!" She had been to the US for half a year, but had chosen to come back to Turkey.
The ruins of Ephesus are probably the most impressive classical remains we have visited while travelling in Turkey. It doesn't require much imagination to see, how people have been able to live rich material and spiritual lives here in beautiful surroundings with houses, shops, schools, sports grounds, baths, theatres, libraries, temples, churches and places, where people met to discuss philosophical and political questions.
The Byzantine Haghia Sophia of Istanbul, dedicated by Justinian in 537, illustrates the meeting between Christianity and Islam in Turkey. The impressive building was erected as a Christian church, but was made a mosque after the Muslim conquest of the city in 1453. The crosses on the doors were removed, and the mosaics were whitewashed so gently that they could be revealed again when Atatürk made the building a museum in 1935. The Viking Halvdan also added his Nordic comment to the great history, when he carved his name in runes in one of the galleries. With its present combination of Christian and Muslim symbols, Haghia Sophia may be seen as a monument of cross-cultural understanding.
In Edirne parts of the Beyazit II complex from the 1400s, which among other functions had a hospital, has been made a Museum of Health with the explicit purpose of bridging between Eastern and Western culture. The exhibits show how patients were treated with music, the sound of water, odours of flowers and activities besides medicine.
We signed up for a tour of the Gallipoli Battlefields of the First World War with mixed feelings. But the former submarine captain and present war historian and tourist guide Ali taught us that they bear a message of peace and international understanding. This is part of the explanation why they are still visited by people from many nations.
Turkish is spoken in many places in Asia and Europe, and we have met Turks, who choose to study Japanese, because the languages are related.
Turkey has the political ambition of becoming a member of the EU, and thereby Europe will be able to get a bridge to the East, that culturally, politically and economically becomes more and more important.
The ruins, historic monuments and rich museums of Turkey have given us insight into the cultural traditions of the country. But it is the Turks we have met who have shown us how the heritage is used. The many hospitable people who have opened their homes to us, the many helpful people who have given us a hand when this was needed, the many thoughtful people who have told us about their lives and dreams.
We will let Mehmet have the last words from our journey in Turkey. We met him in a small village in Anatolia and he immediately invited us to stay with him for ten days. He told about his love for the area he lived in and of the dreams he had had of going abroad to make money and experience adventure. He promised to send us Christmas cards, "because Jesus is also an important prophet, who is mentioned in the Qur'an." In return he wanted us to think of him, when we see the Statue of Liberty in New York, and we will definitely do so.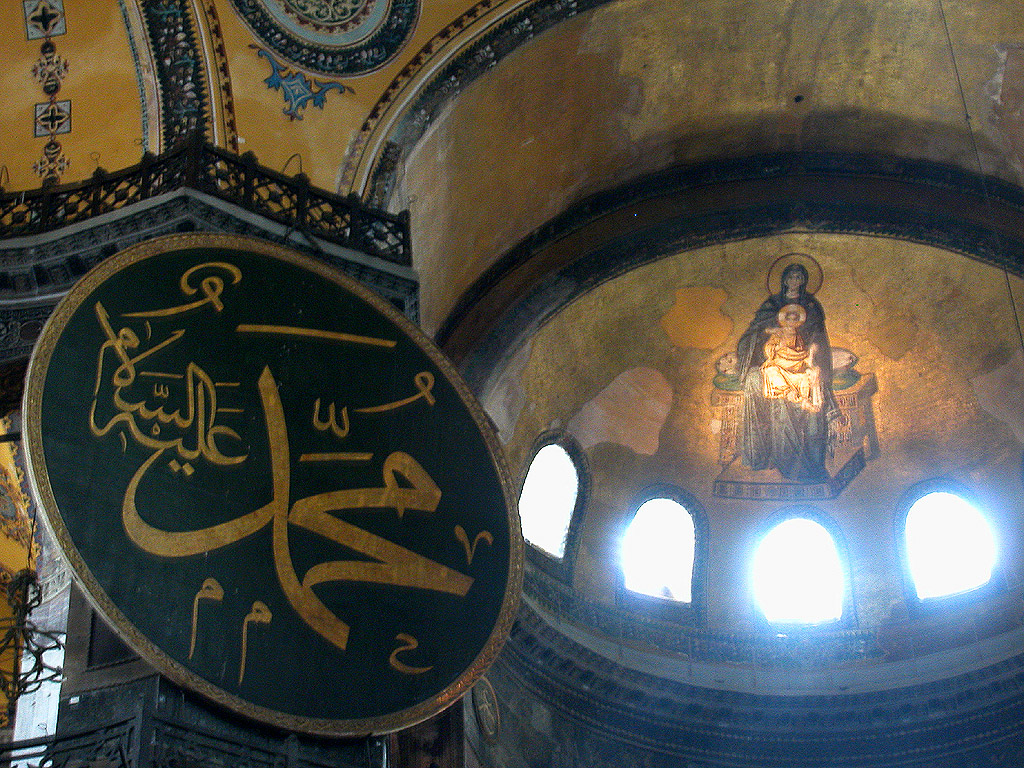 June 2004