Tradition and Renewal in Thailand
We arrived in Thailand a few days before the Loi Krathong festival in autumn. Like many other people we bought a small boat shaped like a lotus made of banana leaves and loaded with candles and joss sticks. In the evening we joined locals, who met at a bridge and launched their boats into Bangkoks Chao Phraya to thank Mother River for her gifts during the year. We took part in a ritual supposed to be some 700 years old and to have many meanings.
It was an event full of atmosphere; whole families came to set their boats afloat. Some of them accompanied by written prayers that were lit and thrown into the river. Red hot air balloons glowed against the dark sky, and impressive fireworks rounded off the evening.
The following day we heard on the news that almost one and a half million lotus boats had been fished out of the river, and that the authorities had recommended that they were made of sustainable materials in order to protect the environment.
We interpreted this as an example of the Thai ability to preserve tradition in the midst of economic and cultural modernisation. Later we learnt that in Thailand it is wise to be on good terms with the gods of the waters.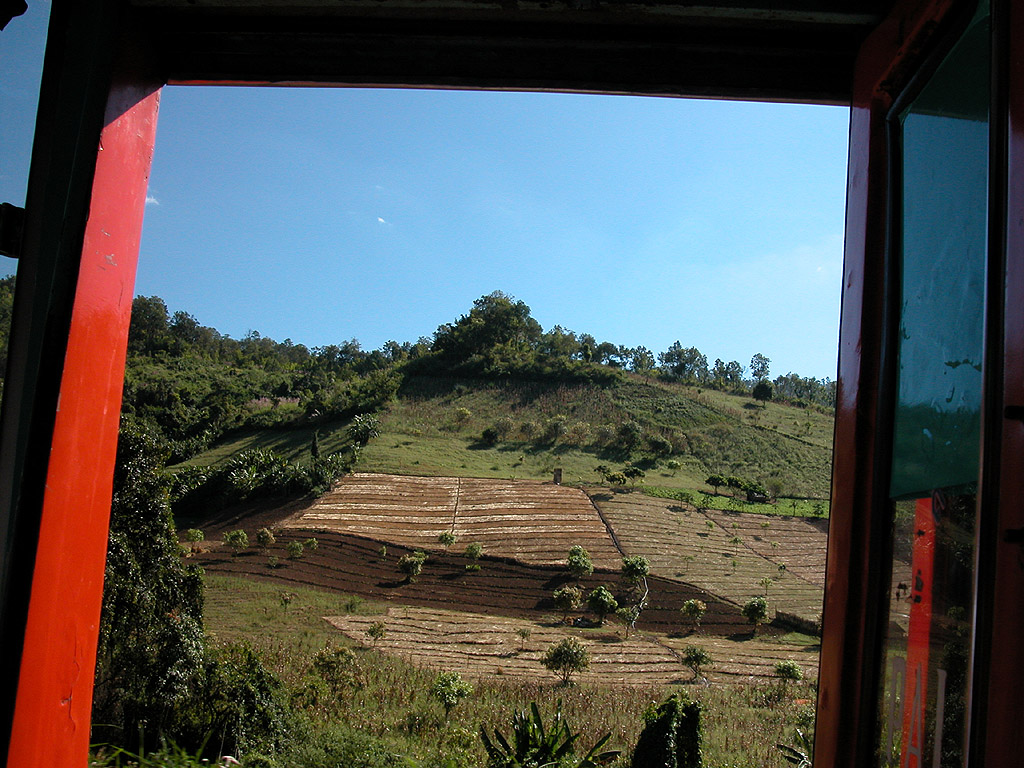 Our journey
We have been in Bangkok before, and "our guesthouse" is situated in a pleasant neighbourhood on the outskirts of Chinatown, and it has a view of the Chao Prayha. Still we had had enough of the noisy city in a couple of days and went north.
Our first stop was Chiang Mai, from the late 1200s capital in a separate northern kingdom. We visited some of the cities many temples inspired by Burmese building traditions. In its lively markets we met the first representatives of the ethnic minorities of the region and their beautiful crafts. Tribal Research Institute gave us an introduction to the traditions of the various groups. It also presented the efforts to improve their living conditions and inspire them to grow other cash crops than opium.
Through the organisation Servas we met a woman, who had evaluated projects for and with these often poor people. She told us about her life and about how practical Buddhist philosophy had helped her through a difficult disease.
With stops in the inviting, little towns of Pai and Soppong, we went on to Mae Hong Son. From there we took an exciting and strenuous trekking tour through the jungle to isolated villages, where we stayed with locals in their houses on poles. We also visited a Karen-village, whose inhabitants have fled from Burma and now earn a living from tourists, that are attracted by the women's tradition of wearing heavy brass spirals around their necks, arms and legs.
Our tour went on to Sukhothai; its ruins and museum show the golden age of Siam's capital from the middle of the 13th to the end of the 14th centuries. We also visited a temple in which a Buddhist monk had illustrated a dream with scenes from Buddha's life in the shape of painted sculptures made of cement. Here Ronny Hanquart, who is the manager of Ban Thai Guesthouse, gave an enlightening and engaged introduction to Buddhist philosophy and Thai culture.
Then we went to Bangkok again to meet our son Mads, with whom we were to celebrate Christmas and New Year. Together with him we visited the marvellous palaces and temples in the area around Grand Palace, where Thailand's present capital was founded in the latter part of the 1700s. We went shopping in the Night Market and in the department stores around Siam Square, that were decorated for Christmas. We bought well-made tailored clothes. We found rest in the house of the American architect and silk trader Jim Thompson, which has been made of several traditional Thai teak houses in an inviting garden. We saw people living in slums along the railways. We sailed through the canals where representatives of all social groups live in pleasant surroundings near the water. We took this tour in a traditional longtail-boat with a noisy tractor engine that runs a propeller through a long tube at the rear. The heavy engine and thus the boat is steered by a skilled boatman, who uses all parts of his body.
After the hectic city we looked forward to a quiet Christmas and New Year with Hanne's family in Bamboo Bay Resort on Ko Lanta in southern Thailand. And our Christmas was quiet until December 26th in the morning, when the wave caused by an earthquake north of Sumatra reached the island. Around 150 locals and travelers from several nations found shelter in Hanne's brother and sister in law's garden on a mountainside for more than 24 hours. When the first shock was over, we shared the joy of being alive. We were very lucky. To us the catastrophe, which cost many lives in at least ten countries around the Indian Ocean, became an example of mutual help through dialogue among people rooted in many cultures.
While staying in Bamboo Bay one of the owners, who is a local Muslim, told us about his life and hopes for the future.
Together with Hanne's family we also visited Nakhon Si Thammarat, which is an old centre of trade and culture situated on the traditional overland route across Southern Thailand. Here we bought shadow puppets carved from buffalo-hide by Suchart Subsin, who is a master in his field. He also has a fine little museum with dolls and requisites.
From Ko Lanta we returned to Bangkok via Krabi to get a visa for India. We spent a Saturday afternoon in Patravadi Theatre, which is an artistic and cultural oasis in Bangkok, where we experienced young talents as well as highly professional artists.
We also had time to visit the ruins of Ayutthaya, which was the capital of Siam for more than four hundred years, until it was destroyed by a Burmese attack in the late 1700s.
We have travelled almost 5000 kilometres in Thailand. We have used old but good trains moving at a slow pace with open doors and helpful personnel. Thailand is the only country; we have visited, in which the waiters in the dining carriage may be flirting transvestites with shining red nails and not receive a frown. We have travelled in new and old public and private buses. We have used taxis and coughing, three wheeled tuk-tuks. We have driven cars in the left side of the road. We have rented bikes and motorbikes. And we have gone for long walks.
It is easy to travel in Thailand once you have got used to timetables that are sometimes only vague declarations of intent. Everything is so cheap that we have often found it embarrassing to use our by now quite developed skills in bargaining. But you have to be careful with drivers of taxis and tuk-tuks in Bangkok, who have many clever ways of cheating their customers.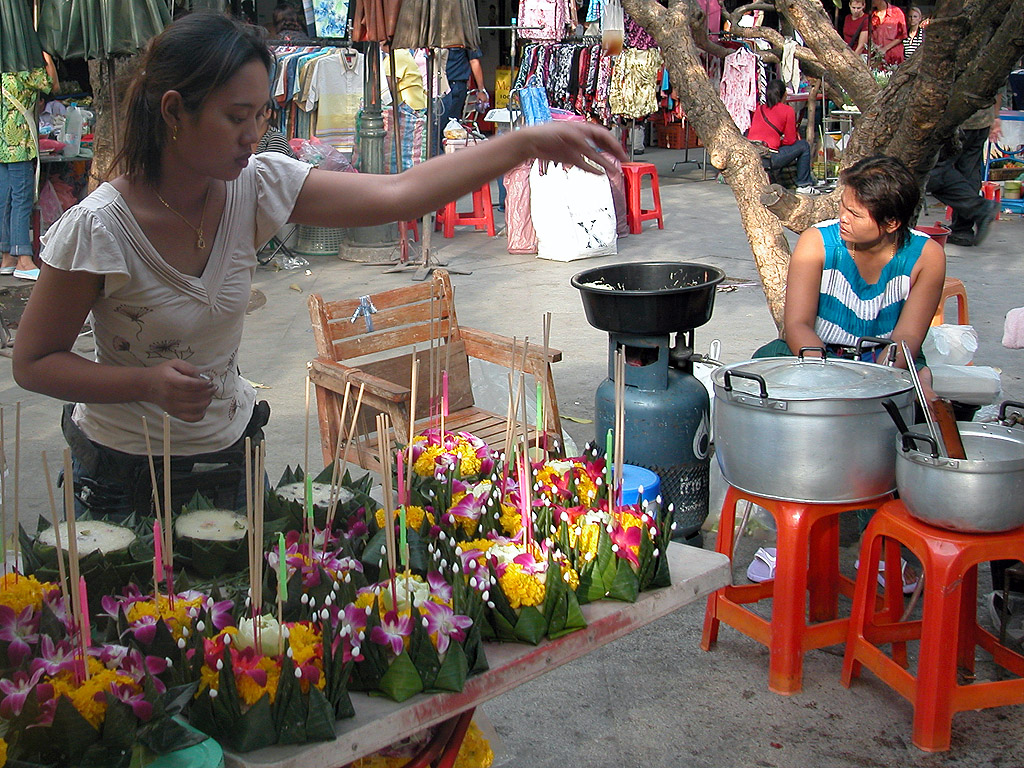 Spicy food
The Thai kitchen has received inspiration from China, India and Oceania. But still it has its own very distinct spicy flavour and aroma. The cooks use plenty of chilli, garlic and curry. Several people often order one dish each, which is placed in the middle of the table and shared. The menu is composed so that it starts and ends mildly and has a firework of spices in the middle. You eat with a spoon and a fork.
We have had soup with coconut milk and lemongrass. We have had freshly caught fish and shrimp. We have had many kinds of meals with different spices and beef, chicken or pork cut in small slices and fried in a wok. We have had delicious sweet and sour sauces. We have hat steaming hot-pan. We have had appetising fried noodles. We have had small dishes that you wrap in sticky rice and eat with your fingers. We have had papaya salad that prickles your tongue pleasantly. We have had coffee brewed on locally grown beans dried in the sun. We have had a splendid meal cooked on a fire and served in trays of bamboo made on the spot by a small river in the jungle.
Perhaps the many fresh fruits of Thailand have left us with the greatest impression: watermelon, pineapple, coconuts, oranges, rambutans and sweet bananas. Wonderful fruit and fresh fruit juice can be bought everywhere in restaurants and stalls in the streets.
It is a feast to eat in Thailand. Hanne and Mads have tried to learn in the kitchen of a Thai restaurant, and they look forward to experiment with Thai food, when we go back to Denmark.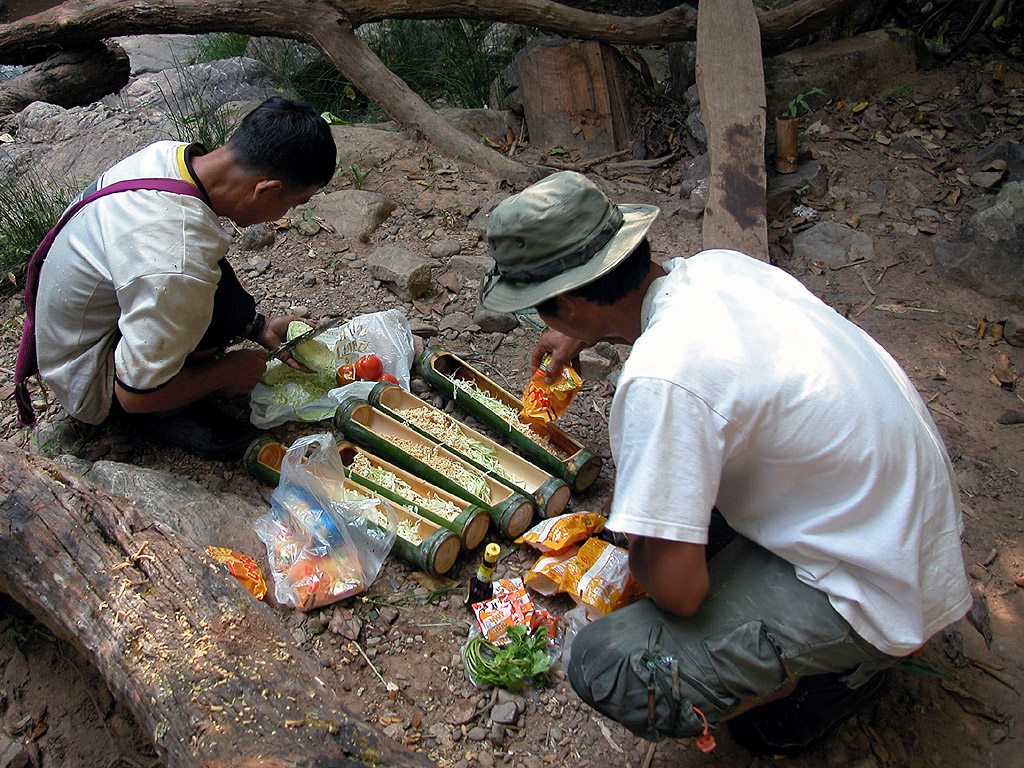 Natural experiences
In the US and China we focused much on cities, so when we arrived in Thailand, we longed for nature.
We went on two days trekking in the jungle near Mae Hong son. We walked almost 40 kilometres on the paths of ethnic groups, climbed along mountainsides, waded rivers, passed fallen trees and reached remote villages, that had only recently got solar cells and television. On the way we saw monkeys, eagles, snakes, giant ants, a poisonous black widow and many exotic trees and plants. Afterwards our good guides told us, that we had been on a tough tour, but it was well worth the trouble.
We experienced the freedom on two wheels on rented motorbikes and bikes several places in the country. We drove through green landscapes with small rice fields watered through ingenious canals. We enjoyed the smells of sweet flowers and dry straw. We were greeted by hospitable villagers. Both Hanne and Mads experienced, that gravel roads may produce unpleasant wounds, if you have an accident.
We rode some of Thailand's reliable elephants, who as the lumber business has gone down earn their daily bananas giving rides to tourists. Riding through the jungle we felt how the big animals directed by spoken orders and gentle kicks behind the ears found their way with sensitive feet on narrow muddy paths. The elephants of Thailand are living cultural history.
We sunbathed on the broad, white beaches of Ko Lanta and developed quite a tan. We swam in water so comfortably warm, that you can stay in it as long as you wish. We bathed near waterfalls in cool rivers. We saw hot springs. Mads snorkelled and dived on coral reefs with multicoloured fish. We sailed in low waters that were the home of many birds. We experienced what traditional Thai massage can do for shoulders and legs strained by trekking.
We were attacked by bloodthirsty leaches. We saw geckoes change colour with the environment and skilfully catch hesitant insects. We watched the flittering flight of the bats at dusk. We listened to the whining play of the cicadas and the clear croaking of the frogs. We enjoyed starlit tropical nights. We went to bed early and tired to sleep solidly until cocks crowing awakened us.
The tsunami that caused death and destruction along the Indian Ocean showed the rough side of nature. But the sunlit wake, white like milk and green like jade, that rose like a perhaps five meters high arched wall was also a beautiful sight. It made many of us reach for our cameras, until it revealed its true strength by throwing a heavy longtail-boat hard against the cliffs. - We have elaborated on our experience with the tsunami elsewhere on our homepage.
Thailand gave us beautiful as well as frightening natural experiences.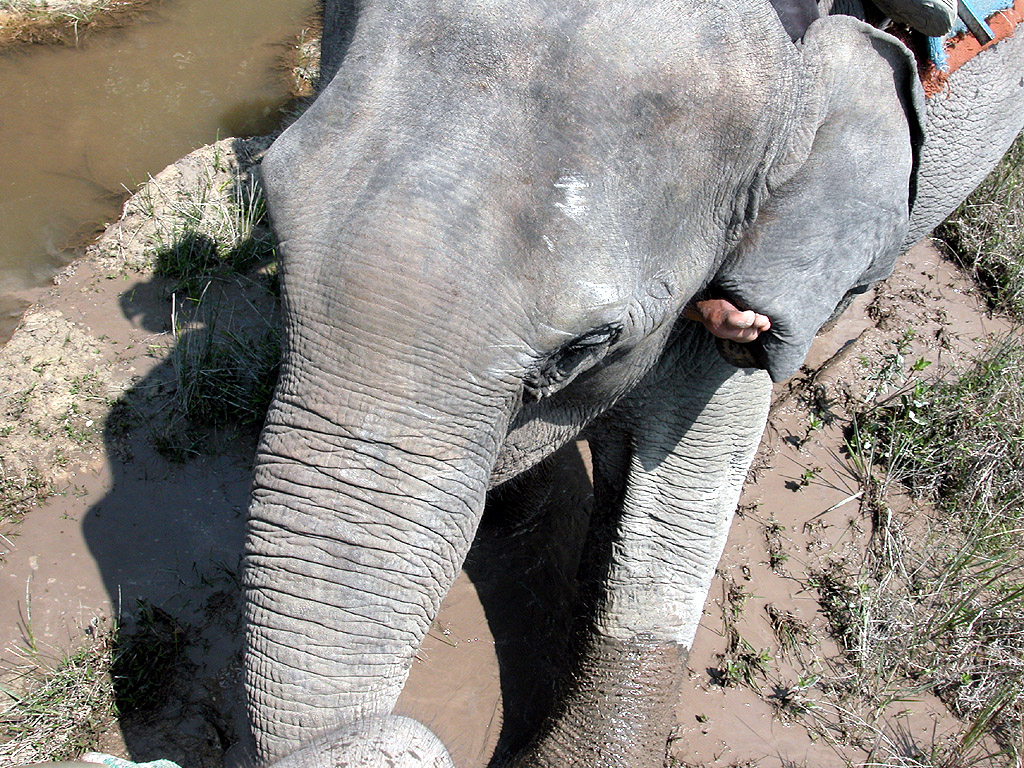 Tradition and renewal
The rapid growth and modernisation in Thailand in the 1980s and 90s was slowed down by the economic crisis, that hit south-eastern Asia in 1997, but you still feel dynamics and development. At the same time you meet great respect for the beautiful values and traditions of the country.
The many Buddhist temples of Thailand seem to be places, where religion is practised. It is part of young men's education to spend a shorter or longer period of time as a monk. In the temples you see monks in their characteristic orange robes. You also see many worshippers with incense kneeling in front of altars with Buddha statues or bringing orange buckets with donations. - We have however understood that life in a temple is not always motivated by religious zeal. You may also choose to become a monk for instance to find a way out of a criminal career, to escape poverty or to get an education.
Almost all Thai houses have a nicely decorated spirit house that is built before the house proper to honour the spirits, who own the land, and give them a dwelling. In the same way the spirits of the forefathers are honoured by means of an altar with their photographs inside the house. Both spirits and forefathers are given food, drink and incense. An educated Thai woman, who herself adhered to these traditions saw them as ways of respecting the land and the family heritage.
Family bonds are important to many Thais; family members help each other and respect their elders. Young people we have talked with have been allowed to choose their own spouses, but we have understood that in the countryside parents may still have say about their children's marriages. Some Thai-Muslims have more than one wife.
In the southern provinces of Thailand conflicts between Muslims and the authorities have cost many lives, but on Ko Lanta tradition is, that Seagypsies, Chinese and Muslims live together in peace. Men with white caps are summoned to prayer in modest mosques. They go on pilgrimage to Mekka and let Buddhists sell beer and spirits to the tourists in the resorts of the island.
It is not just a cliche that Thais smile a lot, they actually do. Usually the smiles express friendliness and contribute to creating the gentle Buddhist manners of the country. It is supposed to be pleasant to work and be together, and there are lots of smile and laughter in Thai places of work. But because smiles are the accepted means of contact they are ambiguous. We have seen sadly smiling Thais telling that they lost everything when the tsunami hit their place of work as well as their home. And we have been cheated by shrewdly smiling taxi drivers in Bangkok. Thais shrug their shoulders when foreigners are busy and loud, and we have had to slow down and soften to match the calm rhythms of the country.
Siam, which was named Thailand in 1939, is the only country in southeast Asia that has not been colonised. The kings were able to maintain its independence by giving up small peripheral parts.
The first democratic constitution was made in 1932, and the latest was passed in 1997. It is already debated whether it should be changed, because it leaves much power to the Prime Minister. The countries road to democracy has been pawed with military coups.
We were in Thailand during the campaign prior to the election for parliament, and we saw cars with posters and loudspeakers even in the smallest villages. Many people we spoke with expected that the reigning, somewhat populist party Thai Rak Thai led by the well-off businessman Thaksin Shinawatra would win the election. One of the party's promises was to fight corruption among officials. We have heard that it is common to settle for instance encounters with the police by offering a "donation".
The royal family is highly respected, and it seems to have a political voice. You see portraits of the family everywhere, and related to the King's birthday on December 5th, we met several processions in northern Thailand of local schoolchildren, organisations, policemen and soldiers. The Monarch is a practising Buddhist and at the same time "upholder of all religions".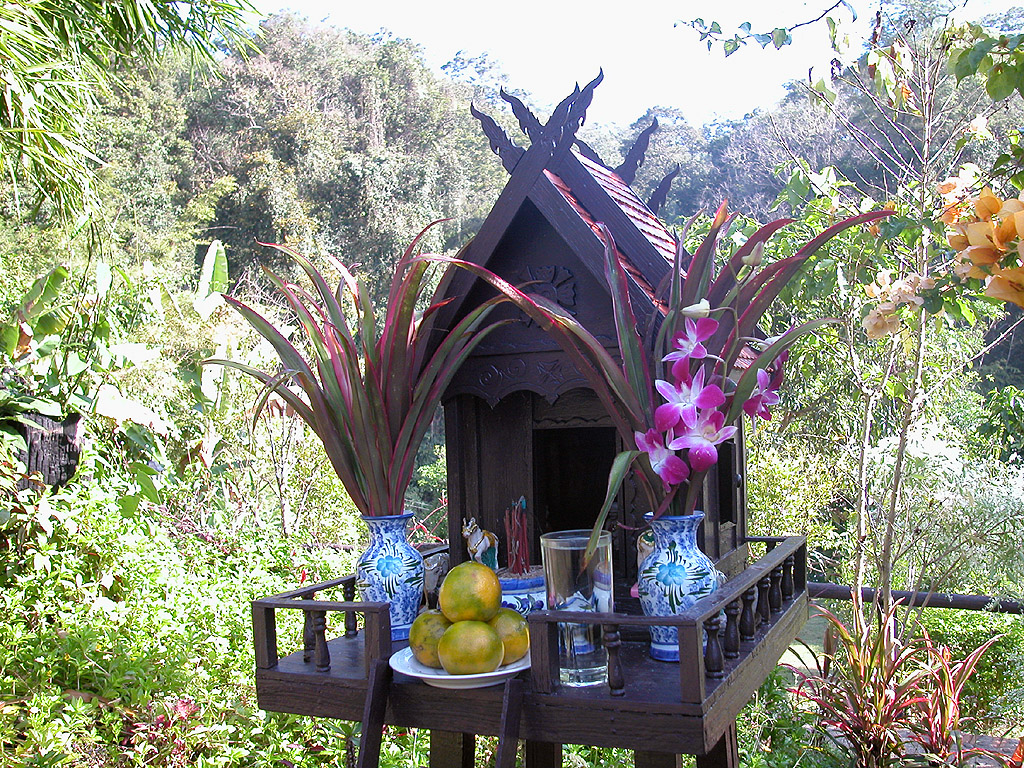 Falling in love in Thailand
While travelling in Turkey we spoke with modern jet-nomads, who spend their summers in Turkey and their winters in Thailand. While travelling in Thailand we have likewise met many westerners, who have fallen helplessly in love.
Men sometimes combine their love of the country with a relationship to a Thai-woman, while the opposite combination is rare. Some relationships seem equal, while in others the woman's love is obviously for sale. It is also quite common for gay foreign men to have an affair with a Thai man.
Mads has several times been approached by young Thai women, who asked: "Have you got a girlfriend?" They wanted a romantic adventure with a foreigner, and found it disappointing, that he already had a girlfriend in Denmark.
We have met retired Danes, who spend some months during the winter in northern Thailand: "It makes my pension go further; and where can life be better?" We have met representatives of international firms, who hoped to have their contracts prolonged. During a holiday on the island Hanne's brother fell in love with the beautiful bay on Ko Lanta, where he now owns part of a resort.
Thailand seems to be a tropical paradise, but a German businessman with years of experience said: "It also gets to be weekday here." The westerners we have talked with, who have settled in Thailand, have learnt that dialogue across cultures can be challenging. They meet bureaucratic barriers. Solid work when the job has been defined but little tradition of taking initiative. And difficulties in understanding, when an agreement has been reached. One person said: "You never know, if "yes" means "yes", "maybe" or "no", because Thais don't say "no" directly.
But to many "farang" the first fascination becomes a lasting love of the pleasant country, its beautiful culture and smiling people. - We find that quite easy to understand.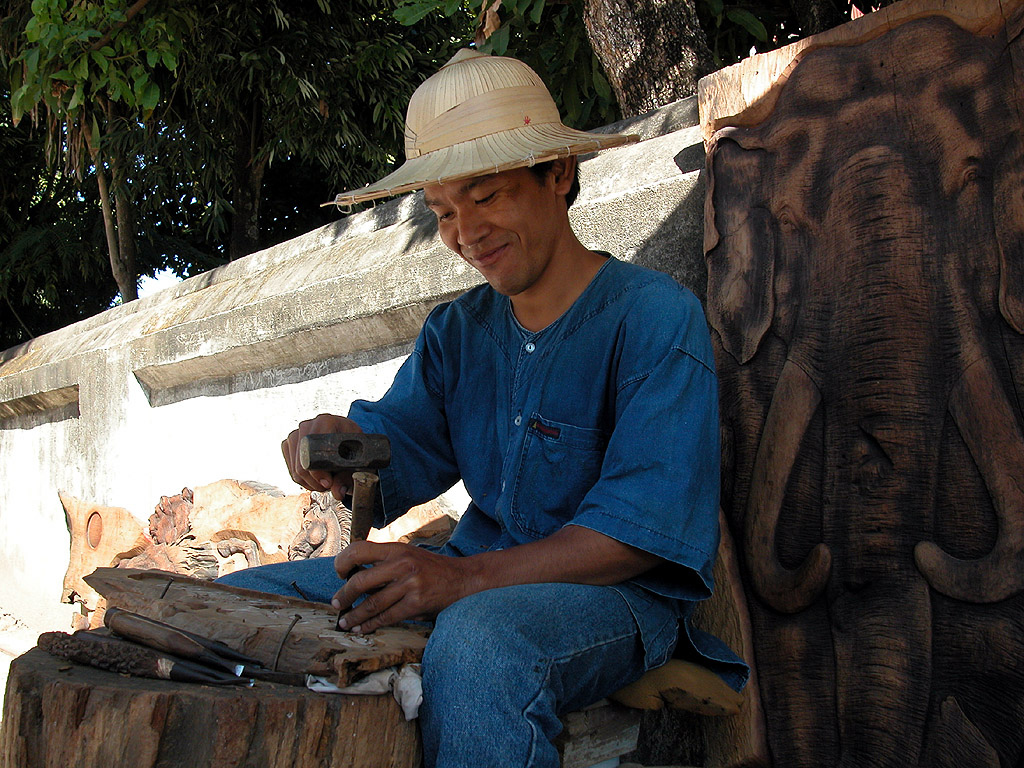 January 2005