India is the Land of Opportunity
Simran Singh, India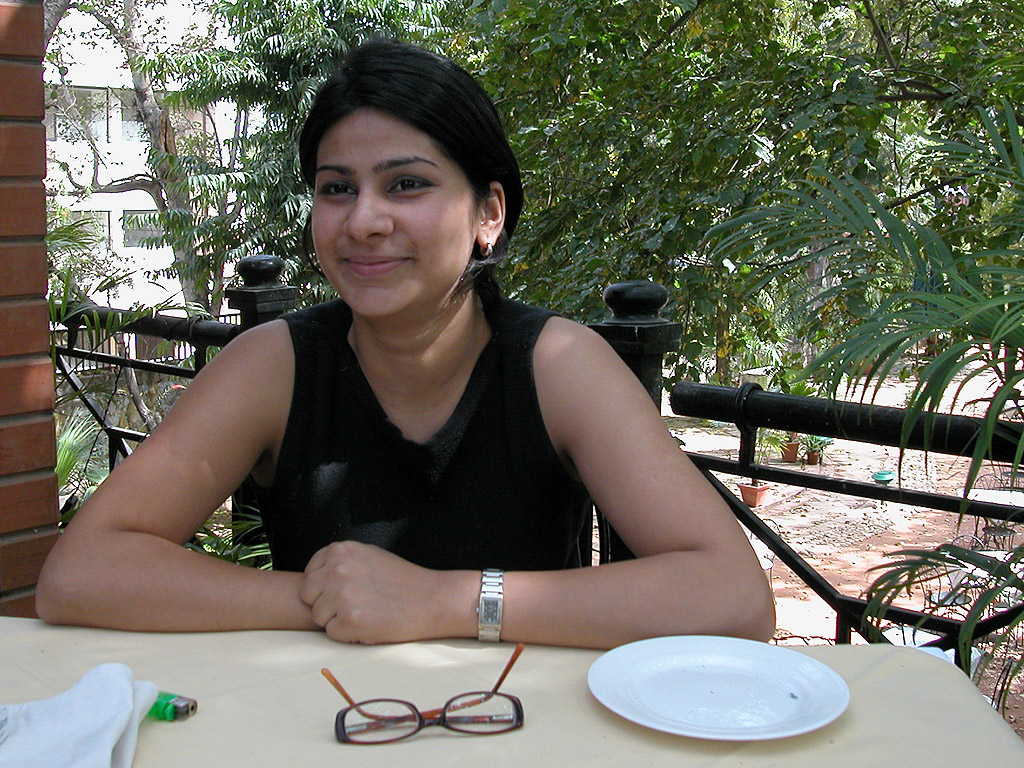 Simran Singh is a Sikh, who works with co-ordination within the UN-system in India. We talked at a restaurant near her office in New Delhi.
On weekdays I get up around 9:00 o'clock, I can't wake up in the morning, it is horrible. My cook calls me to ask what I want for breakfast and if I want to carry lunch for the office. I try to have five or ten minutes with my father in the morning. When we meet, he always gives me a concept. The other morning he gave a ten minutes lecture on entropy. He is a mechanical engineer and a bureaucrat, at present he works as a judge, but he is also an intellectual, who thinks and reads a lot.
I have a twenty minutes drive to the office. I get about fifty e-mails every day and start my work by looking at them. To make myself organised, I have a policy of dealing with them all and making sure, that there are no more than ten in my inbox, when I leave in the evening.
Some days I bounce from one meeting to the other. Other days I sit and write concept notes and letters. I'm the UNDAF specialist, and it is within my portfolio to help ensure, that the cutting themes agreed by the UN agencies and the Government of India - gender equality and decentralisation - are implemented.
I am also the UN co-ordination specialist, and have the task of helping create co-operation within the various organs of the UN-country team. As the co-ordination specialist one of my main tasks is to strengthen the UN-reform process of harmony and alignment of UN-agency mandates - "Synergy in Action".
At present we are working on a Knowledge Management Program, to assure that experiences are shared. Co-ordination is an interesting and sometimes difficult job, but my boss is very good, she gives me responsibility, and the UN is an impartial and respected player in the field. This is my first job, and it has been trying and hectic. Sometimes it is a problem to be young, but it has really made me grow. I have looked at decision making and dealt with people at the top level.
I never leave work before 6:30 p.m. and often later. Then my evening life starts, which is a different world altogether. First I go for a run in Lodi Garden. I'm really hectic as a person and usually have lots of plans for the evening with different people. I return back home by 12 or 1 o'clock in the night, and then I read until 3 in the morning.
The week goes so fast
The week goes so fast, and I try to make maximum use of my weekends. Every long weekend I usually leave Delhi. But this weekend I stayed in Delhi, because I love Holi, it is my favourite festival in India. Everyone is happy, and it doesn't make a difference what colour, cast or class you are, because at the end everybody is green and pink with the colours that people spray at each other.
Occasionally I need time for myself and spend the weekend sitting in my room reading. Other weekends I go rock climbing with my friends, and afterwards we visit this sweet, little Russian restaurant to have pancakes. I have lunch with my parents, and in the evening I go riding or to a movie. Sometimes I will do projects with my father, go to a museum or a monument to take pictures. I explore a lot, so I bought a Lonely Planet, and found so much I didn't know about my own city. It is interesting to look at your own country from different aspects.
I like meeting people and nearly every week I meet a new person and go out for dinner with them, I like to learn from their varied experiences and cultures. I read a lot and ponder about life, and why we are here. The other day I was thinking about, "What is consciousness?"
I also hear a lot of music, it is the flavour of my life, and I always have my iPod plugged in.
Born in Mozambique
I was born in Mozambique, as my mom and dad were posted in Maputo, my dad was there to set up the railways. I remember that portion of my life very well. I remember our flat and my school. I remember going to the beaches. I remember the roads. I remember my parents having parties at night. I remember my sister taking really good care of me and braiding my hair. I remember the day when my parents bought a new carpet, because I thought that I had spoiled my Dad's world receiver, while they were out to do so. I spoke in Portuguese and English at that age and knew very little Hindi.
Every year we would go home to visit my grandparents. School in Mozambique was fun; it was really exploring your mind and being creative. I was very naughty and used to climb up all the trees. My sister is an artist, and she has had an impact on me, actually my whole family has. - I grew up a very happy kid.
Back in India
We came back to India when I was six, and my father was posted in remote areas of India. In Andhra Pradesh, we lived right on the beach in Visakhapatnam, and I went to a convent school there. Coming back I had some problems with the Indian education system and had to do first grade twice, as I wasn't good in Mathematics and Hindi. I now speak English with my parents and friends, Punjabi with my grandparents and with my cook and driver I speak Hindi.
We lived in Chakardharpur in Bihar for some time. It is a railway town, and the railway system is a family of its own. We had a big, old colonial house, and some of the rooms were a bit scary. We got a circus horse for my sister while living there. I had great friends and was very active. I also went to singing classes and tried to play the harmonium.
We lived in Calcutta in West Bengal for a bit. I remember coming back from school and my Mom making great sandwiches for me. I remember the day when Indira Gandhi was shot in 1984. The Sikhs were attacked, and we spent the whole day in a police station for protection. Many people came, someone had lost his whole family, and houses had been burnt. Late at night, we were escorted back to our residences by an army truck. On that day I saw so much blood, and everyone was really scared.
Then we moved to Jalandhar in Punjab, where they were setting up a rail coach factory. Because we come from Punjab, my father wanted to take up the challenge in spite of the terrorism and riots there. It was a really happy time. I had friends, excelled in school and became the head girl of the junior school. Because of my years in Mozambique, I was a slightly different kid, I directed plays and we made outfits for the characters. I have always been in coeducational schools with boys and girls.
Going to boarding school
In 1989 I left for The Lawrence School, Sanawar, my father had been there, and my sister was there, so it was my dream and desire to go as well. I sat for the exam for sixth grade although I was supposed to start in fifth grade. I had a bit of a problem on my Hindi, but I got admission. It is a colonial school up in the hills, which was taken over by the Indians in 1947.
At that point my parents had a bad incident, they were shot, because of terrorism, and my Dad got paralysed, and has been wheelchair bound ever since. My parents were in hospitals for two years in India and in England. It affected my sister and me a lot. I didn't know how to deal with it, and I closed up and kept it in a box, but I also became really affectionate. Fortunately we were in boarding school, so life went on. It was a struggle for my parents to recreate their lives. The force that has driven us is the motto, "Never give in!"
Back in Delhi
In 1993 I came back in Delhi to go to college and take my BA in political science, at that time my parents wanted to reintegrate the family. It has been good for me to build a base and get friends here. I had a lot of spare time and set up a little company baking cakes and chocolates for one year. I worked for the UN as an intern, and we also set up a NGO recycling paper for offices.
My parents encouraged me to go to Geneva, and I travelled alone for a couple of months, although this is not ordinary in India. Most young Indians cannot have jobs and make their own money, so they depend on getting permission from their parents to travel. I also started teaching in an American school pursuing my hobbies, I made quite a bit of money, which my parents told me to save.
Then I did my MA in political science, but I didn't have a rewarding intellectual process doing so. They taught us, but there was no real appreciation and understanding of the subjects. But I passed, and got into the London School of Economics. By then I was a different person, I had confidence and knew that I wanted to come into development studies. I got inspiration for this, because I had gone to Latur with my boarding school to help out after an earthquake in 1994. This opened my eyes to the hardships of real life, because I had always lived in a protected and privileged environment.
It gave me so much to be in London, we had discussion and my course was fantastic, because it was multicultural. I learnt about different views on development. I was also interested in gender discrimination in the West and the East; and I learnt that the West has also gone through trying times. I learnt how to think and put an argument into place, and I don't take anybody's bullshit anymore.
I have also learnt from my sister, who had a divorce. Although it is accepted in certain sections of society, it is still not common in India. This experience is part of the reason, why I want to be financially independent, and not depend on a husband or my family. I took a loan, which I am paying back, to study in London. My sister is happily married now, she has lived in Japan, where I visited her, and presently she lives in Singapore expecting a baby.
When I came back to India I first got an internship in UNIDO and then the job, that I have now.
I have visions for my future
The age of marriage in India is rising, but I am 26 and at this time of life, marriage is a great pressure on me. My friends are getting married and have kids, but I don't think I am ready for that. It is a bit scary. My parents are not looking for people, but they say, "Simran, start dating someone, the first one may not be the right one, and you can't wake up at 28 and suddenly settle." But in Delhi I don't find people, whom I can date.
I am more educated than most boys in this city are, the professionals go abroad or elsewhere. Here everyone seems to live off father's money. I don't want to marry someone, who is in a family business, I want an independent professional, and I want to work myself. If I decide to have kids, I may take a few years off to be there for them and give them good norms, but my husband has to be an active part of this. - In a year or so, my parents will start getting worried, so it is dawning on me, that I have to do something, that is the Indian side of my character.
In five years I will ideally be married, the biological clock is ticking, there is a certain age where you can build a family. But if I don't find someone, I'm not going to compromise out of desperation.
I'm very ambitious, and would also like to see my career blooming. In five years I think that I will be focused on a special area of development, and I hope to be respected for it, and be called in as a consultant. Perhaps I will move into politics, I might return to my family's village and try to build a constituency there.
I may travel to learn about development in different parts of the world. The situation in Africa, South East Asia and South America is different from India, and it would be nice to get first hand experience with this. I would especially like to go to South America.
But I love India and want to live here. I am a number one citizen in this country, I have family here, and this is home. I have never faced discrimination because of my brown skin while travelling, but it can be a problem. I am an Indian, and being a Sikh is also part of my identity. My parents keep up all the distinctions of being Sikhs, while I cut my hair, but I don't think that this makes me less of a Sikh.
I have friends from all religions, and we are much of the same mindset. Ideally my parents would like me to marry a Sikh, because it is easier to be with someone, who has the same culture and identity as you have. But if I found a person from another religion I really liked, they would surely come around.
I think it is important to stick to your roots. Although Indian styles and models are fashionable, Indians are still not proud of their identity. I am the last generation who grew up in the closed, national economy. India is developing rapidly, it is the land of opportunity, it is blooming and there are good jobs to be had here. India also has much development experience and knowledge to give to other countries.
I do have visions for my future, but I don't believe in having fixed plans.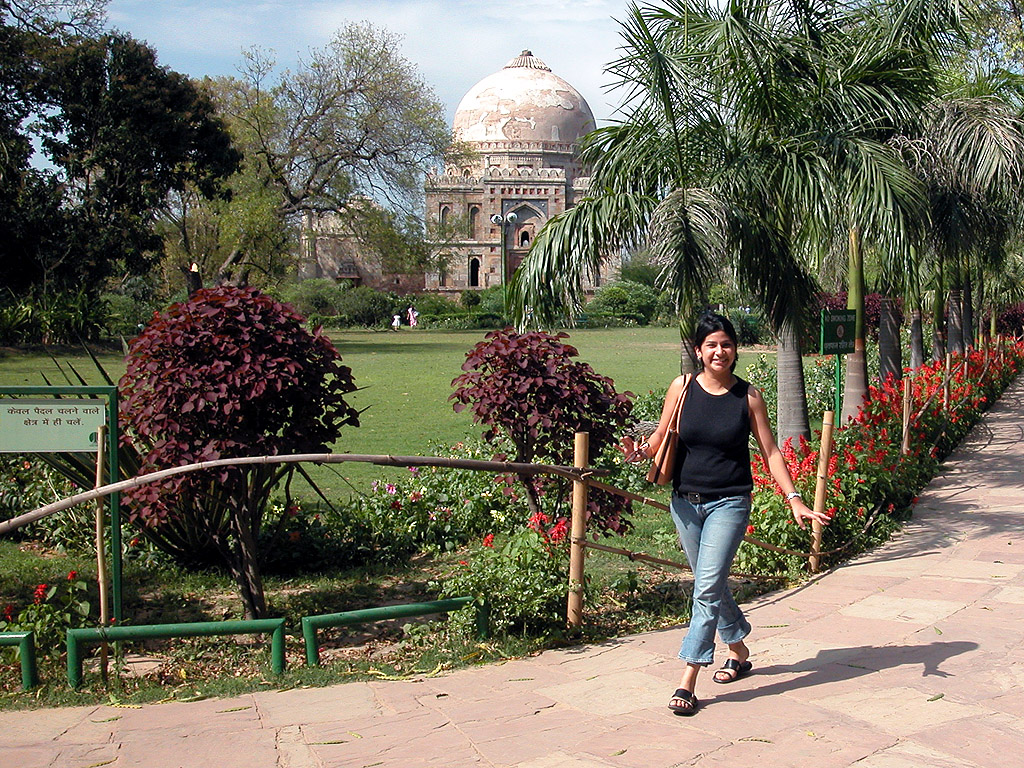 March 2005