The Arch of Constantine in Rome.
Cultural camping, war, climate and Europe
We drove about 6,600 kilometres and camped in 11 Italian cities during 61 days. Along the way, we were pleased that Germany and Italy kept the wartime petrol prices down. Italy was hit hard when the corona crisis reached Europe in 2020. The restrictions were eased shortly before our trip, but you still had to wear masks on public transport and in some shops, restaurants and museums. The tourists had returned to the delight of those who make a living from tourism. We experienced crowds around the attractions of Milan, Rome and Venice, but found peace in other neighbourhoods and at campsites.
Campsites and roads
Italian campsites have beautiful surroundings, fine facilities and cooling swimming pools. Young Italians are well educated and often fluent in English. Hilly terrain, narrow streets and heavy traffic in the cities sometimes stopped us from unfolding our bikes. We often preferred long interesting walks. The overall road network is efficient with many tunnels and fine views.
The toll roads are in principle simple to use, but with slightly different systems. Two times we had to fight with Italian-speaking road machines that could neither read our ticket nor our credit cards. In one case, it resulted in a half meter long bill of 54.30 euros followed by a raised boom and a cheerful "arrivederci". A helpful Italian explained that we could safely ignore the claim with the comment, "This is Italy!" We however chose to pay.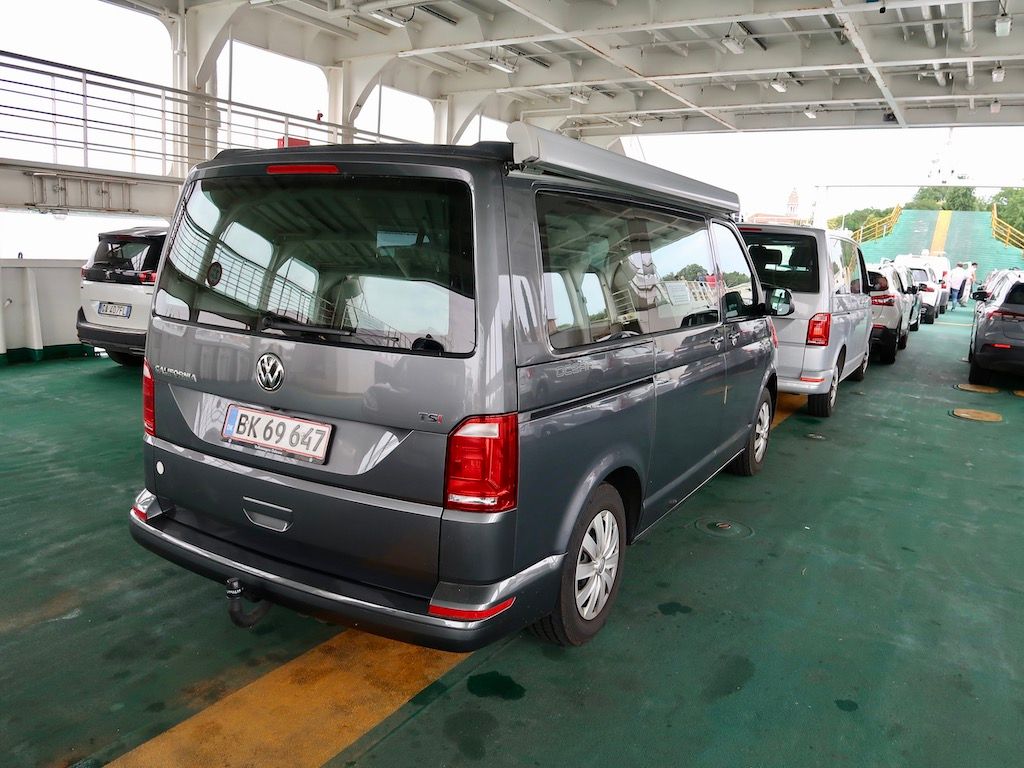 Culture and history
Italy is the country with most sites on the UNESCO World Heritage List, we visited 11 out of 58, 53 of which represent culture and 5 nature. We also experienced Sicilian puppetry, which is listed as intangible cultural heritage. During our journey, we were constantly surrounded by breath-taking buildings and landscapes.
We sometimes found it difficult to find our way in the many offers of dissemination that appear when you Google specific Italian cultural heritage sites. It went well when, as on Etna, we found a skilled English-speaking guide, or in Pompeii bought a guidebook that matched the signs of the ruins. In Herculaneum, on the other hand, we regretted having rejected a tour guide, as neither a book nor a map acquired on the spot matched the signs.
On the trip, we got an impression of the dramatic history of the Italian Mediterranean peninsula. Ancient empires have succeeded each other here, first the Etruscan then the Roman. Under the Etruscans, Greek colonies were established in the southern mainland and in Sicily. The Roman Empire was in 330 divided into a western part with its capital in Rome, which fell to invaders, and an eastern part with its capital in Constantinople, which survived for more than 1000 years. In the Middle Ages and the Renaissance, among others Milan, Siena, Florence and Venice grew to important city-states with a lively spiritual life as well as magnificent churches and mansions built by nobility and merchants.
The unified Italian state was created in 1861 under King Vittorio Emanuele II despite opposition from the papacy. Italy thereafter conquered colonies, among other places in East Africa. Italy participated in the First World War on the side of the Entente Powers, the country engaged in the Second World War on the side of Germany and Japan led by the fascist dictator Mussolini. After the war, the monarchy was abolished and the republic introduced. Italy also became a member of the UN and NATO.
Industrialization, which began in Northern Italy at the end of the 19th century, gained momentum in the 1950s and 1960s. The southern regions remained poor agricultural communities and many people moved north. Italy helped found the economic cooperation in Europe, which later became the EU, and in 1957 it hosted the signing of the Treaty of Rome. Nowadays Italy is the gateway for refugees to Europe together with Greece.
On travels, we have experienced impressive traces of the Roman Empire in the Mediterranean area and in Western Europe. In Turkey, we have seen Roman ruins, for instance in Ephesus. On the border between England and Scotland, we have visited the approximately 120-kilometer-long Hadrian's Wall, which was begun in 122 after the birth of Christ. and for nearly 400 years formed the north-western border of the Roman Empire.
On our way from north to south in Italy, we saw the country gradually become poorer and more exotic. We also understood that people in the north and south have sceptical views of each other. In Milan, we were warned to take care of our things when we came to Southern Italy, while a Sicilian had her prejudices confirmed when Lars told that his wallet had been stolen in Milan's Metro.
A young man in Pompeii gave this comment to the fireworks on Italy's National Day on June 2, "Republic Day means nothing to me, it celebrates the North conquering the South. Back then we were under the Spanish and wealthy." We noticed that the soldiers and officers who prepared tribunes for the National Day while we were in Rome had a more positive view of the event.
War and climate
When Russia attacked Ukraine on February 24 2022, the war, which began with the attack on Crimea in 2014, entered a new phase. This led to quick decisions among EU leaders on aid to Ukraine, sanctions against Russia, rearmament and energy security. We hesitantly voted for abolishing Denmark's defence reservation in the EU before we left the country. As a pacifist and conscientious objector after a stay in the United States during the Vietnam War, it is difficult to be in favour of war and arms race, even for a just cause.
In Italy, we saw peace flags from balconies, a carriage in Rome's Metro was painted in the blue and yellow colours of Ukraine. The Eurovision Song Contest on 14 May in Turin opened with John Lennon's "Give Peace a Chance", and Ukraine's entry won with strong viewer support. The Russian pavilion was empty during the Biennale, while there was a Ukrainian contribution as well as a Piazza Ucraina with changing artworks and a monument symbolically covered in white sandbags.
It rained when we arrived in Milan in May, and the rain continued for a few days. We were a bit disappointed, but the locals were very happy because it was the first time in five months. The rest of our trip in Italy was characterized by sun from a cloudless sky and temperatures of 30 degrees plus.
Along the way, we saw rivers with low water levels, for instance Po, we also saw completely dry riverbeds. The combination of no rain and high temperatures damaged crops and led to rationing of drinking water in some northern Italian cities.
When we had walked around Pompeii, Herculaneum and Mount Vesuvius for three sunny days, Lars became sick and had to take cold baths and a day in the shade. In Venice, we saw the efforts to save the city from the sea by building huge sluice gates.
War and climate change are threatening conditions - now also in Europe.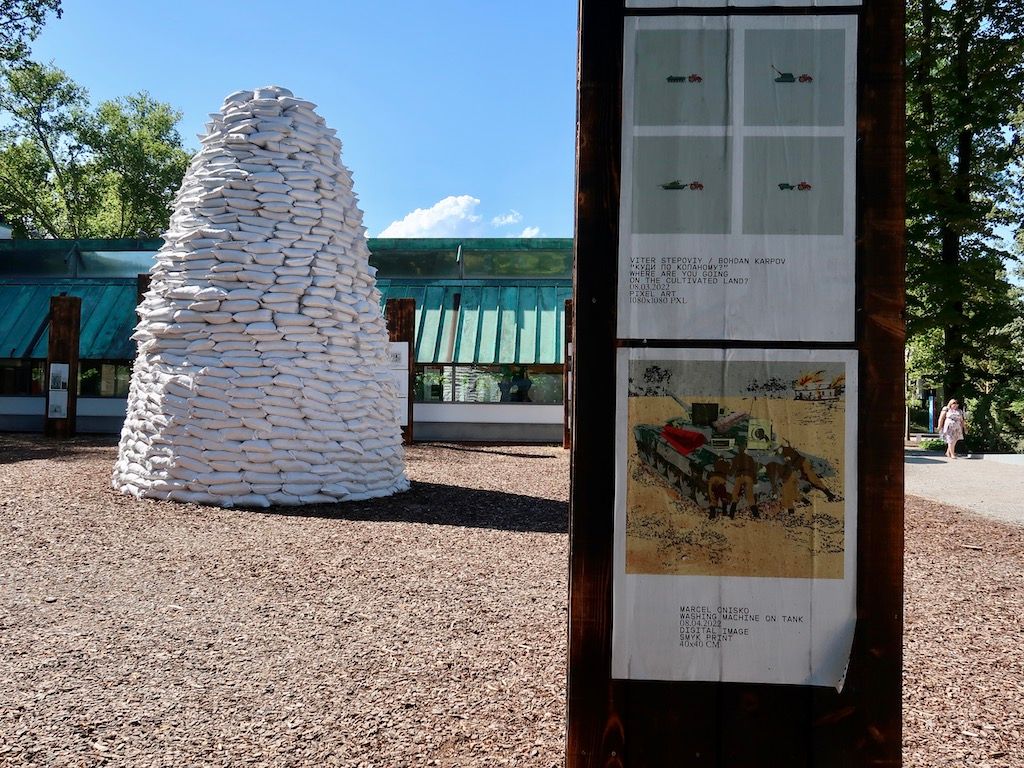 Italy and Europe
When the talk turned to politics, Italians usually shrugged their shoulders at the country's professional politicians. In contrast, prime minister Mario Draghi's coalition government, from February 2021 with technocrats in key positions, enjoyed respect. The former chairman of the European Central Bank had drawn up a plan for green transition, digitization and increased equality, ensuring indebted Italy large grants and loans from the EU's recovery fund after the corona pandemic.
In July 2022, however, Draghi lost political support for the governing coalition and resigned. This led to an election for the two houses of parliament, which was held on 25 September 2022.
The election's big winner was the alliance between Giorgia Meloni's Fratelli d'Italia party, Silvio Berlusconi's Forza Italia and Matteo Salvini's Lega. Georgia Meloni became the country's first female prime minister in the 68thgovernment after the Second World War. She grew up in a Roman working-class neighbourhood and has a fascist past, which she distances herself from.
Meloni now supports the slogan "Italy first" and advocates conservative Catholic family values, tough immigration policy, economic protectionism and tax cuts. She wants to continue Italy's membership of NATO and the EU as well as its support for Ukraine, her government partners Salvini and Berlusconi have however shown sympathy for Putin. Meloni wants an EU that does fewer things better. A right-wing Italy will strengthen EU's illiberal wing with Hungary at the forefront, and the country's new government is received with some scepticism in Brussels.
Shortly after the government took office, it refused to allow the ship Ocean Viking with 234 refugees and migrants to call at an Italian port. After diplomatic tug-of-war the ship ended up in Toulon, France. A photograph of the crowd on board reminded us of a sculpture we had seen in St. Peter's Square.
Groups that feel left behind by rapid development are creating political upheavals with unpredictable consequences in many countries, including Denmark. The established political parties have difficulties dealing with the situation, whether they renounce, seek dialogue with or embrace populism.
We need politicians who are so serious about people's living conditions that they dare seek long-term solutions to the great challenges of our time – such as war, refugees, technological development, inequality, pandemics and the climate crisis.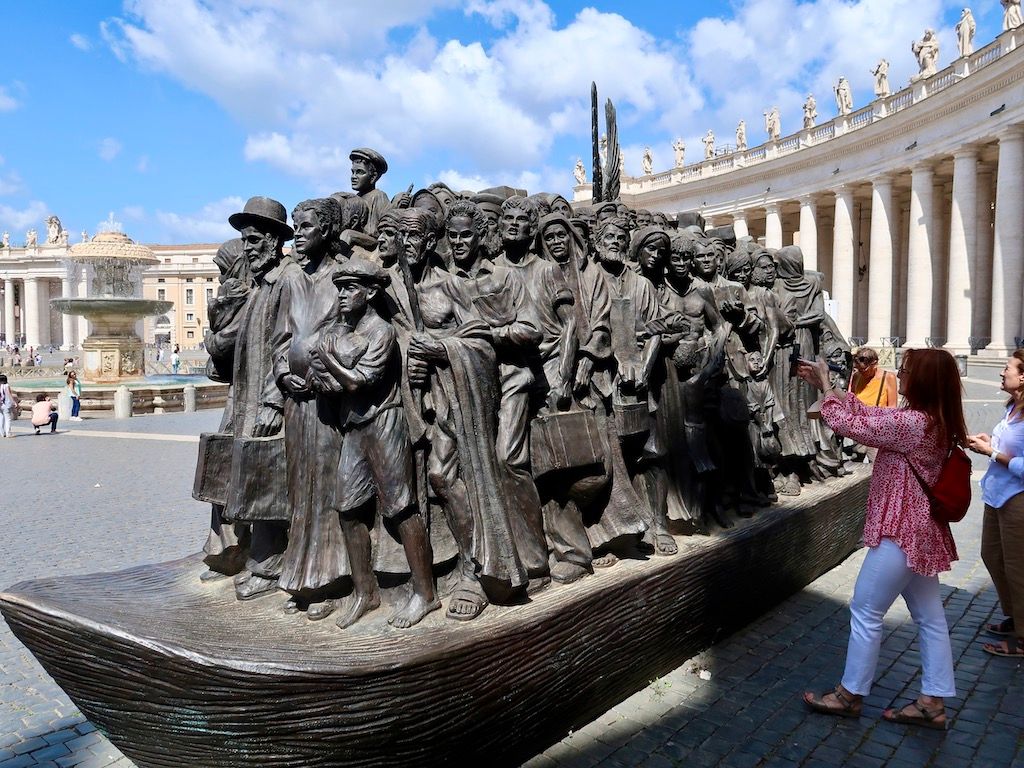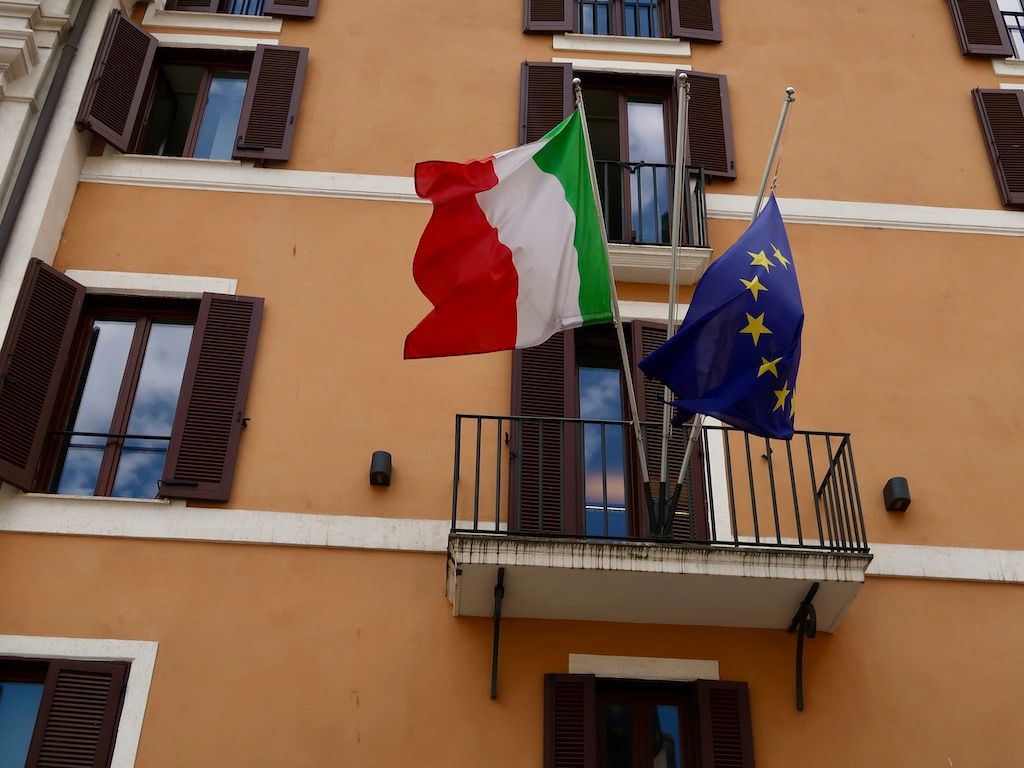 References
The following books have helped us plan and tell about the tour:
Europas smukke veje 47 berømte bilture samt komplet Europa-vejatlas. 2007.
Preben Hansen: Turen går til Venedig og Norditalien. 2022.
Preben Hansen: Turen går til Toscana, Umbrien & Marche. 2019.
Alfredo Tesio: Turen går til Rom. 2021.
Cecilie Marie Meyer: Turen går til Napoli & Syditalien. 2019.
Cecilie Marie Meyer: Turen går til Sicilien. 2019.
Nicola Williams m.fl: Lonely Planet's Best of Italy. Top Sights, Authentic Experiences. 2020.

In relation to our tour we saw movies about Italy, among others:
Mehdi Avaz: Toscana. 2022.
Frederico Fellini: La Dolce Vita. 1960.
Frederico Fellini: 81/2. 1963.
Frederico Fellini: Amacord. 1973.
Gabriele Muccino: A casa tutti bene. 2018.
Enrico Piaggio: Vespa. 2019.
Ettore Scola: La cena. 1998.
Paolo Sorrentino: La grande bellezza. 2013.
Paolo Sorrentino: The Hand of God. 2021.
Sydney Sibilia: Rose Island. 2020.
Giuseppe Tornatore: Nuovo Cinema Paradiso. 1988.
Furthermore, we have used:
Facts from materials collected along the way and from websites.
Danish and international media coverage of Italian politics, culture etc.