China in the Middle
Going from the airport to our hotel near the business street Wangfujing in Beijing we noticed many new highways and skyscrapers. The next day we saw department stores with polished granite, glass, chrome, neon and impressive amounts of goods, which the Chinese clearly enjoyed. We also saw street vendors with small amounts of lighters or belts and handicapped beggars. And we didn't walk far before we got lost in the traditional hutongs of the city with their narrow streets and small grey houses around cosy courts, where every day life takes place.
The provinces along the East Coast are most developed, but contrasts between new and old, rich and poor were part of our entire journey in China. We were surprised by the commercial dynamics and energy, which characterises the countries speedy modernisation.
Chinese emperors lived behind high walls in the Forbidden City. They were the Sons of Heaven, and ruled the Chinese as well as the surrounding "barbarians" with the apparent right of a superior civilisation. This understanding was threatened by the Europeans' colonial intrusion in the 1800s, which was succeeded by civil war, Japanese occupation and the proclamation of the Peoples Republic of China by Chairman Mao Zedong from the Gate of Heavenly Peace in 1949. But it is evident, that the country is now regaining its self-confidence and its role as a world power.
"China is a country, that lost the important role it once had, but fortunately we are rising again," said a student, we talked with in Ji'nan, and we have heard many similar statements during our fascinating journey in the Middle Kingdom.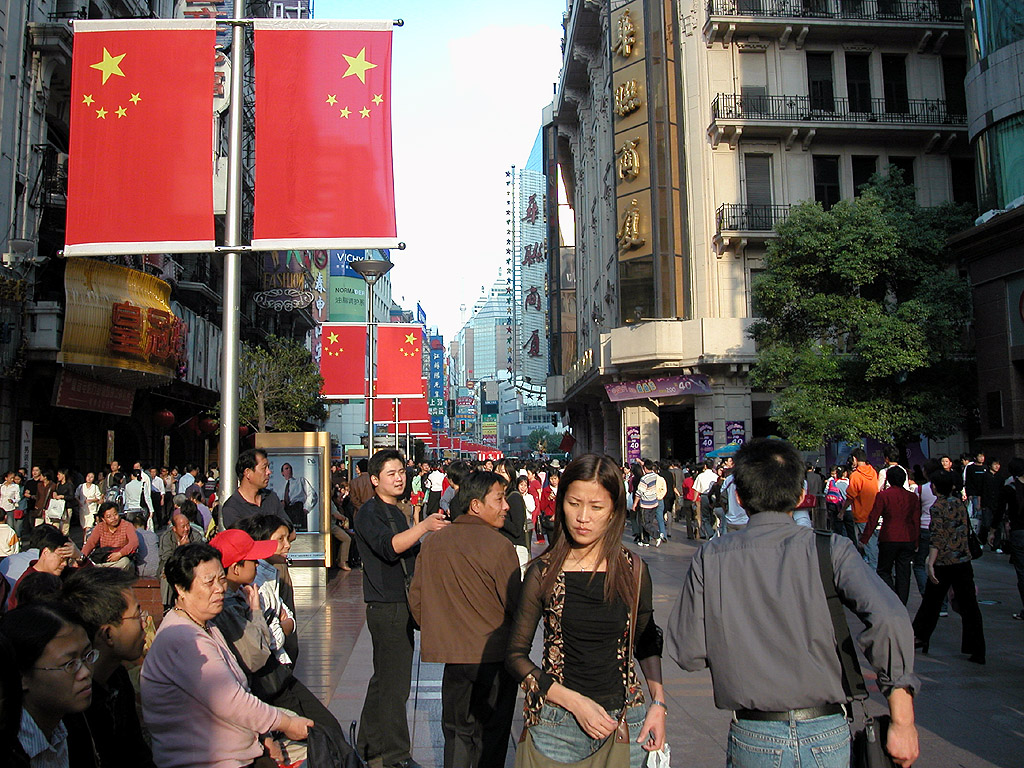 Our journey
In Beijing the Danes Ulla Payreen and Niels Brander gave us a knowing and engaged introduction to Chinese society. They live in the city and work for cultural and commercial exchange between China and Europe through their own firm China Access. Among other things they told, that it may be difficult for Danish firms to meet their Chinese counterparts' expectations to speed and to understand a culture, in which results are reached through connections. Helped by them we visited a kindergarten, a Chinese home and a neighbourhood committee, which handles local matters and social problems, such as control of the one child policy.
Many students and their teachers, who wanted to sell art or to improve their English also helped us learn about the Chinese capital. One of them gave us a fascinating story about her childhood in a village north of Beijing, her studies and her hopes for the future.
Based in the city we visited the Great Wall, which was created a couple of centuries BC by uniting a number of smaller fortifications. The intentions were to keep the mounted Mongols out of China, and the about 6000 kilometres long wall must still be the most ambitious attempt in history to separate "them" from "us".
In Ji'nan we experienced the atmosphere in the parks, that have been laid out around the springs, the city is known for. We were an attraction in English Corner, where several hundred Chinese meet every Sunday to practice English. We saw people engaged in gymnastics, tai chi, badminton, card games, flying kites and taking wedding photos. We also saw elderly men airing their songbirds in cages. We bought kites from a woman who carefully adjusted each of them to make it fly better. Several times we were asked to pose for photographs with groups of Chinese.
Our tour went on to Tai'an where we climbed the holy mountain Tai Shan together with many Chinese, who gasped almost as much as we did because of the more than 6000 steps. Here we were also invited to a school where children between 4 and 13 years of age were taught "Walt Disney English" by means of cards with drawings and words. The level of noise was high, but the level of discipline and dedication even higher among the students and their young teachers.
An outing to the town Qufu with the Temple, Mansions and Grave of Confucius gave us insight into this important Chinese philosopher's conservative theory of "value based leadership" dating back five centuries before our time.
In Xi'an we saw the 2000 years old army of lifelike terracotta warriors, who were created to guard the first Chinese emperor Qin Shihuangs grave. The city was the Eastern starting point of the Silk Road, and Big Goose Pagoda gave an impression of how the connection to India brought Buddhism to China. In the Muslim quarter we experienced traditional puppet theatre with dolls made of donkey skin throwing shadows on a white screen. We already knew these dolls from our visit to the Turkish town Bursa in the Western end of the Silk Road.
In Xi'an we also experienced the National Day of China on October 1st. It was celebrated by raising the flag in front of the government building at sunrise, shopping in the city centre in the afternoon and entertainment with music, song and dance in colourful costumes near the city wall in the evening. The city was full of people, and the atmosphere was relaxed and social. We saw none of the political manifestations, we had expected.
At this time we had the sad news that Hanne's mother had died shortly before she was supposed to meet us in Hong Kong. Naturally we stopped our journey in China for a while.
After ten days in Denmark we were back in cosmopolitan Shanghai that in the 19th and 20th centuries had large European settlements. It has been and still is a city in which trends are born. Here 13 delegates created world history by establishing the Chinese Communist Party in 1921. China's first president Sun Yatsen lived here in the 1920s. The city has a splendid museum of cultural history and a fascinating museum exhibiting modern Chinese and foreign art. In later years it has experienced rapid growth and added a new futuristic part of town with a skyline matching the skyscrapers in glass and concrete. - It is not only due to pollution, that you as a European lose your breath in Shanghai, the pulse is extremely fast.
A couple of days in attractive Suzhou with many canals and gardens gave us a rest in beautiful parks planned by aristocratic intellectuals. They have recreated nature by means of stones, plants and water in order to make inviting spaces for reflection and artistic performance in ever changing surroundings. In the Garden of the Master of the Nets we experienced an enjoyable evening with examples of traditional Chinese music, dance, opera and theatre. Suzhou Silk Museum showed the secrets of silk production from the worms eating mulberry leaves to the finished products, which were presented in a trendy fashion show accompanied by rock music in a nearby factory.
From Shanghai our trip went to the Yangzi River, where we had bought a cruise between Yichang and Chongqing. We experienced the three historic gorges and the Three Gorges Project together with tourists from several continents. The intentions are to produce electricity, to make the river more navigable and to prevent floods. When the project is finished in 2009, the water will have risen 175 metres and more than one million people will have moved to new houses.
The dam is a cultural feat matching the Great Wall, and it calls for admiration that the work has now reached its final phase. We however could not help thinking about things that may go wrong culturally, socially and environmentally. - We spoke with locals, who worried about the risk of added pollution, and with others, who were happy because they had moved to better houses.
In Chongqing we saw the Communists' quarters and prisons, that showed Guomindang's harsh treatment of communist prisoners in the 1940s. We also met an unemployed manager with experience from government run and private enterprises, who told about the development inland with mixed feelings.
Our next stop was Guilin by the Li River, where we visited parks situated around steep mountains with caves. An evening in Lijang Folklore Center together with Chinese tourists showed samples of the architecture, dance, music, acrobatics, games etc. of ethnic minorities of the region. The joy and the desire to participate in everything from karaoke to flirting games were so evident, that we gave up our feeling of being in an ethnic zoo.
In the backpacker town Yangshuo we went on a bike tour through beautiful landscapes with rice paddies to our guide's village. Here we understood that living conditions in the countryside may still be poor, but also that they have become better since the agricultural reforms in the 1980s. The family had just built a modest but good house, where three generations lived together and grew rice, oranges and grapefruit in their own fields. In the market in Xingping we saw farmers selling live chicken and tobacco while buying saws and walkmen.
In Yangshuo we also met a tourist from Shenzhen near Hong Kong, who told us about her modern life in the city as a Chinese employee of a large American firm. A visit in her pleasant apartment with access to shared badminton courts, swimming pool etc. gave an impression of life and dreams within the new Chinese middle class.
We visited Hong Kong shortly before the British Crown Colony was given back to China in 1997 under the slogan "One Country - Two Systems". The second visit confirmed our impression of a hectic business city in which East and West meet, and floating eagles elegantly mirror in the glass facades of the skyscrapers. Like other tourists we used the opportunity to go shopping in the markets and department stores and to visit the good museums.
China is so large and its history so long that a journey like ours gives exciting impressions of, but only limited insight into its culture. We have travelled around 8000 kilometres in trains, planes, busses, boats and taxis. Sometimes we have joined a tour led by enthusiastic, educated guides. Transport is cheap, even when taxi drivers once in a while cheat. The means of transportation are often good, and when this is not the case, they still seem to be safe and clean.
The Chinese have a developed sense of moving in crowds, this may contribute to the flow of traffic, and it may turn into a lack of - what we consider - queuing culture. It can give an advantage to be tallest and strongest, when you buy tickets and enter or exit trains.
We stayed in good, cheap hotels used by Chinese tourists and met few foreigners here. Part of the service was women with sweet voices who offered massage at bedtime and hung up, when Hanne answered the phone.
We expected that it would be difficult to travel in China, but thanks to the great helpfulness of the Chinese it turned out to be quite easy. We didn't do much to make contacts they came to us in large numbers and happily shared their knowledge about China with us. - The Chinese are eager to get "foreign friends".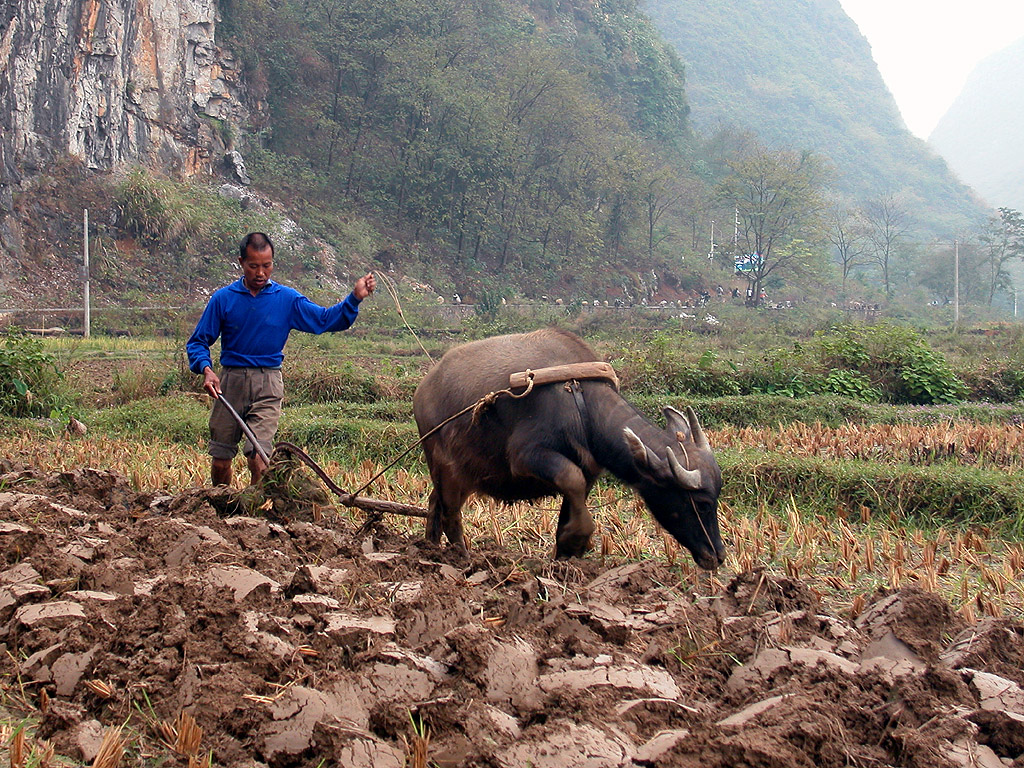 Eating with chopsticks
We thought that we got to be quite good at using chopsticks but till the very end of our stay in China, laughing waiters would bring us a spoon after having watched us eat. - A sense of humour and an unveiled curiosity are important features of Chinese culture.
The Chinese kitchen is one of the great kitchens of the world, and perhaps therefore not easy to get familiar with. We have had tasty and nicely arranged meals, but most often when a knowing person assisted us. When we were on our own using body language and a dictionary, we in the beginning sometimes ended up eating things, we could not with certainty identify as neither animal, plant nor mineral. Food varies regionally, and it was most to our tastes the further we went south, where it is less fat and spicier.
A meal consists of several small dishes placed in the middle of the table, so that everybody can taste them all. Variation is large, and you may eat fish, vegetables and soup in the same meal to create a balance. We have had tasty soups, spicy fish and crispy pancakes with meat and vegetables. We have had steamed white dumplings similar to Italian ravioli. We have had hot pot, and cooked our own meat, fish and vegetables in a pot placed in the middle of the table. We have had Beijing-duck served as several dishes from the roasted skin to soup. We have had dim sum in bamboo baskets. We have had cakes with a pattern and fruit inside related to the Moon Festival. We have picked juicy oranges from the tree. And we have had green tea and Chinese beer.
We have seen - but not been tempted by - dishes prepared from bats, chicken feet, fish heads, dogs, snakes, pig's penis and frogs. We felt the same way about the deep fried snacks that can be bought several places: Grasshoppers, seahorses, baby birds, larva, live small scorpions ...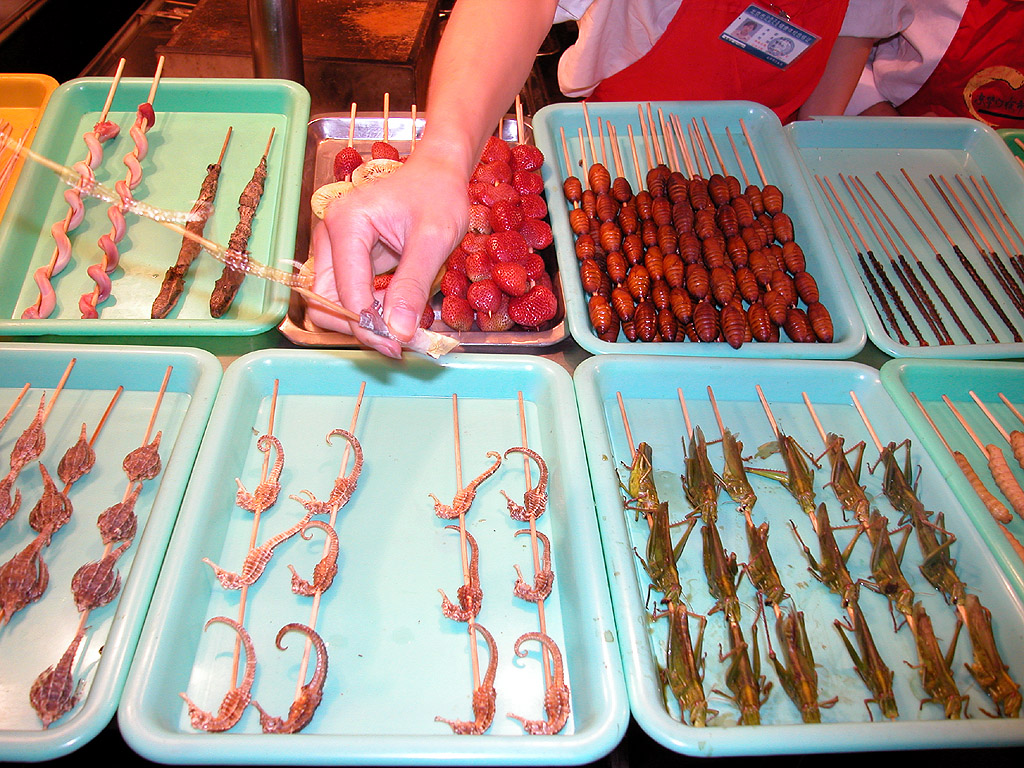 China's many values
The Chinese have a sympathetic tradition of adding rather than replacing, when new values arise.
Ancestor worship means, that the living and the souls of the dead communicate and help each other. Taoism is said to have been founded by Laozi five centuries before our time, and it means, that people live in accordance with the way and power of the universe - Dao - which can be perceived only through mystical insight. The ethics of Confucianism were formulated by Confucius in the same period, and it lies down rules for social interaction in society and families that were fundamental for the education of Chinese officials through centuries. The strive of Buddhism for extinguishing all desires in order to reach peace of mind and the termination of reincarnation was founded by the Indian prince Siddharta Gautama four centuries earlier, and reached China by the trade routes around the beginning of our time.
We have sensed how these traditional Chinese value systems interact with each other and with specific parts of Chinese culture: Every day life, architecture, gardening, painting, food culture, medicine, martial arts etc. But we have not understood it, and it probably can not be understood intellectually.
In recent times nationalism, communism and lately also an all-penetrating commercialism have supplemented the four old systems.
To us the walk up the holy mountain Tai Shan illustrated the Chinese tradition of uniting value systems and ascribing meaning to things and places. There is not a building and hardly a tree or a stone on the route that doesn't have a higher significance. You see monuments for Confucius, for the nationalist Sun Yatsen and for revolutionary martyrs. You visit temples with Taoist and Buddhist gods. You pass a tree that gave shelter to an emperor when it rained. You see large inscriptions on a cliff, which legend says, came to be because wet Buddhist scriptures on their way from India to China were laid out to dry. You pass several Gates to Heaven and finally reach it. From the highest point of the mountain the emperors of China were able to communicate with the emperor of Heaven. After the quite hard hike, it is pleasant that Heaven has hotels and shops with beverages and souvenirs, and that fit carriers supply them with goods on yokes of bamboo.
During the Cultural Revolution in the late 1960s Chinese temples were badly damaged, and you still see Buddhas with no head, while others bear traces of repair. We have heard and read that Buddhism is gaining ground in China these years and we have seen monks and people praying in the temples. But often visitors with cameras have outnumbered those with incense. Most Chinese, we have talked to have said that they are not religious, some times referring to the communists' denial of religion.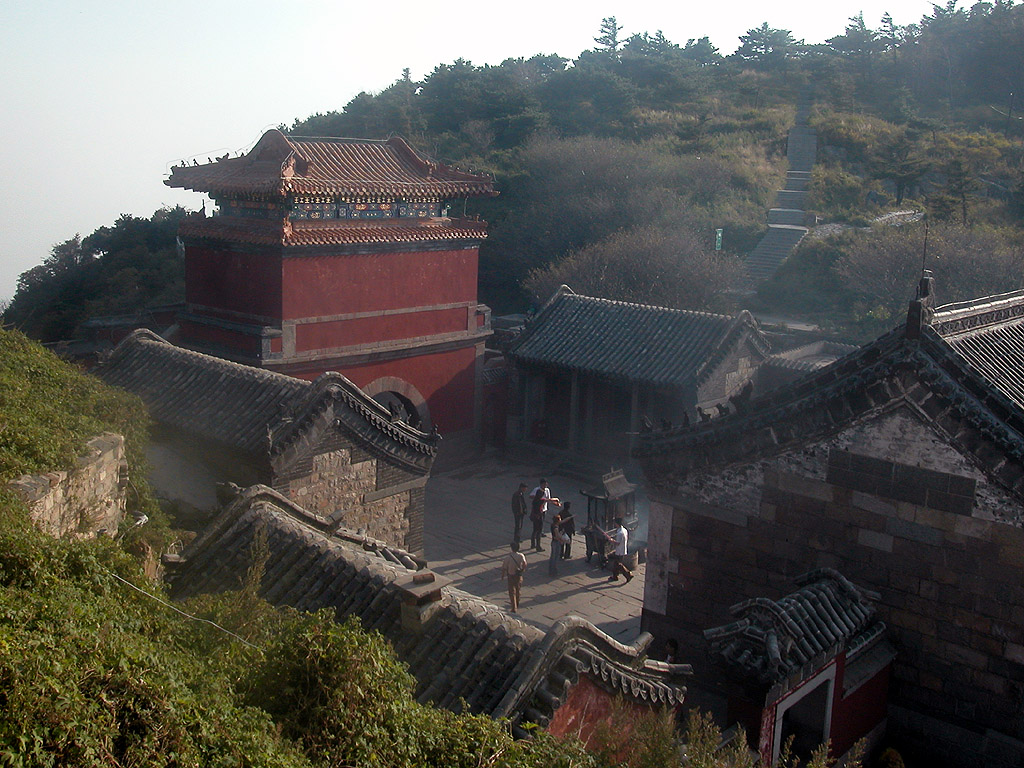 Communism in Chinese
Travelling in China you still see a few elderly people dressed in the characteristic blue or green "Mao-uniforms" with matching caps. The same caps are sold as souvenirs together with "The Little Red Book" containing quotes from Mao Zedong and watches depicting the Chairman with a royal wave. Symbols of China's Communist Revolution and its ideologist are becoming kitsch just like pieces of concrete from the fallen Berlin Wall.
The young generation swears to the pragmatic policy of the Open Door initiated by Deng Xiaoping in the 1980s, and they are busy securing a share of the new possibilities offered by the Socialist Market Economy for themselves and their families. Those who are able to do so buy fashion clothes and save for an apartment, a car and education for their children. Many Chinese have bettered their standards of living, and we have time and again heard, that "things are getting better and better in China."
When we have spoken with thoughtful Chinese and with those, who don't think that they have had their share of the new possibilities, we have also met concerns and criticism. "China has become a capitalist country, and the social differences between rich and poor are very big." We have heard complaints about corrupt officials. We have listened to wishes for a welfare system that may help weak people. "If you get seriously ill, have no insurance and are not are able to get help from your family, you die," a young guide told us. "Development is so fast, that we destroy the memories of our past," said a man from Shanghai. And we have understood that self-criticism where you write about misdemeanours is still used as a punishment.
We have only a few times heard criticism of the events in 1989, when protesting students were met by violence in Tiananmen Square, of the ban on the religious movement Falun Gong in 1999 and of censorship of the media. And we have not heard many voices speaking for democratic reform. Most people, we have talked with have seen politics as something happening in a world far from their own, and have put visions of change off to a distant future. "I wonder that foreigners often challenge Chinese democracy, to me economy and welfare is more important," said a woman with international contacts.
Perhaps the Communists are actually the latest Confucian dynasty in China, who maintains its heavenly mandate as long as it prevents natural disasters and famine. Seen through our Danish eyes it is still difficult to imagine that the generation of only children who grow up now, and in a young age make loud claims on influence in their families, will not also wish to have a political voice.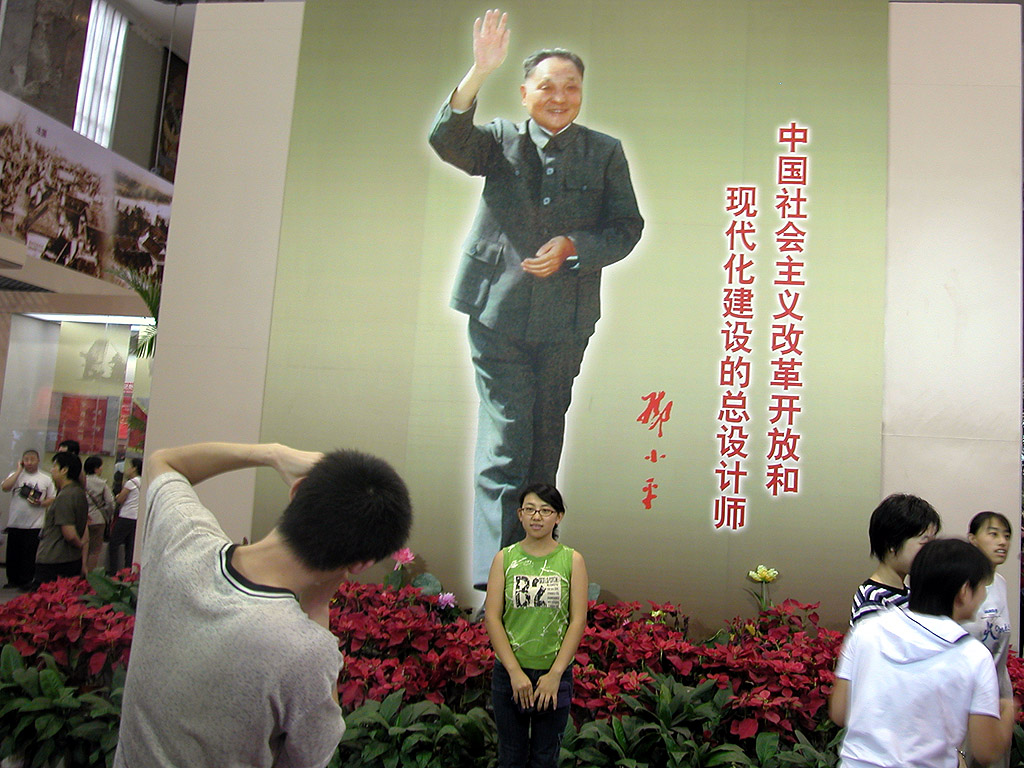 The Middle Kingdoms
China is regaining its role as the Middle Kingdom; the country seeks and gains international recognition. It became a member of the trade organisation WTO in 2001, and the same year Beijing was accepted as host of the Olympic Games in 2008. Recurring spots on the national news show Chinese and foreign politicians reaching mutual understanding seated in beautifully carved chairs.
With the re-election of the American President George Bush on November 2nd 2004 the Americans decided that USA is still to play the role of superpower. Political, economic and cultural interchange across the Pacific Ocean will be decisive for global development in years to come.
Hopefully there is room for more than one kingdom in the middle.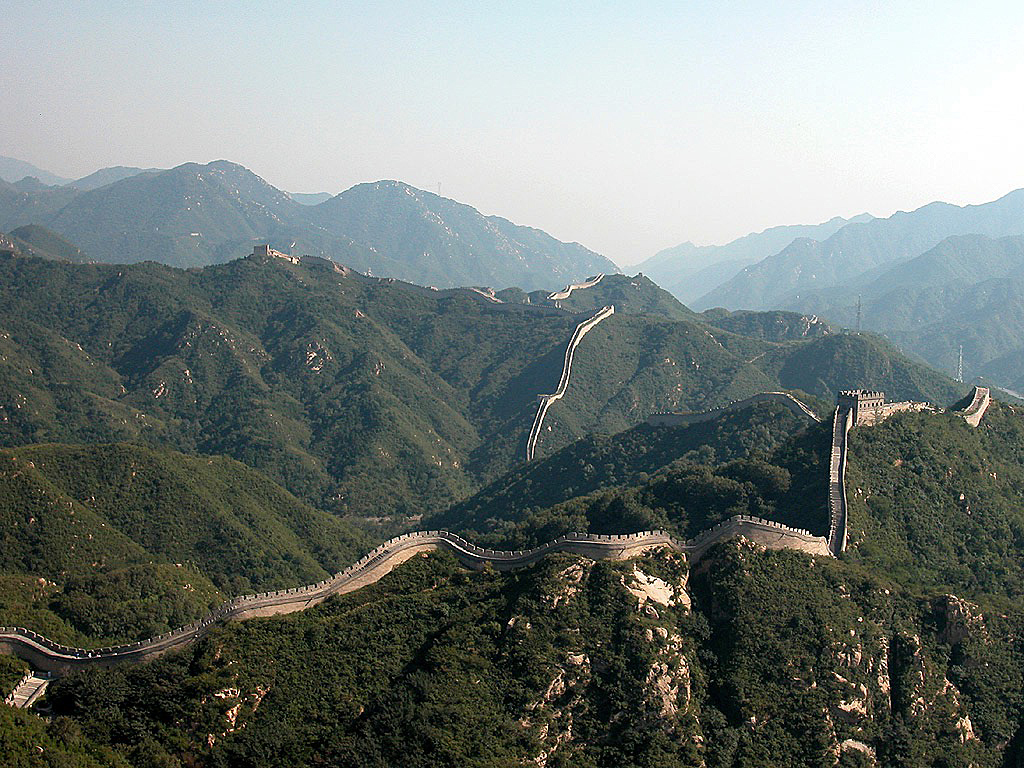 November 2004