Westminster.
Brexit, Britain, Europe and the Empire
The tours have brought us around the history of the UK. We have visited ancient monuments constructed with knowledge about the orbit of the Earth around the Sun. We have seen Roman and Norman buildings. We have heard tales of the Vikings. We have been reminded of the rise and fall of the British Empire. We have toured industrial areas in rapid transformation. We have experienced excellent cultural institutions and projects. We have been reminded of turning points in the relations between England, Wales, Scotland and Northern Ireland
And we have heard people's frustrated reactions to the prolonged political conflicts over Brexit.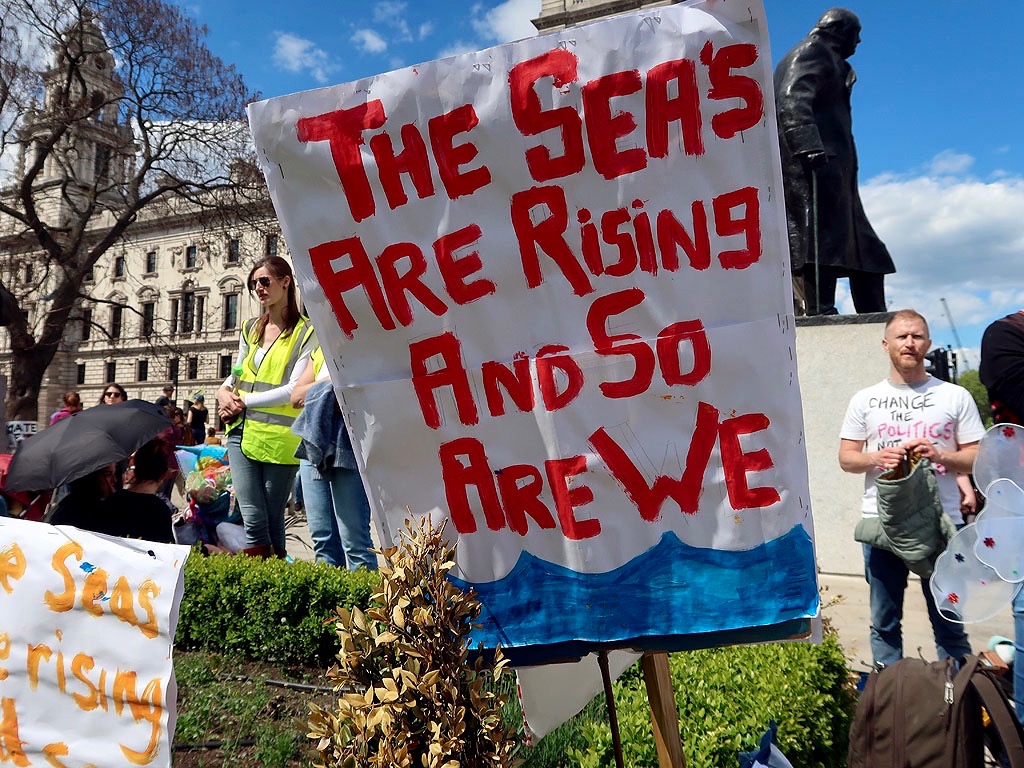 Extinction Rebellion demonstration at Parliament.
Cameron, May and Johnson
Conservative Prime Minister David Cameron's risky referendum on Britain's EU membership in 2016 led to 52% voting leave and 48% remain. There was a majority for leaving the EU in England and Wales. There was a majority for remaining a member of the EU in Scotland and Northern Ireland. Many elderly people wanted to leave, many young people wanted to remain.
The population was and is divided by geography, age, social status and choice of identity. The politicians did not make the necessary decisions in the three years that followed. The process was delayed by fundamental disagreement, party egotism, unwillingness to compromise, the absence of a constitution, an "the winner takes it all electoral system" …
When Cameron resigned after losing the referendum, Theresa May took over. She negotiated a divorce agreement with the European Union, which Parliament voted down three times. When she resigned as leader of the Conservative Party and Prime Minister in the summer of 2019, Boris Johnson took office.
The 1998 Good Friday Agreement on peace in Ireland implies a soft border between Northern Ireland and the Irish Republic, while Brexit requires a hard border between the UK and the EU. Boris Johnson's agreement with the EU addresses this dilemma by placing the customs border in the Irish Sea.
The solution means that Northern Ireland must continue to follow EU rules, but at the same time becomes part of the UK customs area with a right to join trade agreements. The Northern Irish will be allowed to vote on this every four years. The model is creative, time must show if it is also constructive. Northern Irish Unionists were immediately out criticising it.
Parliament approved Johnson's Brexit deal, but not his tight schedule. This led to a further extension of the withdrawal period until 31 January 2020 and to a parliamentary election on 12 December 2019.
On 24 May, we in BBC heard Theresa May's moved announcement that she would resign from the post as leader of the Conservative Party and Prime Minister. We were at a campsite in St. Ives, and our English neighbours had voted "remain" and "leave" respectively. They disagreed about what would be best for the UK, but agreed on the interpretation of the situation.
They thought that the majority for leaving the EU was due to immigration mainly from Eastern Europe and to the dominant role of Brussels. They also thought it was a mess that Brexit had still not happened three years after the referendum. Many people we talked with were of the same opinion. Sometimes adding that the financial crisis in 2007 had increased economic inequality in the UK.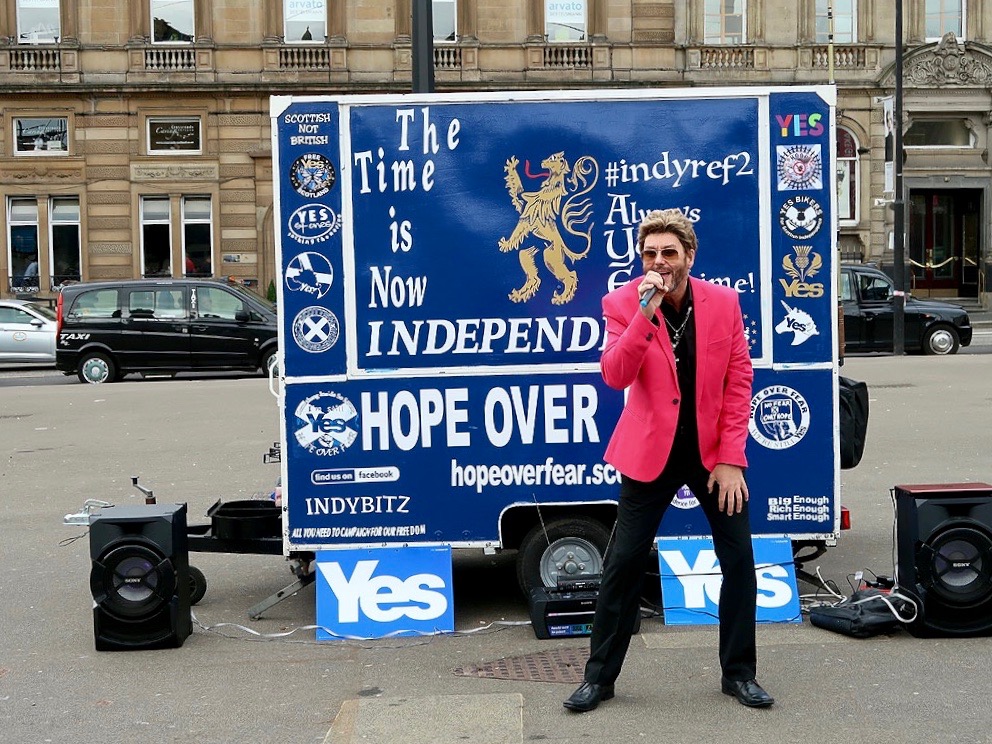 Scottish National Party agitates for independence.
Identity and conflict
Brexit has revitalized Britain's historical debates on national identity. People are rethinking the extent to which they are English, Welsh, Scottish, Irish, British and/or European. These considerations became more vigorous the closer we came to the border between Northern Ireland and the Irish Republic. Some striking statements from people we met on our trips in May and September may illustrate the debates and divisions:
An English woman in Dublin, "I used to like Boris Johnson. I voted leave because immigrants come here to use our welfare system. Now I honestly don't know what I would vote. Brexit should have happened three years ago. We are the laughing stock of the world."
A Muslim immigrant woman in a suburb of Cardiff, "Race relations are getting worse, and it influenced the EU-referendum. I took five of my seven children to vote "remain"."
A Welsh man in Penarth, "We are Welsh not British, and we always have been."
A Welsh man at Stonehenge, "Wales with its 3 million inhabitants is too small to be independent."
A male Scottish business owner in Edinburgh, "We are all one big family in the UK. Your mother is English, your brother lives in Birmingham, and your company is based in London. I want everybody to cooperate, we have more similarities than differences."
A male Scottish SNP activist in Glasgow, "We promote an inclusive nationalism. England has become too conservative and too racist. Scotland is a Northern European Country like Denmark."
One of his fellow male activists added, "I would rather be in Europe than in Britain."
A male clerk from Barcelona in Edinburgh, "Scotland will gain independence before Catalonia, I think."
A Northern Irish woman in Londonderry/Derry, "My father was a Protestant and my mother a Catholic. I grew up with the conflict and was taught to respect both sides. I fear the consequences of a hard Brexit, it may bring back violence. - Northern Ireland ends up becoming part of the Irish Republic, and I think that's good."
An Irish woman in Dublin, "The English are a different race. They think we still live in a Downtown Abbey world."
An old Irish man at Carlingford Lough, which is the border between Northern Ireland and the Republic, "I am old, and a hard Brexit will not harm me, but it will not be good for my children and grandchildren"
Polls before the general election indicated a small Northern Irish majority for uniting with the Irish Republic; a small Scottish and an unmistakeable Welsh majority against independence.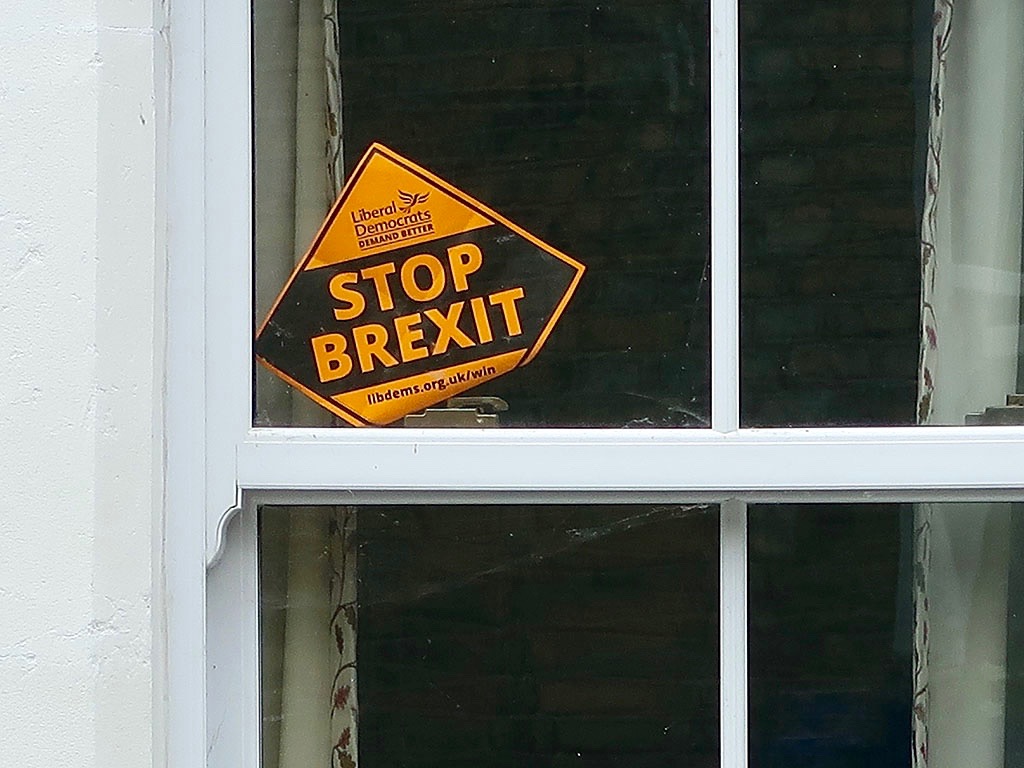 Liberal Democrats agitated to stop Brexit.
Election and cohesion
The December election was the third in four and a half years.
The main theme was Brexit, and welfare an important side theme. Boris Johnson's Conservatives had a clear message about getting Britain out of the EU. Jeremy Corbyn's Labour would negotiate a better divorce agreement and then have a renewed referendum. It was not said whether he himself would recommend remaining in or leaving the EU. Nicola Sturgeon's Scottish National Party wanted to avoid Brexit and put Scotland's future in the hands of the Scottish people. Jo Swinson's Liberal Democrats would stop Brexit. Nigel Farage's Brexit Party wanted to keep Boris Johnson on the track and withdrew its candidates in certain conservative constituencies.
Election night was a mixture of relief, triumph, disappointment and division. Johnson was the winner with the largest Conservative majority since 1987. Corbyn was the loser with the worst result for Labour since 1935, he immediately refrained from leading the party in the next election. Nicola Sturgeon had a good election, her national party winning 48 of Scotland's 59 constituencies. Jo Swindon had a bad election, she didn't win a seat herself and resigned as leader of the Liberal Democrats. Nigel Farage won no seats, but he won his battle for independence.
The parliamentary election mandated Boris Johnson to fulfil his election promise: "Let's get Brexit done." Members of the European Parliament sang "Auld Lang Syne" as a farewell greeting. - Britain officially left the EU on 31 January 2020 after 47 years.
This was the kick-off for the detailed negotiations on a trade agreement between the UK and the European Union. The deadline is December 2020 with the possibility of an extension up to two years. Boris Johnson says that he will not use this possibility. If negotiations about a deal fails the result will be a hard Brexit.
The election also gave Boris Johnson responsibility for restoring cohesion in the UK. On election night, he announced his understanding that many of the party's new voters had voted with a shaky hand, and outlined his unifying "One Nation Conservative" policy.
Demands for Scottish independence and Irish reunification have been revitalized. Many scenarios are possible for post Brexit Britain. We find it more likely that the remnants of the British Empire will fall apart than dreams of its revival come true. The divorce from the EU could mean the end of the United Kingdom.
It is sad that the British have chosen to leave the EU, but easy to understand that a majority voted for clarity. Tony Blair's extrovert Cool Britannia has now become Boris Johnson's introvert Brexit Britannia.
In the traditionally EU-sceptical Denmark, Brexit has apparently helped strengthen support to the European Union. Before the European Parliament elections in May 2019, a Eurobarometer survey showed that 77% of the Danes want to stay in the EU, while only 13% want to leave. At a campsite in Wales we were delighted that the Danish election results showed the same tendency. We contributed by voting by post before our trip.
We have followed the media's coverage of the chaotic negotiations in Parliament and heard the former Speaker John Bercow's frequent call to order. Against this background, it was good to visit the UK and find that the order we know and cherish prevailed in everyday life.
As many times before we met black taxis, red buses, excellent cultural institutions, fine cultural projects, polite people ... This gives hope for the future of the English, Welsh, Scots and Northern Irish. Regardless of Brexit and whether they will stay together or have separate futures.
Perhaps politicians in "the mother of parliaments" have simply confirmed Boris Johnson's predecessor and role model Winston Churchill's quote on democracy from 1947: "Many forms of Government have been tried, and will be tried in this world of sin and woe. No one pretends that democracy is perfect or all-wise. Indeed it has been said that democracy is the worst form of Government except for all those other forms that have been tried from time to time.…"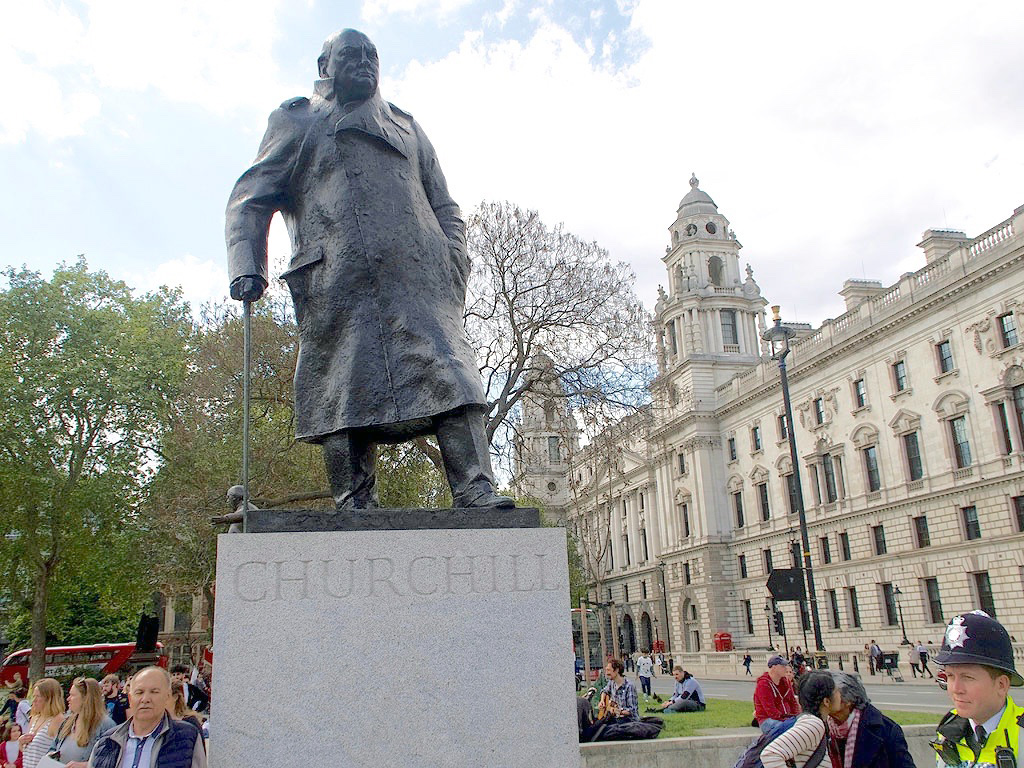 Winston Churchill at Parliament.
References
Facts have been found in printed souvenir guides and on websites.
The following books have helped us plan and tell about the trips:
Neil Wilson m.fl.: Oplev Storbritannien. Lonely Planet 2015
Gunhild Riske: Turen går til London. Politikens Forlag 2018.
Kim Wiesener & Kristoffer Flakstad: Turen går til England & Wales. Politikens Forlag 2016.
Thorkil Green Nielsen: Turen går til Irland. Politikens Forlag 2016.
Bjarne Nørum: Turen går til Skotland. Politikens Forlag 2017.
Martin Dorey: Take the Slow Road: Scotland. Bloomsbury Publishing 2018.
Europas smukke veje 47 berømte bilture samt komplet Europa-vejatlas. Legind 2007.
Nick Ewbank: Adventures in Regeneration. Folkestone's New Tide. NEA Publishing 2011.
Francois Matarasso: A Restless Art. Calouste Gulbenkian Foundation 2019.
Marc Mulholland: Northerne Ireland. A Very Short Introduction. Oxford University Press 2003.
In relation to our trips we saw movies and TV programmes related to the UK:
Jon Amiel: Creation. 2009.
Michael Epstein: John & Yoko Above Us Only Sky. 2018.
Ralph Flennes: The Invisible Woman. 2013.
Cary Fukunaga: Jane Eyre. 2011.
Mel Gibson: Braveheart. 1995.
Paul Greengrass: Bloody Sunday. 2002.
Tom Hooper: The King's Speech. 2010.
Simon Hunter: Edie. 2019.
Nicholas Hytner: The Lady in the Van. 2015.
Julian Jarrold: Becoming Jane. 2007.
Phyllida Lloyd: The Iron Lady. 2011.
Ken Loach: Ae Fond Kiss. 2004.
Ken Loach: The Angels' Share. 2012.
David Mackenzie: Outlaw King. 2018.
John Madden: The Best Excotic Marigold Hotel. 2011.
John Madden: Shakespeare in Love. 1998.
Sam Mendes: Skyfall. 2012.
Jean-Marc Vallée: The Young Victoria. 2008.
Lorna Tucker: Westwood: Punk, Icon, Activist. 2018.
Anne og Anders i Brexitland. DR 2018.
Clement i Storbritannien. DR 2018.
Clement om Brexit: Farvel til Storbritannien. DR 2020.
Christopher Timothy and Peter Davison: Vintage Roads Great and Small. 2018.
Episodes of the TV series The Crown, Downtown Abbey, Derry Girls and some Harry Potter movies.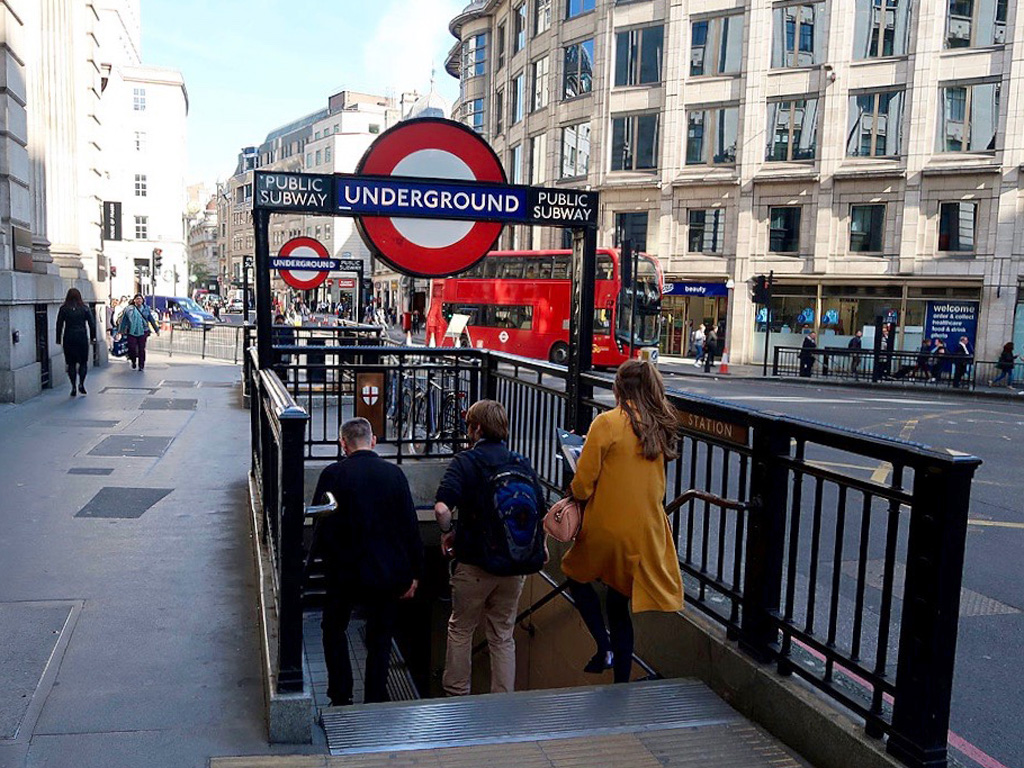 The order of everyday life gives hope.
January 2020