The cathedral in Milan.
I Believe in Destiny

Antonella is a retired medical doctor, who lives in Milan. We met her through our friend Paolo, who was born in Italy but migrated to Denmark at a young age. Antonella and Paolo were close friends in their youth and renewed their relationship after his Danish wife passed away. Antonella travels between Milan and Odense twice a month to be with Paolo. We talked in their home in Odense.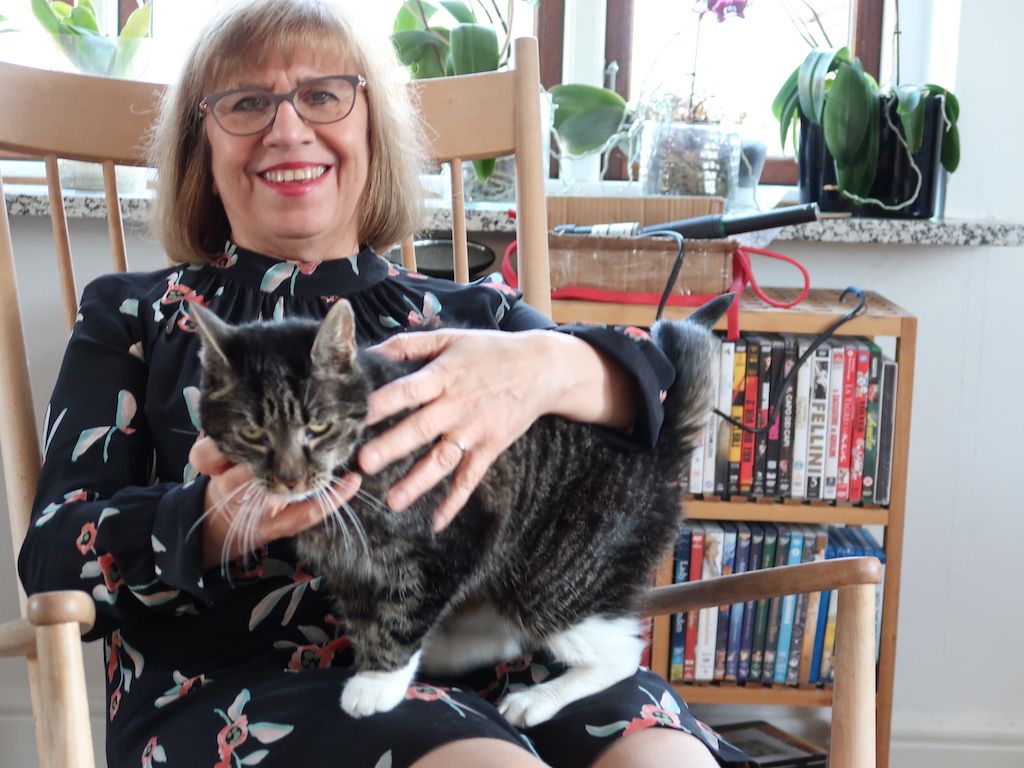 I was a good student
I was born in Milan 1953. My father was a musician, and my mother a teacher of Latin and literature. I had one sister, five-year older. When I was six, I began to play the piano, with a friend of the house as teacher.
When I turned fourteen, during high school, I became a rebel. Milan, like Paris, had its May 1968. We were against the war in Vietnam, capitalism, rich people, the school and our parents. I followed my sister, who was also a rebel fighting for women's rights. My parents were worrying about me, but everything changed when I started studying medicine.
The first three years of medicine are basic science, the last three years are clinical studies. In my third year, I had an internship in a hospital in the morning, went to class in the afternoon and studied at night. My parents were happy since I became a very good student. I used to study with my boyfriend, and graduated when I was 26, with a dissertation in occupational health. After graduation, I was offered fellowships at my university, and spent one year at the Johns Hopkins University in Baltimore (USA), working on my PhD dissertation on toxicity of Polychlorobiphenyls (PCBs).
I was happy to discover the world on my own, without my parents and boyfriend. I had the opportunity to attend a world class university and meet inspiring people from different nations and academic fields. The univer­sity in Milan had good professors, but it was not so well organized. In the US, the students felt free to ask all kinds of questions, while in Italy they only dared ask very clever ones. I was sad when I came back, but then I met my future husband and decided to settle down in Milan.
My work life
After my marriage, I held different positions as a medical doctor in the field of occupational health in Northern Italy (Milan, Belluno, Omegna). To make a long story short, I was eventually offered a perma­nent position at the International Centre for Pesticide Safety and Health Research, a WHO-collaborating Centre cooperating with the Region of Lom­bardy, the European Commission, the Italian Ministry of Health, and the Milan University. This job was the most important one for my career and lasted about ten years. While working for the World Health Organization, I had the opportunity to visit several countries, like Zimbabwe, China, Thailand, Ukraine, Costa Rica, and different places in Europe, giving talks on pesticide toxicity for human health. As for the European Commission, I was involved in pre-marketing scientific evaluations leading to the European authorization of active ingredients of pesticides. Here I learned how Europe functions and became a true European by working with colleagues from other Member States.
During the last fifteen years of my career, I switch from the pesticide field to a new job at the Regional Health Directorate of the government of Lombardy, which is a northern Italian region with more than ten million inhabitants. I worked on projects related to the organization and management of the regional healthcare system, among these the development of the regional cancer network, the establishment of a network of biobanks, and the organization of services for chronic patient care. I have always been involved in innovation and change. This I liked, because I could contribute to improving the status quo.
In a typical working day, I woke up at 7 or 7.30, went to my office at 9.30-10 and sometimes worked till 9 pm. My day started with bureaucracy, meetings and mails, while only in the afternoon I had time to think and write.
Close to retirement, I was involved in a committee to investigate Covid-19 in nursing homes. Lombardy was the region where the disease broke out, and many elderly people died. I was working from home and was connected from early morning to the end of the day. My typical day changed when I retired in 2020.
My personal life
I married another medical doctor in 1987, had my daughter in 1988, and divorced in 1992. A very short marriage, and a long life as a single mother. My daughter, who is now thirty-three, has a half-brother and a half-sister living in London, with whom she gets along very well.
In 2000, my father was diagnosed with Alzheimer's disease. I enjoyed playing the piano for him. It was a good way to connect, since he understood and was happy to listen. I began to study with a piano teacher since I needed to improve my performance. After my father's death, my mother lived alone for several years and eventually moved to the Casa Verdi, where she spent her last four years. I visited her regularly. The Casa Verdi is a beautiful retirement home for old musicians and their spouses, based in Milan and founded at the end of the nineteenth century by Giuseppe Verdi, the famous Italian opera composer. A visit to Casa Verdi, where the Maestro was buried in a beautiful crypt, is a unique experience. Tourists come from all over the world to see the building and the museum, which Verdi himself defined 'my best opera'.
I am happy
At the beginning of 2020, a few months before retirement, something unexpected happened in my life. I reconnected with my old schoolmate Paolo, now living in Denmark. We met each other again because our common friend Gigi told me about him, his disease and his wife's death. It was our plan to go and visit him together, but our travel was cancelled due to the Covid-19 outbreak.
Paolo and I began writing letters to each other, just as we did when he moved to Rome when we were young. We wrote 42 letters and rediscovered our old friendship in a more open and emotional manner than we could probably have done face to face. We met on Sky­pe, before I could come to Denmark in June, meet his family and friends, and learn about his country. Since then, I fly to Denmark twice a month, the flight takes only two hours, but the whole trip from Milan to Odense lasts about 6 hours. Only once I travelled by car, driving for about 15 hours in two days.
In Denmark, Paolo and I enjoy the life of a couple. We wake up early, at 6.30 or 7.00, read news­papers together, chat a lot and share views on politics and on our "kids". We cook together, and I help Paolo with the assistance he needs because of his multiple sclerosis. The days go fast, and I never feel bored. We have so much to share, as we did not get in touch since we were seventeen.
When in Milan, I do not have much time to play piano, but I began working on my father's archive. He was the organist at Milan's Cathedral (the Duomo), and a professor at the Conservatory. When my parents passed away, I donated his comprehensive library to a sacred music institute in Milan. Unfortunately, the Covid outbreak came in the way, but next week I will have an appointment with the Dean to make definite plans. I also want to go through my parents' pictures, paintings, stamp collections, letters and other things, but with only two weeks in Milan it takes time.
When I am in Odense, I miss Milan and my daughter, while I miss Denmark and Paolo when in Milan. It is an intense life, and travelling so much can be tiring, but I am happy. I hope our life will not have to change much, and that the war in Ukraine will not hamper our travels.
I feel European and Italian
My profession was very important to develop my identity. I do feel European, especially in these days of war, when we Europeans must stand together. My Italian identity comes from observing the differences between European cultures during my extensive travels throughout the continent. Italy is a very diverse country, with different landscapes, classical and modern architecture, and many regional cuisines. This diversity is of great value. I spent vacations in many parts of Italy and had the opportunity to enjoy the richness of its several regional cultures.
Less likeable things are the inefficient public administration, the quarrelsome politicians, and a general lack of trust that Italians have towards their institutions. And of course, corruption and the Mafia.
I hope for peace
I hope to stay happy. I hope to be able to share my life with Paolo for more years, and that his disease will not get worse. I also hope to stay healthy enough to be able to travel and maintain the joy in life that has always followed me.
Of course, especially in these days of war, I pray for Ukraine and peace.